Maybe you're one of the people who have given wine pairing a try, but have you ever tried beer pairing? No? Me neither. That is, until I went to Bali and stayed at Four Points by Sheraton, Kuta for the weekend.
During my stay, I was pampered with a 60-minute spa experience, graciously fed with sumptuous Balinese and Western dishes, and, you guessed it, an endless flow of local, craft beer.
Marketing Communication Manager of Four Points by Sheraton, Kuta, Agus Mahardana, was once told by a Bintang representative that mixing the four major ingredients of water, yeast, hops, and malt, can make up to 3,000 different flavoured beers. At this hotel, you can find all brands of local craft beers, pretty much in every available flavour. "We can expect that each beer has a very distinctive taste so we want to celebrate that to connect with our guests."
Craft beer is a beer that still consists of those key ingredients. However, a craft brewery produces small amounts of beer, typically much smaller than the large-scale corporate breweries, and is independently owned. Such breweries are generally characterised by their emphasis on quality, flavour, and brewing technique. Bali is home to the only locally produced craft beer in Indonesia. Since 2011, Lovina Beach Brewery has become a small-scale, craft, artisan brewery – thriving without the automated, robot-like methods and preservative treatments used by big breweries. The brewing process, therefore, includes milling, mashing, boiling, fermentation, and conditioning.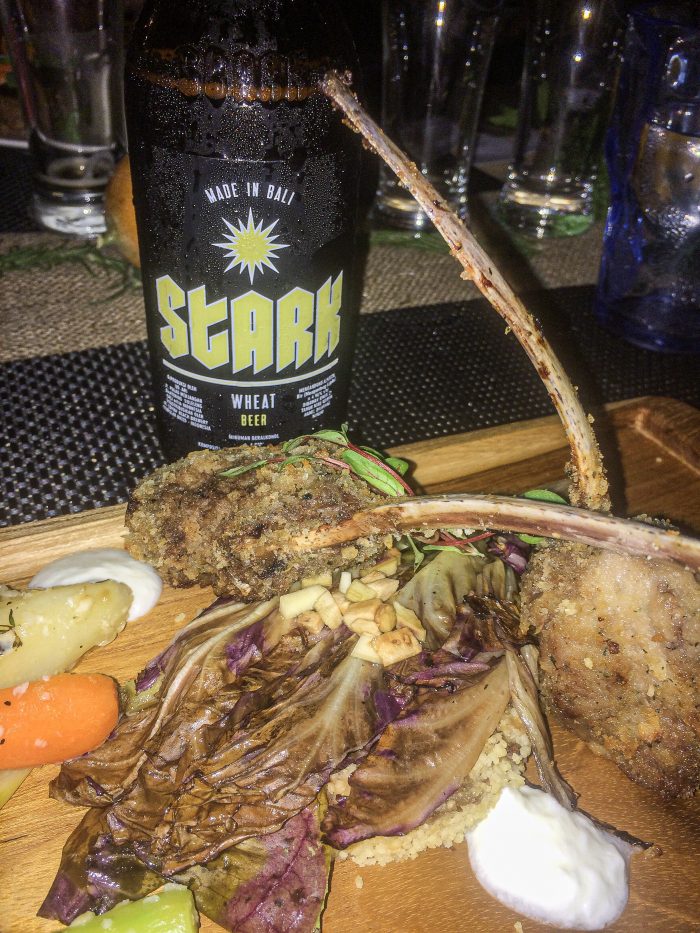 Both the Stark and 1945 beers are produced in this microbrewery, where you can find lively and human touches. The beauty of constant human interaction and the little changes in their specialty ingredients throughout the production process create a slight fluctuation in the features. They concentrate on real specialty and niche beers that represent a unique experience for beer lovers, and even newbie beer drinkers. They use minerals from the mountains of Singaraja, North Bali, and then distribute the beers to Denpasar.
Surprisingly, you won't get a hangover when you drink too much of any Stark and 1945 beers. Production still follows the traditions of the great European brewmasters. They only contain the finest imported malted grain, hops, and special brewer yeast from the US, Europe, China, and Australia, along with Balinese mountain spring water, and no preservatives or artificial additives of any kind are used.
Dinner on the first day also happened to be my first beer pairing experience. I'm not a beer enthusiast, but this was an opportunity not to be missed. Set out at the hotel's urban garden area called Best Brews, six courses of salads, soups, palette cleansers, main courses, and desserts were each paired with the most perfect beer to enhance the foods' rich spices for everybody's taste buds.
"I have always believed that the success of any meal is the feeling of satisfaction after eating it. It leaves you with a good impression and lets you enjoy every bite. Whether you are beer or wine pairing, it comes back to the beverages' ability to complement the food and, most importantly, ensures you're having a great time. Going back to the essence of the Best Brews program, where you can kick back and relax enjoying the local beer, we try to make sure that you enjoy local beers in a way that you won't forget with beer pairing," added Agus.
Before this dinner, I had never paired a bowl of beetroot salad with a light beer, nor had I paired a refreshing mango sorbet with a different bottle of beer. A dish containing couscous, roasted lamb rack, and vegetables paired with Stark Wheat Beer was mouthwatering. This pairing was my absolute favourite because the sweet taste of the couscous already complemented the roasted lamb and vegetables, yet by taking sips of this beer in between, its mild flavour delightfully cooled off the lamb's thick texture – my taste buds went off to venture in a new experience. Agus claimed that he had never suffered beer bloating before, but seeing the long dining table filled with beer bottles had me wonder if anyone ever did by the end of the night.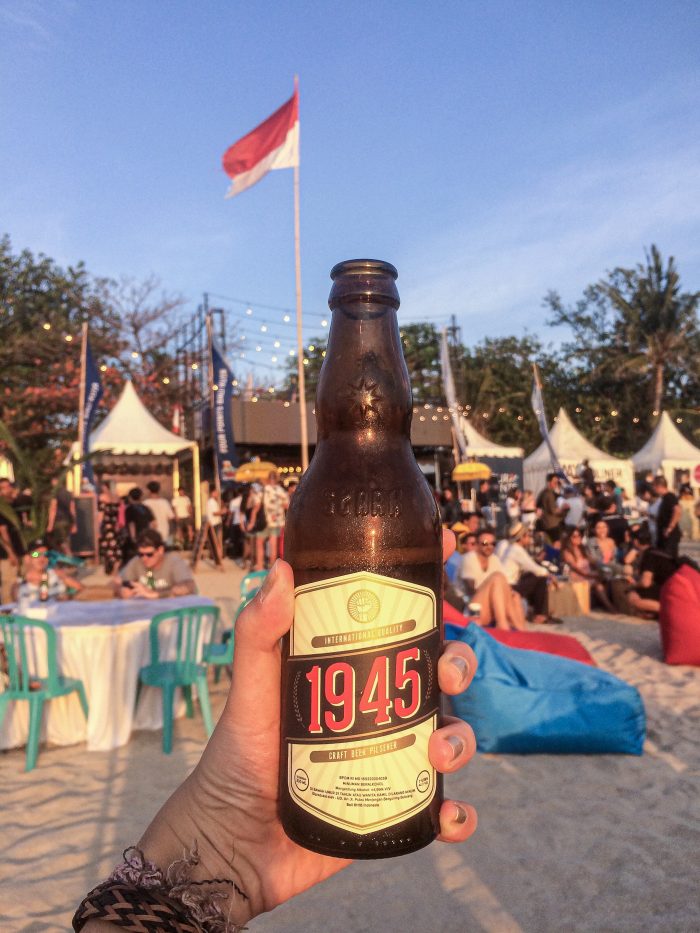 The lovely people from Four Points told everyone to hop on a jeep to roam around Kuta and Seminyak on the following day. For lunch, we stopped by Stark Craft Beer Garden in Kuta to play a beer tasting competition. Each table of three to four people was presented with Stark's eight types of craft beer and encouraged to match the flavours, consistency, and scents of each beer, according to their names and description: Stark Wheat Beer, a Belgian style of wheat beer with hints of orange, citrus, and spice flavours; Stark Dark Wheat Beer, a dark beer with malty sweetness and hints of chocolate and coffee flavours; Stark Low Carb Lager Beer, less than 50 percent of the carbohydrates and calories compared to a common Pilsner; Stark Mango Ale and Stark Lychee Ale, fruit flavoured ale beers with 5 percent alcohol; Stark IPA or Indonesian Pale Ale, inspired by the historic Indian Ale Pale with 5 percent alcohol and with a bitter taste and floral hints; 1945 Beer (made with 40 percent Balinese rice and 60 percent wheat; and the newly launched, Coffee Porter, mixed with Balinese coffee and dark caramel chocolate.
A couple of spare hours before having some Fun in The Sun at Kuta Beach Festival were filled with a quick bask at the hotel's rooftop pool bar. I noticed that beer is Four Point's signature drink. I spoke to the Director of Brand and Marketing for Classic Select brands in Asia Pacific, Tiffany Huang, as we strolled to Kuta Beach that evening. She's responsible for critically analysing the health of each brand on the continent and identifying marketing opportunities. She said people should feel at home whenever they travel. "Four Points is a very social brand where people get together and have fun. Beer to us felt very laid back, easy-going, and supportive of the brand's message in whichever country it is located."
Not everyone is a beer enthusiast though. Tiffany gushed and said, "We're currently working on non-alcoholic versions such as a coffee program that's in the works by the global team in the States. There's also a tea program, but nothing has hit the market at the scale of beer yet." Guess I'll have another bottle of 1945 then.