Excitement is constantly generated in Jakarta, especially in the world of food and drink. In Mega Kuningan – the neighbourly sprawl of five-star hotels, embassies and office towers – there is a new group of hospitality makers taking the live entertainment and restaurant game to the next level. One of the latest and most exciting entries is McGettigan's, a family owned Irish pub chain famous across the globe for providing a fantastic night out.
Irish pubs are renowned for their extreme casual atmosphere, but McGettigan's Jakarta throws this hoary concept aside and integrates a hip and inviting bar, restaurant and live entertainment space without sacrificing the general warmth and friendly attitude one associates with the traditional Irish local.
However, the greatest distinction McGettigan's offers is their food menu. I arrived at the pub thinking there were only going to be offerings for meat pies and battered fish and chips. What I discovered was an amazing array of menu choices and delicious food. One of the main factors is McGettigan's commitment to sourcing the best local ingredients from local suppliers. The other (and to be honest, the most important) is the love and attention you receive as a diner from Head Chef Syawalludin Nur.
Chef Nur is both passionate and proud of his gastropub creations at McGettigan's. With over two decades worth of international kitchen experience under his belt, this chef possesses the knowledge and experience to make a profound difference in your dining experience. He is quick to admit his love for cooking originated in his mother's kitchen and she still remains his kitchen icon after all these years. It is also encouraging to see another local Indonesian chef at the helm of the kitchen of an international hospitality chain.
Our dinner at McGettigan's started with a friendly dining room staff member who presented a nibbles sampler that could give any top restaurant in Jakarta a good run back to the drawing board.
The sampler included many of the standard favourites such as chicken wings, pork belly popcorn and Wagyu beef slider. The portions were extremely generous and meant to be shared. Personally, the slider was my favourite with its tender, tender Wagyu beef, caramelised onions and warm soft roll. Pork belly popcorn is also a delight for the porcine loving crowd. Finally, nothing beats the solid crunch of a perfectly battered onion ring.
Chef Nur surprised us with an escargot bruschetta, which if it was not already, should be his pride and joy. I have never eaten bruschetta or escargot like this, ever. It reminded me of an upscale 'mushrooms on toast,' but with a far deeper earthiness highlighted by a slight smear of pesto on the bread. It is at once playful and indulgent, an elevated bar snack well suited for the setting.
Further down the menu, the Wagyu Beef and Guinness pie and Sirloin Steak were hearty and great traditional choices for mains. In addition, there was a solid selection of Indonesian fare that should not be missed for expats who want to go local. I was pleased to see that they included a few dishes for the vegetarians/vegans and gluten-free crowd, too. The Superfood Salad and the Wild Mushroom Risotto looked enticing even for a dedicated omnivore such as myself. My dining partner and I made the pact to return one Sunday for the brunch, which is served a la carte and at very good value considering the freshly prepared food and drinks packages. They're making the space kid-friendly that afternoon, too, with children under seven years of age eating free (but more on value in a moment).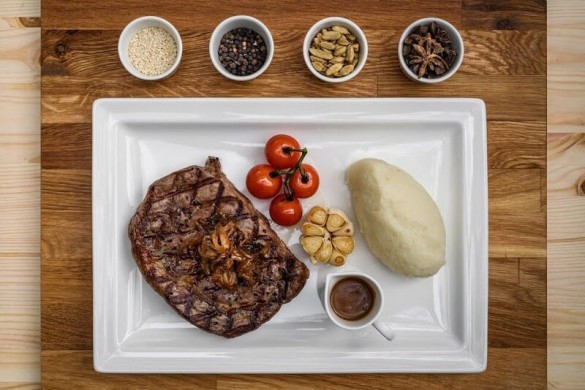 What's an Irish pub without a mention of drinks? With eight beers on tap and expert mixologists and bartenders at the helm, there isn't a drink to go unnoticed at McGettigan's. Call me a kid at heart, but I let slip a little 'squee' when I saw the sections on the drinks menu for large beer bombs and shooters. It was inappropriate for dinner, but so well matched for late night shenanigans. I went the high road and ordered a peach Bellini as I've been on a sparkling wine kick lately. It paired well with the sampler plate and was a generous pour on top.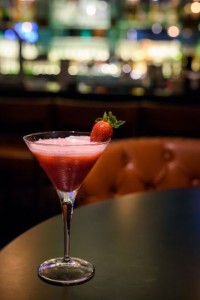 There are currently great deals to be had at McGettigan's. On Wednesdays, the pub hosts 'Ladies' Night,' where each lady has the special privilege of three free cocktails. Every Thursday night is 'Irish Night' with special drink prices from 7 p.m.- 10 p.m. and Guinness and Kilkenny pints are discounted. Friday and Saturday nights are when things really get exciting, with live bands and DJ's spinning into the wee hours of the night.
There are flat screen televisions set around the dining room for sports enthusiasts, and live sports matches are shown whenever possible. And, of course, happy hour occurs Monday through Friday from 5 p.m. until 8 p.m. with selected house beverages offered. There is a lovely patio space offered for those who want to enjoy the warmth of the afternoon sun or a mellow evening under the moonlight, and a live acoustic band plays every Sunday afternoon to entertain the brunch crowd.
The last Tuesday of every month is dedicated to the diplomatic crowd. McGettigan's offers an incredible discount on selected food and drinks that evening, and extends a 15 percent discount on all other days for diplomats who provide identification.
The first Tuesday of each month is dedicated to airline employees with special deals offered. These specials are a generous display of appreciation for those who work in different industries, and, at heart, what is so special about this particular Irish pub. The attention and focus on bringing people together to share good food and drink with excellent entertainment is what McGettigan's Jakarta is all about.
McGettigan's
Zone D – Sunken Plaza, Quadrant Complex
Menara BTPN, Floor Basement 1,
Jalan Dr. Ide Anak Agung Gde Agung Kav 5.5 – 5.6
Kawasan Mega Kuningan, Jakarta
Telephone: 021 2295 8904
Email: [email protected]