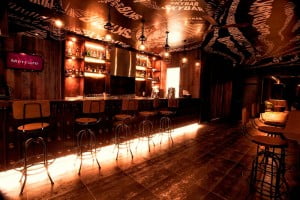 Sky Lounge at Mercure, S.L.A.M, is on the 19th floor of the newly opened Mercure Simatupang.  Slam is in a roof top lounge bar that has an open-air section as well as an air-conditioned room. The open air section has a mix of styles which translates to funky and modern. Comfy contemporary rattan chairs juxtaposed with mood lighting, graffiti panels on the top of two side walls connected by one wall made of window panes and a traditional dark wooden bar gives the outdoor area a hip, youthful and funky vibe. Behind the bar is the air-conditioned salon, reminiscent of a cigar room, the furniture is classy with a statement one-seater made of denim in the corner nestled in between the view of suburban Jakarta.  A keen eye for detail and a passion for fashion and design can be felt from Slam. I adore the Slam uniforms: a black fedora, beige skinny slacks, thick braces and a black short sleeved collared shirt which makes me think of Clockwork Orange meets the prohibition era meets skinny jeans. The staff are very friendly, speak English perfectly and are happy to chat or give their two cents if you are a bit lost of direction. To summarize Slam in three words: eclectic, funky and friendly.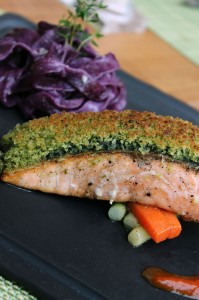 Slam offers the same menu as the downstairs Grafitti restaurant, international cuisine, healthy options and Asian selections, though it is served as the room service version to keep the food unaffected by the shuttle up 19 floors. If you are looking for a bar experience and don't want a full meal, they also offer bar nibbles. We sat in the salon to have our dinner and ordered mocktails to begin, Sunset and I am Joker. The Sunset is made of fresh passion fruit, passion fruit syrup, orange juice and topped with soda water, and the I am Joker is made of fresh chopped apples, muddled kiwi, kiwi syrup and again topped with soda water. The mocktails were fresh and fruity and presumably two of your five a day. We then had the Crusted Salmon, accompanied by white wine sauce, thin fries and vegetables. I could see why the Crusted Salmon is a popular dish. The salmon was well cooked, fresh basil mixed with the breadcrumbs gave the crust a fresh taste and a hint of green that looked lovely against the orange salmon. The vegetables, cauliflower, carrots, green beans and baby corn, tasted like they were blanched then tossed in garlic infused oil. The white wine sauce was great, I could have had it as a soup. It was creamy and full flavoured with fresh hints of lemon, a really wonderful sauce. Next we had a few of the nibbles – Fish Balls, Chicken wings and Maki roll. The Fish Balls are homemade and battered. The Chicken wings had fresh rosemary as opposed to dried rosemary which gives a more intense flavour, a nice little gourmet touch to bar snacks. The Maki roll had vegetables, namely red pepper with a dusting of tobiko on the outside.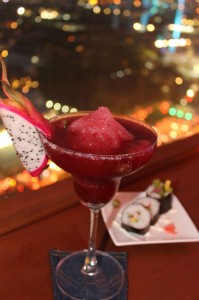 For our after dinner drink we moved from the salon to the outdoor area. Fed, full and free, I got a cheap thrill from watching the traffic riddled roads crawl and enjoying myself, waiting upon our cocktails, instead of being one of the victims of that traffic jam. We had decided on a J-tini and Mexican Dragon. The J-tini is a mix of Jack Daniels and Sweet and Sour. The Mexican Dragon is made from Tequila, red dragon fruit and Cointreau. The J-tini was tart and fresh, garnished with a young sprig of mint. The Mexican Dragon was sweet and slightly tart. I would have loved to try more cocktails but drinking on a school night is usually not the best idea.
Jakarta is rather pricey for going out with the alcohol tax and for hotels, they have 21% added on top of that. Slam is not cheap nor expensive but as hotel prices go, very reasonable with cocktails starting from around Rp.80,000. Slam holds special promotions regularly – the next one in the third week of March entitles you to a shot of tequila for only Rp.25,000 nett, which will be a night to remember and a morning to forget. To find out more on events and promotions you can sign up to their newsletter by emailing Mercure Simatupang at [email protected], or give them a call.
Mercure Jakarta Simatupang
Jl. R.A. Kartini No 18
Lebak Bulus
12440 – SOUTH JAKARTA
Contacts
Tel : (+62)21/75999777
Fax : (+62)21/75999798
Mail : [email protected]