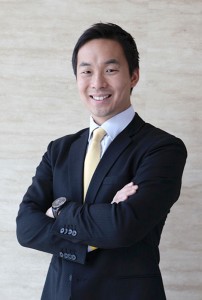 In this edition of Indonesia Expat's Business Profile, we meet a young gentleman named Adrian Li. Adrian is an internet entrepreneur and co-founder of Qraved.com, a website which allows diners to make instant reservations and find offers at hip and trendy restaurants in Jakarta. His portfolio of experience covers eCommerce, media, search listings, and product-based ventures. We delve a little deeper into Adrian's business ethics and background to find out what makes him tick.
Adrian, where are you originally from? Tell us about your background.
I was born in London but my parents are from Hong Kong and Malaysia. I started boarding school in the UK at the age of 10, so I grew up spending time between the UK and Southeast Asia. Prior to starting my degree at Cambridge University, I also spent a year in Beijing to study Mandarin. After University I joined JPMorgan in their corporate finance group in London before going to the US to complete my MBA at the Stanford Graduate School of Business. While at Stanford, I developed the idea for my first company, Idapted, an online education venture. After raising two rounds of funding and growing the business, Idapted was acquired in 2010. Six months later, I joined Rocket Internet to start a market place for travel accommodation in China and then an office supplies eCommerce firm in Indonesia. I came to Indonesia because of the huge opportunities for Internet media and technology ventures and also because my wife, Vanessa Hendriadi, is from Indonesia. I am currently a co-founder at Qraved.com, a restaurant discovery and reservations service for Jakarta, and a Managing Partner at Imaginato, a web and mobile eCommerce technology development company based in China.
How long did it take to get the idea of Qraved.com off the ground? What challenges did you face?
Qraved initially launched in beta in September of 2012. It took us just three months to build the initial product and a core team. Unlike some other start-ups we did not face a technology development bottleneck because we used our development company, Imaginato, to immediately access an experienced and skilled engineering team to build the product. We learnt a lot in the first two months in beta about our product; what consumers look for and how we can help bring more diners to restaurants, which we used to maximise our launch product. We launched our full service in November 2013 and have had incredible growth since then – especially last month in February where we crossed the 10,000 diners booked milestone as well as over one million monthly views.
Tell us a bit about what your website has to offer to its users.
Qraved helps diners find restaurants in Jakarta with less time, hassle and in many cases, with less money. Qraved's restaurant partners use our electronic reservation book technology to instantly confirm bookings, helping our users avoid Jakarta's inevitable cell phone blackspots, but also enabling them to make bookings any time of day or night. The restaurants can also use this technology to offer time-specific and exclusive offers to diners – especially at off peak times when the restaurant may have a few more empty tables.
Do you have plans to expand the site to other cities around Indonesia?
Our service is focused on Jakarta at present, however we do expect to expand to Bali later in the year and the rest of the Southeast Asia region next year. Meanwhile, Jakartans and visitors to Jakarta can look forward to the first ever Restaurant Festival called EAT Jakarta, between April 21st and May 18th. During this event over 100 restaurants will be featuring specially priced set menus showcasing their best dishes (www.eatjakarta.org).
How many are in your team and what do you look for when hiring new staff members?
We are a small and hard-working team of 25 at Qraved; however, we are always looking for great talent to join us. When screening for new team members we look for people who share our vision, values and passion for the industry. We also prize attitude – hard working, team players above skill because we are willing to invest and train the right people with the skills to succeed in their positions.
Where does Qraved.com stand in the Alexa ratings?
In Alexa we are in the top 1,000 rankings in Indonesia, however we typically measure our performance on Similarweb.com, where we are #14 in the food and drink category of all websites in Indonesia. Also, when we released our mobile apps, our iOS app shot to the top five and maintained this position for almost three weeks. Installing our app gives users instant access to all the information they would need on over 2,000 restaurant venues in Jakarta. You can download the apps for Android and iOS at http://www.qraved.com/qraved-mobile-apps.
With your expertise as an Internet entrepreneur, what do you foresee happening in Indonesia over the next few years with regards to the Internet?
One of the reasons I really wanted to come to Indonesia was because I could see many parallels on how the Internet developed in China from 2005-2011 and how it is developing now in Indonesia. The only difference I think is that what took six years in China will take half that time in Indonesia due to the speed of adoption and penetration of mobile Internet here. Fortunately, with the experience I gained from building Internet ventures in China, I have the benefit of hindsight in making decisions on how we execute and build the business, thus saving us time and money. I absolutely believe that Indonesia will be a massive market for Internet services and I think the tipping point for this is around two years away.
You are an endurance athlete in your spare time. Tell us how you got into this sport?
When I started working at JPMorgan, I found that I no longer had the time to compete in the team sports I used to do and within a year I had ballooned, gaining over 20% in body weight. That is when I made my first foray into endurance sports by signing up for the London marathon through a charity where I completed and raised over £3,000, and since then have completed six marathons around the world. Then, while I was studying for my MBA, I heard about the Ironman from a classmate. An Ironman is the longest distance of triathlon involving a 3.9km swim, 180km bike ride and a full marathon (42km) run. After a series of mishaps (I trained in 2005 for nine months but broke my wrist in a training ride three weeks before the UK Ironman), I had the opportunity to prepare for an Ironman event last year. I finally completed my first Ironman last year in Australia, finishing in a time of 13 hours and 2 minutes.
What do you believe is the key to success?
I think the keys to success are to have clear and focused goals, partner with talented people and hard work. Whether it is in my professional or personal life I make a point of setting up clear, measurable goals. I also believe that having the right team and support is critical to achieving success – there is only a limited amount that can be achieved as an individual but skills, capacity and dreams can be magnified by the right team. Lastly, I believe that hard work is a key ingredient to overcoming any challenge worth doing.
To contact Adrian, please email: [email protected]