Officially opening on 8th August 2023, the food-lover destination combines tropical styles from Hawaii and Indonesia to present various entertainment and curated hip culinary choices.
Pantai Indah Kapuk (PIK) adds another thematic destination with Aloha PIK. Located on the four-kilometre White Sand Beach in PIK2, the tropical culinary hotspot completes a line-up of destinations and facilities, including Land's End, beach clubs, Holiday Inn Resort, Ginza Beachwalk, and Community Park PIK2 (dedicated venue for event & festival).
Steven Kusumo, Founder and CEO of Arkana – Agung Sedayu Group, said: "Pantai Indah Kapuk is an integrated township with comprehensive facilities from travel and culinary destinations to retail areas, commercial centres, offices, residential, and a CBD area. Strategically located near via toll road access to the Soekarno-Hatta International Airport and the city centre, this area is becoming a choice destination for residents and global visitors."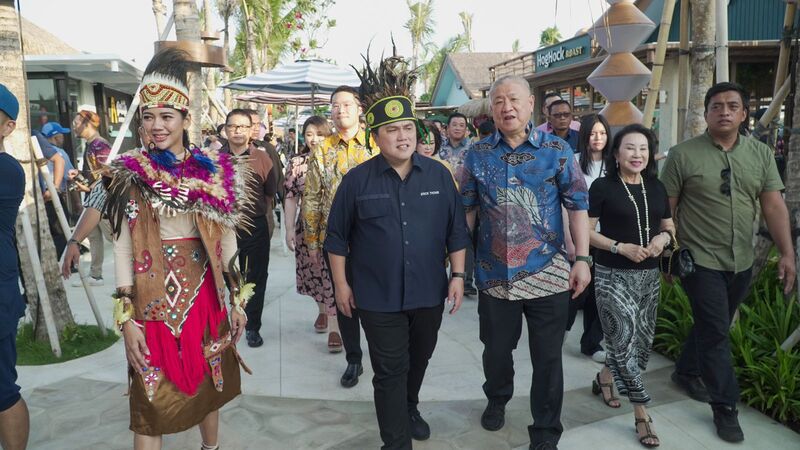 Today, at Aloha PIK, citizens in greater Jakarta and beyond can find a seaside respite with friends and family without travelling far and abroad. Officially opening on 8th August 2023, the Grand Opening of Aloha PIK sees attendance from the BoD of Agung Sedayu Group and inauguration by Erick Thohir, Minister of BUMN. Celebrating the Nusantara theme, guests enjoy lively entertainment featuring different regions in Indonesia.
Aloha PIK marries Hawaiian and Indonesian concepts against beautiful Java Sea views with soft white sands, not to mention curated restaurants and a fun atmosphere. Visitors can soak in the tropical vibes from the architectural styles, decorations, and facilities around Aloha PIK. At the main lobby, a spacious foyer provides seating areas to lounge and enjoy nibbles. Small oasis-like pools around provide a cooling effect, punctuated with colourful lights and greenery. Elements of wood, straws, sand, rattan, and bamboo construct the buildings and open balconies for an airy feeling throughout Aloha PIK.
Lina Huwan, Director of Commercial Retail 2 Arkana – Agung Sedayu Group, said: "Each commercial and retail project under Arkana carries a thematic concept, combining colourful global cultures with Indonesian touches. With warm hospitality and professional management, our recreational centres and shopping malls bring new experiences and sparks of joy to visitors."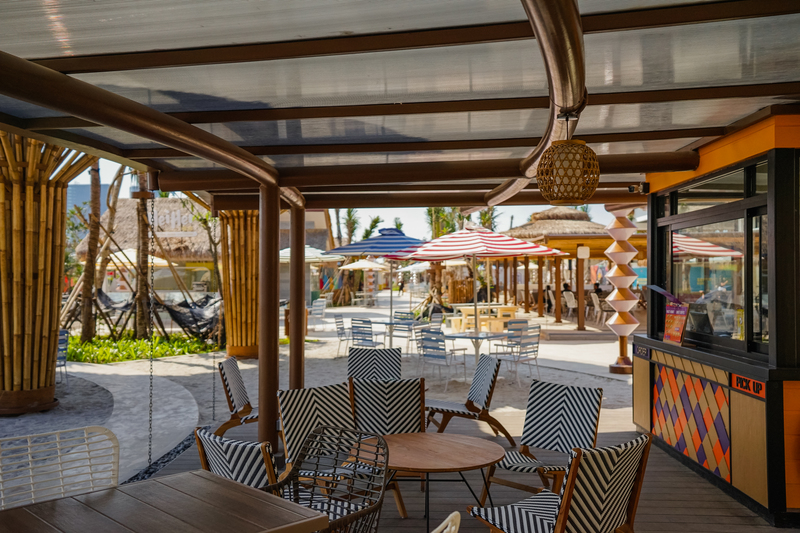 A Children's Playground at the edge of the destination delivers fun and games with a swimming pool, slides, a ball pool, a playhouse, and more. Visitors can bring floaties or purchase swimming devices from an on-site store. Moreover, parents can also buy tickets to supervise their kids at the playground.
Feeding the hungry bellies after playtime, visitors can choose from restaurants and cafés at Aloha PIK, such as Ala Moana by Abraco Bistro & Bar, Monsieur Spoon, Hotlicks Texas BBQ & Bar, Bebek Bengil, Okinawa Sushi, Hoghock, Bornchick, Sabai-Sabai, Truffle Belly, Koppi, Sate Republik, Kokonuts Ice Cream, Hei Hei, Just Coco, Pizza NYC, and many more.
Ang Fu Shen, Deputy Director of Commercial Retail 2 Arkana – Agung Sedayu Group, said: "Aloha PIK sits strategically in the PIK CBD area with integration to thematic destinations, residential, offices, and many more facilities. Presenting a conceptual design, refreshing natural views, and trendy F&B tenants, Aloha PIK completes the choices of thematic destinations in PIK2, especially in the White Sand Beach PIK2 area."
Fun events for the whole family throughout the year add to the good times at Aloha PIK. Thus, Aloha PIK is ready to become one of the favourite culinary destinations for residents and visitors from Indonesia and beyond.