Thousands of activists from the hardline group Islamic Defenders Front protest in front of City Hall to indict Jakarta's governor Ahok of "blasphemous" words and an anti-Islamic position.   
Although Jakarta governor Ahok was quoted out of context giving a speech that was interpreted by hardliners as "anti-Islamic"  and "blasphemy" in Jakarta earlier this month, the Islamic Defenders Front (FPI) group are staging a large protest to show their disdain for the politician today.
According to FPI Jakarta secretary Novel Bamukmin, "tens of thousands" of FPI members are committed to showing up outside City Hall this afternoon for the demonstration, as reported by Okezone.
Central Jakarta Police spokesman Suyatno said 3,420 personnel have been assigned to handle security at the protest. He told The Jakarta Post, "We will maximize security in the areas where the demonstrators will hold their protest."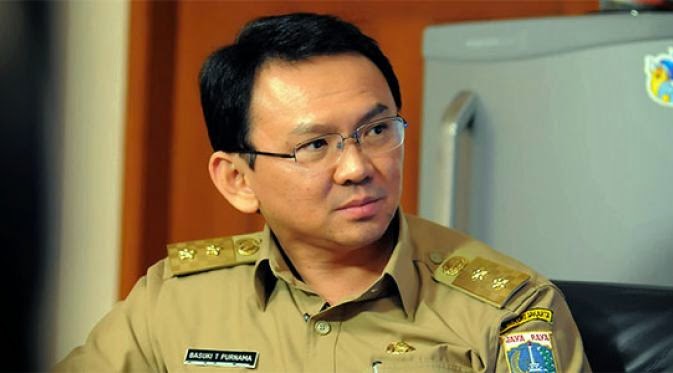 The FPI and other Islamic activist groups are slated to begin the protest at 1pm this afternoon, following Friday prayers in the capital. Demonstrators will likely march from Istiqlal Mosque to the National Police's Criminal Investigation Department (Bareskrim) office in Gambir, then arrive at City Hall.
The FPI has been known in the past to overshoot its projected number of participants. Police estimate a number closer to 5,000, regardless of the group's claims. That said, authorities remain vigilant in Central Jakarta. Police have advised locals to avoid the City Hall area so as to stay out of what will likely be debilitating traffic conditions.
"We urge police to act firmly and investigate Ahok as soon as possible. If police fail to do so, it will trigger people's emotion, which has been restrained for some time," said Bamukmin.
On Monday, Ahok said he was sorry about what he said, reiterating that he meant no disrespect or blasphemy towards the Quran or Muslims in general.
Featured image via GlobalIndonesianVoices