Nothing captures the imagination more than your wedding dress. Never has one garment had so much resting on its shoulders. Not only does it have to possess mystical powers to make you look your most stunning, it represents all your hopes, dreams, future ambitions, romance, love, joy, laughter, anticipation, belief and the ultimate 'happy ever after'.
Here are a few of my suggestions when organizing your wedding that I am sure will help make your day spectacular! The average guests spend about US$500 to attend a wedding, so don't be a pavid parsimonious philistine, make the day memorable. The invitation sets the tone, so there you have it. A chic invite says 'High Society' and a shabby one, downright shameless!
Draw up a list of all that you disliked at other weddings to avoid the same mistakes. Never charge for drinks, the amber nectar should be free flowing. It is imperative that you lay on a culinary delight of the most exquisite yet traditional nature. Go to as many food tastings as possible and don't be afraid to ask for what you want! Evening guests should be treated to fare which is both moreish and mouth-watering. Make everyone feel first class!
Dancing must go on until last person standing! Employ a DJ who plays floor fillers, not killers. As part of the invite, ask the guests to name their top five all-time favourite tunes, put them all on a spreadsheet and hand to DJ! You will be guaranteed a crowd throwing shapes and cutting rugs all night. What a swell party it will be!
Choose your bridesmaids with military precision and please make sure they look ravishing because making them look like the ugly sisters will hinder your overall appearance. Each maid's personality should be reflected in the dress she wears.
Don't worry about the groom; he usually does as he is told!
The dress
All eyes will be on you, so make a statement. Your guests will pass judgement, no errors allowed; only a glorious feast of tulle, lace, sparkling gems, organza, silk jersey and chiffon. Create a mood board and add celebrities' wedding dresses you like. My all-time perfection wedding dresses are those of the late Princess Grace of Monaco, Plum Sykes – oh that deliciously glorious train – Nicole Ritchie, Kate Moss and Gwen Stefani (her spectacular dramatic pink dip-dyed to die for Dior gown), who both had their dresses designed by the contentious John Galliano.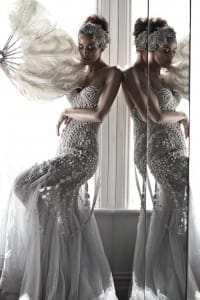 Choosing a style
Choose a silhouette that suits your body type, fish tail works for just about everyone. Sweetheart necklines for a generous cleavage, strapless for small to medium size and if you are lucky to have bantam breasts and are pencil thin, then a lovely twenties style low cut frock will skim and flatter. Unless you are twenty-one and under, avoid 'Gone with the Wind' skirts! A giant ball of tulle on casters rolling up the aisle is not a good look!
Trying the dress
Take only a trusted few when buying your dress. You don't need a carnival in attendance with Aunt Nora giving her unsolicited advice. Try on different styles, although you may have a particular dress in mind. I know you should stick to a budget, but I say knickers to that! I mean, how can you, when it comes to your gown?
Remember to sit in your dress and bust a few moves to see how you look. Take photos of yourself in the dress to see how it photographs. Go to trunk shows, you will save yourself a few sheckles. If you are running on empty then opt for last season's gowns, sample sales or ex-display. An evening dress cut on the bias can work too, drape yourself in a contrasting tulle, wear like a loose headscarf and let the rest fall over your shoulders, sweeping the floor as you advance.
Hair and make-up
Practice your hair and make-up, remember, you want to be recognised as you float down the Champs-Elysees to your beloved. The idea is to look more beautiful than you have ever looked, but remain you! Keep your jewellery to a minimum. Petite diamond studs, no truck-sized earrings – think simple elegance. If a veil is not your thing then think of using a vintage necklace as a headpiece, a fedora adorned with a huge flower or a bindi and Indian wedding jewellery to make you a bride to remember.
Your heels
Your chaussures have to be nothing short of downright pulchritudinous and spectacularly dazzlingly. This is the shoe for all seasons, a last above the rest. It is snooty because it can be, it lounges on a velvet pedestal when it's not being worn and it would never want to be a boring cream/beige wedding shoe. Christian Louboutain, Sophia Webster, Casedei and Altuzarra can help with this!
Mood board
Collect images of designer wedding dresses to add to your mood board. Please don't do the obvious – Vera Wang – be a bit more imaginative. Ellie Saab's gowns are deliciously dreamy and in a word beautiful. Reem Acra's gowns are sublimely celestial, alluring, yet demurely sexy and chic personified. The construction of these gowns are short of an architectural feat, juxtaposed with lavishly lush fabrics and ornate embellishments.
A design duo, J'Aton Couture, a mere skip and hop away in Melbourne, Australia, create wedding and evening gowns of a spectacular magnitude. Their artistry results in sublime-empyrean, Byzantine-esque robes. A rich earthy sexiness and style that is synonymous to them. Their red gown would make an off the wall bride turn heads.
Ivan the Great
On our shores lies a talent undiscovered by the international fashion fraternity: Ivan Gunawan. His wedding gowns demand attention and quite rightly so. "We are handsome and beautiful" intone the gowns. "We will make you look good, standing elegant, tall, parting waves, whilst we are draped on you".
I first saw Ivan's creations at the Ritz Carlton Kuningan wedding fair and I was enchanted by his designs and the concept of his bridal show, a glamorous geisha, inspired after a visit to Japan with the accessories leaning towards a modern Sakuro. It did not disappoint. The use of lace strategically placed and embellishments gave new and refreshing meaning to sexy-demure. I loved the sixties-inspired short ballerina style dress, cinched in with a kimono belt and the peek-a-boo sweeping dress with a dramatic cape suitable for queen of geisha-Narnia.
You cannot but help love a man who can rock a pair of black jeggings, t-shirt,  super patent Gucci loafers and the pièce de résistance, an eighties American football-size padded shoulder gold and black brocade jacket, pulled together with aplomb and a nonchalance that only Ivan could. I arrive at Ivan's studio, a hive of activity with staff flying about getting things ready for the master to arrive. The capacious studio environed with Asian influenced antique-like furniture, created a Buddhist temple ambience of tranquillity. Infused into this space are rows of insanely foxy, alluring and dazzlingly spectacular works of art transmuted as dresses, with their layers of chiffon, tulle, teal, sparkling gems, lace and netting forming beautiful jagged edges as they hang elegantly draped-on hangers. There is an ocean of shoes in neat rows, all ornately ravishingly festooned with embroidery, jewels and velvet. These are head turning numbers that add sexy inches on to your pins and make you a goddess!
Ivan's love of fashion was inspired by the time he spent with his designer uncle. A beautiful aspect of Ivan is that he has had no formal training and therefore his imagination knows no bounds. He nurtured his craft by observing and in 2002 after starring in a film, he invested his earnings to fund his eponymous label. Not content with that, he is both working on a lifestyle book and can be seen on our TV screens as a judge on a talent show, D'Terong. Ivan shimmies to the tune of his own drum. His passion is to see people feeling and looking great in his designs. Taking his time getting to know his clients' personalities, makes them feel special, resulting in unique individual designs.
"Colour is important, it brightens up our souls," opines Ivan, who likes to give his clients the perfect silhouette by using corsetry in his designs. Crystals are favoured as they have the wow factor and are light. He loves lace for its sophistication, which is prominent throughout his collections. "I like to watch and learn from others. I admire Ellie Saab, Valentino and the almighty Tom Ford," enthuses Ivan. He cites their style of beautiful simplicity as inspiration.
Ivan is in demand; his designs adorn the bodies of the great, bold and beautiful of Jakarta's glitterati. He can sometimes be commissioned to make a dress with just three days to complete, which for mere mortals would be a mission impossible, but of course he does it with ease. Watching him at work is witnessing a raw, innate, visceral talent with dashing whimsically melodic touches. His designs are an absolute testament to the command of his artistry; a molotov of empyreal fantasy, alluring subtle elegance and sex appeal.
All shoes and accessories in his shows are designed by Ivan. For the future, Ivan has set his sights on a ready-to-wear women's collection, menswear with funky modern Batik shirts and a collaboration with a department store. With two brides (weddings) to dress every weekend, one wonders how he fits it all in! Yes folks, this is why Ivan the Great is an apt nom de guerre for this spectacularly talented designer. If you want to be the stand out bride then Ivan is your man.
For you and your beloved, I wish you joy, love, laughter and may your past sorrows be no more than your future joys.