Four artists (Raden Saleh, Hendra Gunawan, Sindudarsono Sudjojono and Lee Man Fong) produced most of the top 10 most expensive Indonesian paintings sold at auction, so this list features only the highest-selling work of each artist. With a couple of exceptions.
Perburuan Banteng
(Wild Bull Hunt, La Chasse au Taureau Sauvage)
Painted: 1855
Artist: Raden Saleh (1807 or 1811-1880)
Sold: January 27, 2018, Vannes, France
Price: €7.2 million (US$8.8 million)
Dimensions: 110 x 180 cm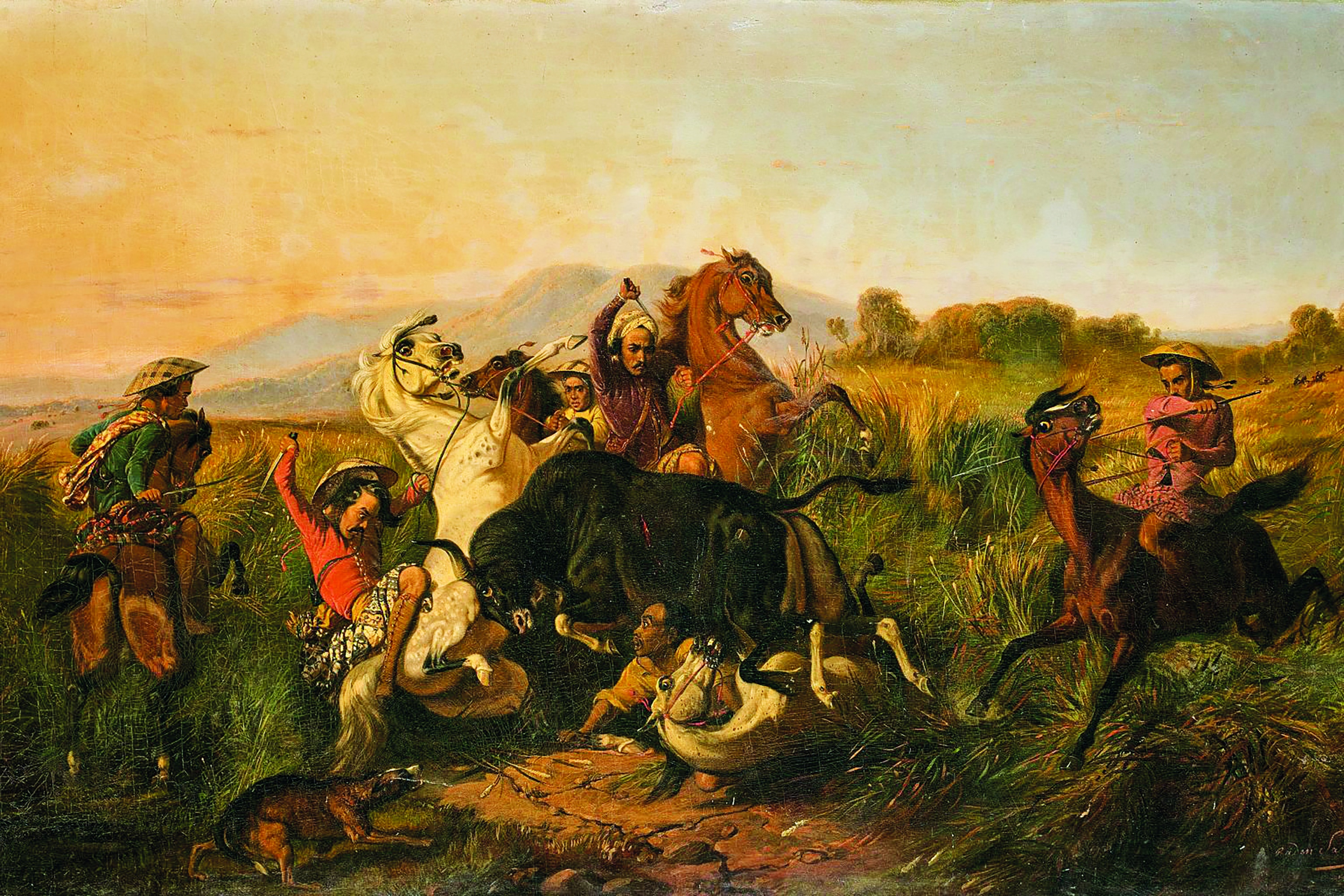 Raden Saleh Sjarif Boestaman is regarded as Indonesia's first modern artist and was the first to study in Europe. Born of Arabic paternal descent into Javanese nobility, he spent time with a circus animal tamer and received a scholarship to study in the Netherlands. He lived abroad for almost 23 years in the Netherlands, Germany, France, Switzerland, Scotland and Italy. Hunting was a major theme of his work, showing chaotic conflict between humans and animals. Perburuan Banteng includes a self-portrait: Raden Saleh is on the brown horse in the centre. This oil painting is believed to have been commissioned by a 19th-century sugar and coffee trader, Jules Stanislas Sigisbert Cezard. It was later sold, inherited several times and then rediscovered in the cellar of a French home in August 2017. At auction, bidding opened at the reserve price of €200,000 and closed at €7.2 million. The winning bidder was an anonymous art collector from Indonesia. Many of Raden Saleh's works were lost in a fire at an exhibition of colonial art in Paris in 1931. At least one was stolen from Indonesia's National Art Gallery in the 1990s in an inside job. There are about 30 of his known works in Indonesia, including six in the presidential collection at the Istana Merdeka state palace.
Other top sellers: In 1996, The Deer Hunt (1846) sold in Singapore for S$3.08 million (US$1.8 million). Two of Raden Saleh's other works, Lying in Wait (1849) and Lions and a Snake Fighting outside a Grotto in a Tropical Landscape (1839) also went under the hammer in the 1990s for over US$1.2 million each.
Pasukan Kita yang Dipimpin Pangeran Diponegoro
(Our Soldiers Led Under Prince Diponegoro)
Painted: 1979
Artist: Sindudarsono Sudjojono (1914-1986)
Sold: April 2014, Sotheby's Hong Kong
Price: HK$58.36 million (US$7.53 million)
Dimensions: 100 x 199.5 cm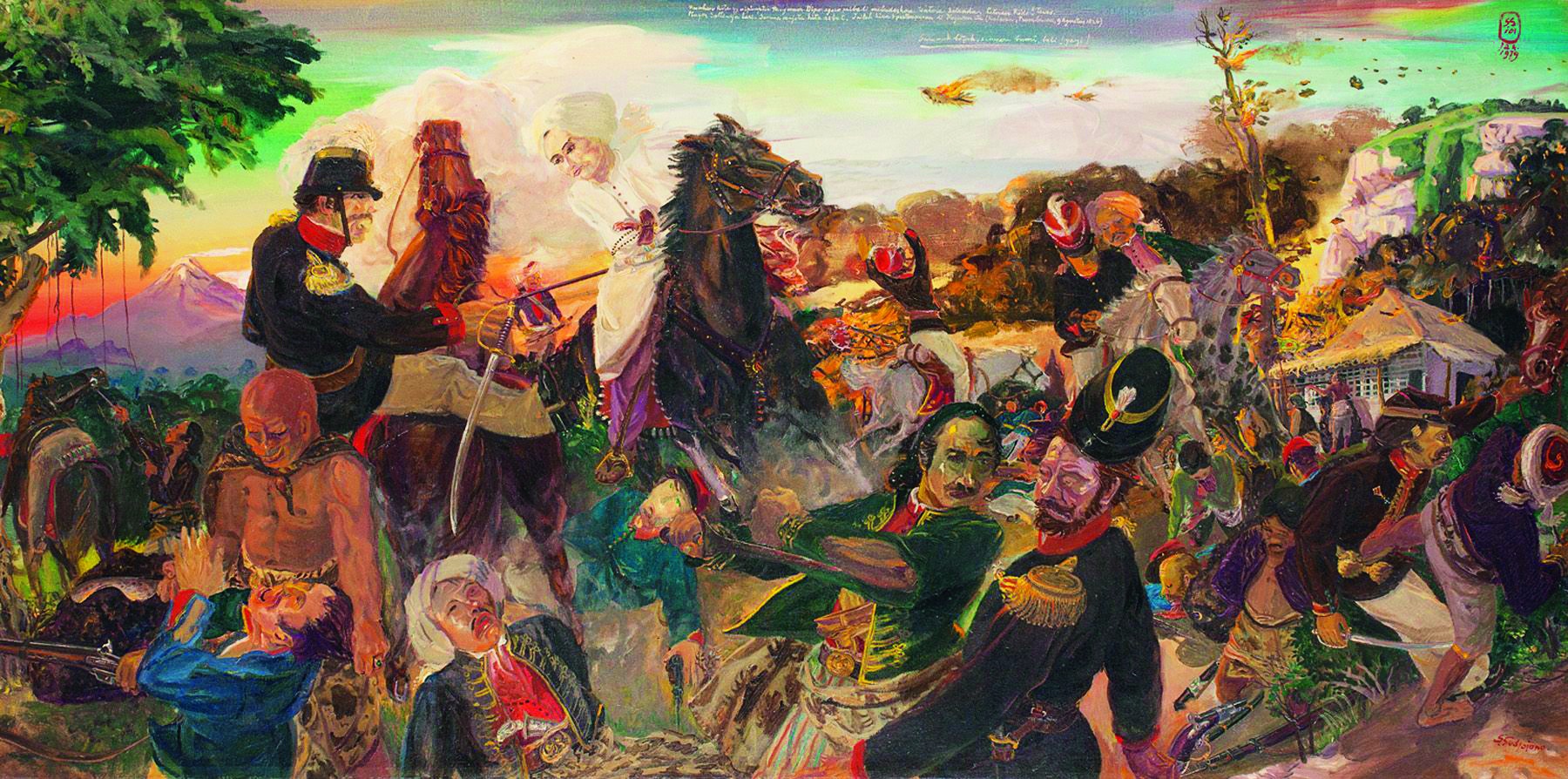 This painting depicts Prince Diponegoro and his troops in battle against Dutch soldiers during the five-year Java War (1825-1830). Prince Diponegoro, whose father was the Sultan of Yogyakarta, is the pale-skinned figure in white. He had previously cooperated with the Dutch but rebelled after his younger half-brother was chosen for succession to the Yogyakarta throne. He was also annoyed with the Dutch for building a road near his parents' royal tomb. His forces held out against the Dutch for five years, but lost when Diponegoro was tricked into attending promised peace talks, only to be captured and exiled.
What the experts say: The work is a deliberate call to action for Indonesians to celebrate their fallen heroes. The Indonesia that Sudjojono knew was experiencing a breakdown of identity, for the country was locked in a struggle between foreign influences and revolutionary ideals. By drawing parallels between the Dutch colonialists and the local Indonesian government, Sudjojono's painting turns into a social commentary about the power of human faith amidst political and emotional tyranny.
Bali Life
Painted: 1974
Artist: Lee Man Fong (1913-1988)
Sold: November 2013, Christie's Hong Kong
Price: HK$35.96 million (US$4.64 million)
Dimensions: 100 x 243 cm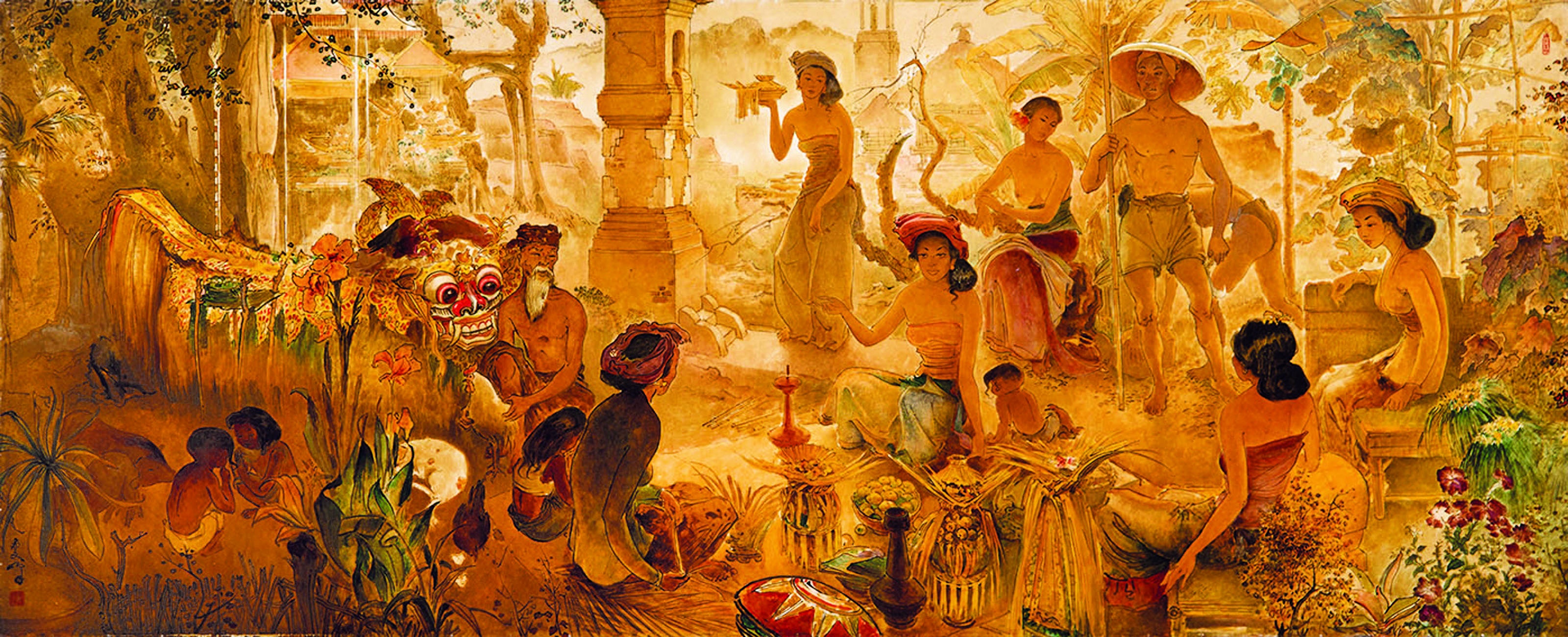 Lee Man Fong was born in China and raised in Singapore, but after his father died in 1930, he moved to Jakarta in 1932. A decade later, Lee was jailed for his opposition to Japanese colonialism in Indonesia. In the 1950s, founding president Sukarno appointed Lee as the court painter for the presidential palace. When Bali Life went under the hammer in Hong Kong, there was strong bidding from Indonesia, China and Singapore, as all of them considered him their own. The painting, which depicts Balinese villagers at rest, is unique because it is the only known piece in Lee's Balinese series painted on canvas as opposed to masonite board.
Other top sellers:  Fortune and Longevity (1951) sold in 2012 for US$4.42 million. Prosesi Warga Bali (Balinese Procession) sold in 2017 for US$2 million.
Ali Sadikin Pada Masa Kemerdekaan
(Ali Sadikin During the Independence Struggle)
Painted: 1978
Artist: Hendra Gunawan (1918-1983)
Sold: October 5, 2014, Sotheby's Hong Kong
Price: HK$33.24 million (US$4.29 million)
Dimensions: 200 x 302 cm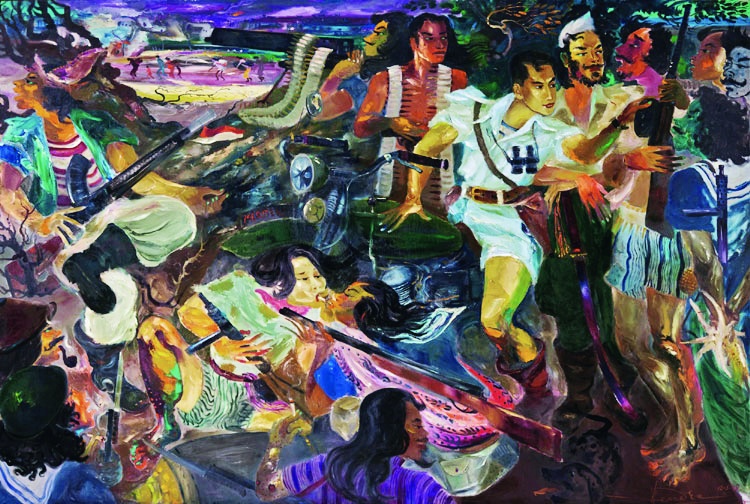 Hendra Gunawan was one of Indonesia's most prominent modern artists. Many of his later paintings showed scenes of everyday life, amplified by cartoonlike proportions and bright colours. Large-breasted women are a common theme. Despite being a zealous patriot, Hendra's tenuous links to the Indonesian Communist Party saw him jailed for 13 years by the Suharto regime, which disapproved of intellectuals. Ali Sadikin, who served as governor of Jakarta from 1966 to 1977 and famously modernised the national capital, did not agree that artists belonged in jail. On the contrary, he encouraged artistic freedom of expression. When he learned of Hendra's fate, he provided him with paints and canvases throughout his imprisonment. After his release, Hendra produced this painting of Ali Sadikin and presented it to him as an act of gratitude. Ali is in white, on a Harley-Davidson, while to his right is war hero Gatot Subroto.
What the experts say: Due to his limited exposure to life outside prison, Hendra began delving deeper into the art of portraiture during his incarceration, causing him to pay more attention to facial features in the works he painted even after his release. Featured in this painting is a self-portrait, modestly and respectfully located beneath his revered leader. With long hair and a pointed beard, Hendra Gunawan's presence is an interesting addition to the work as he rarely painted self-portraits prior to his prison years.
Blick Von Der Höhe
(A View From The Heights)
Painted: 1934
Artist: Walter Spies (1895-1942)
Sold: October 5, 2013, Sotheby's Hong Kong
Price:  HK$31.48 million (US$4.06 million)
Dimensions: 100.5 x 82.5 cm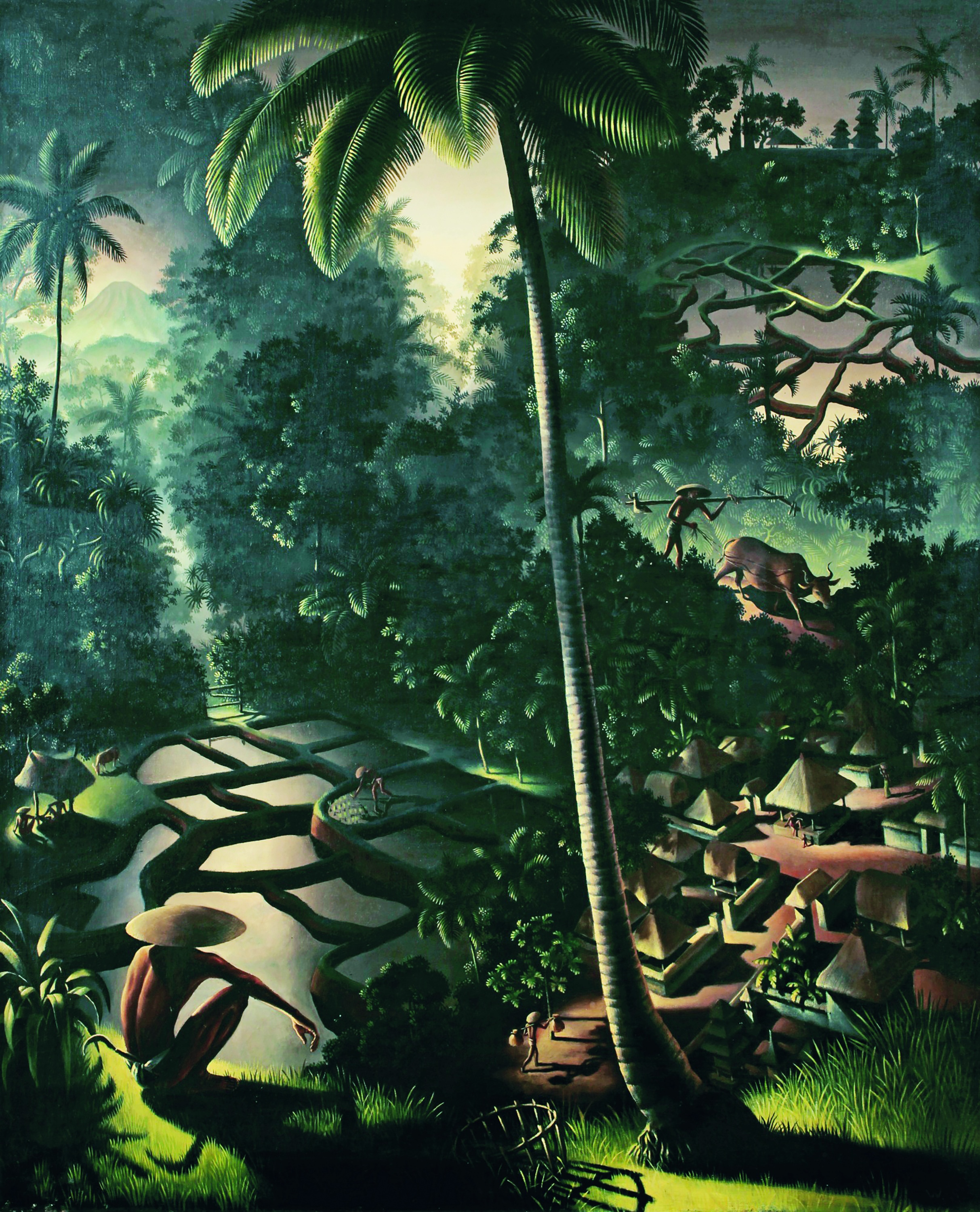 Walter Spies may be a controversial inclusion on this list, as he was a Russian-born German. Nevertheless, he spent much of his tragically short life in the Dutch East Indies and painted most of his works there. The son of a wealthy German diplomat, Spies moved to Java in 1923. He found work playing a piano to accompany silent Chinese movies in Bandung. Next, he led a small European orchestra for the Sultan of Yogyakarta. In 1927, he moved to Ubud in Bali and focused on painting. His unique style melded Western and Eastern elements, portraying Balinese spiritual motifs through techniques of contemporary European art. A keen botanist and zoologist, he also produced detailed paintings of insects. He was arrested in December 1938 by the Dutch colonial administration amid a crackdown on homosexuals. He was released in September 1939. After Germany invaded Holland in May 1940, Spies was arrested along with other German nationals in the Indies. He spent 20 months in internment camps in Java and Sumatra. In January 1942, he was put on a ship to be transported to Ceylon. The ship was bombed by a Japanese plane off Nias Island. The Dutch crew escaped in lifeboats, leaving Spies and the other Germans to drown.
What the experts say: The artwork is a vibrant portrayal of the Balinese countryside, coloured by tropical flora and fauna, the light and shadows duelling for dominance within the scene. As documented throughout his paintings, the works are a love letter to the people whom Spies befriended, and the country that he chose to become his adopted home.
Other top sellers: The Landscape and Her Children (1939) sold for over for US$1.14 million in 2002.
Women Around the Lotus Pond
Painted: 1950-51
Artist: Adrien-Jean Le Mayeur de Merprès (1880-1958)
Sold: May 30, 2016, Christie's Hong Kong
Price:  HK$30.36 million (US$3.91 million)
Dimensions:  150 x 200 cm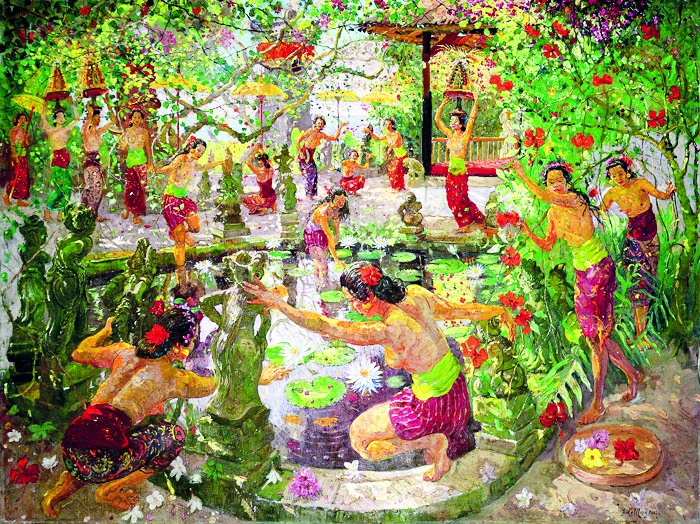 Another foreign name whose inclusion might irk art patriots. Belgian artist Adrien-Jean Le Mayeur was 52 when he visited Bali in 1932 for a planned eight month stay, but he ended up spending the rest of his life there. As he said, "Except for a few journeys to the Far East, I never left the island. Why should I? Sir, I am an impressionist. There are three things in life that I love. Beauty, sunlight and silence. Now could you tell me where to find these in a more perfect state than in Bali?" Soon after his arrival, he met a 15-year-old legong dancer, Ni Nyoman Pollok, who became his muse, model and wife.
What the experts say: Le Mayeur wanted to surround himself "with nothing but beauty" and not only transformed his garden into a tropical paradise full of exuberant trees and flowers, terraces, pergolas, statues and lotus ponds, but also preserved the interior of his cottage as an arena to stage dramatic compositions for his interior paintings. All this was done with the idea to frame Ni Pollok's beauty within the larger context of his cottage and garden.
Other top sellers: A similar painting, Around the Lotus Pond, sold in 2018 for US$2.63 million.
Pandawa Dadu
(The Dice Game from the Mahabharata Epic)
Painted: 1971
Artist: Hendra Gunawan
Sold: April 2015, Sotheby's Hong Kong
Price: HK$26.48 million (US$3.39 million)
Dimensions: 202 x 386 cm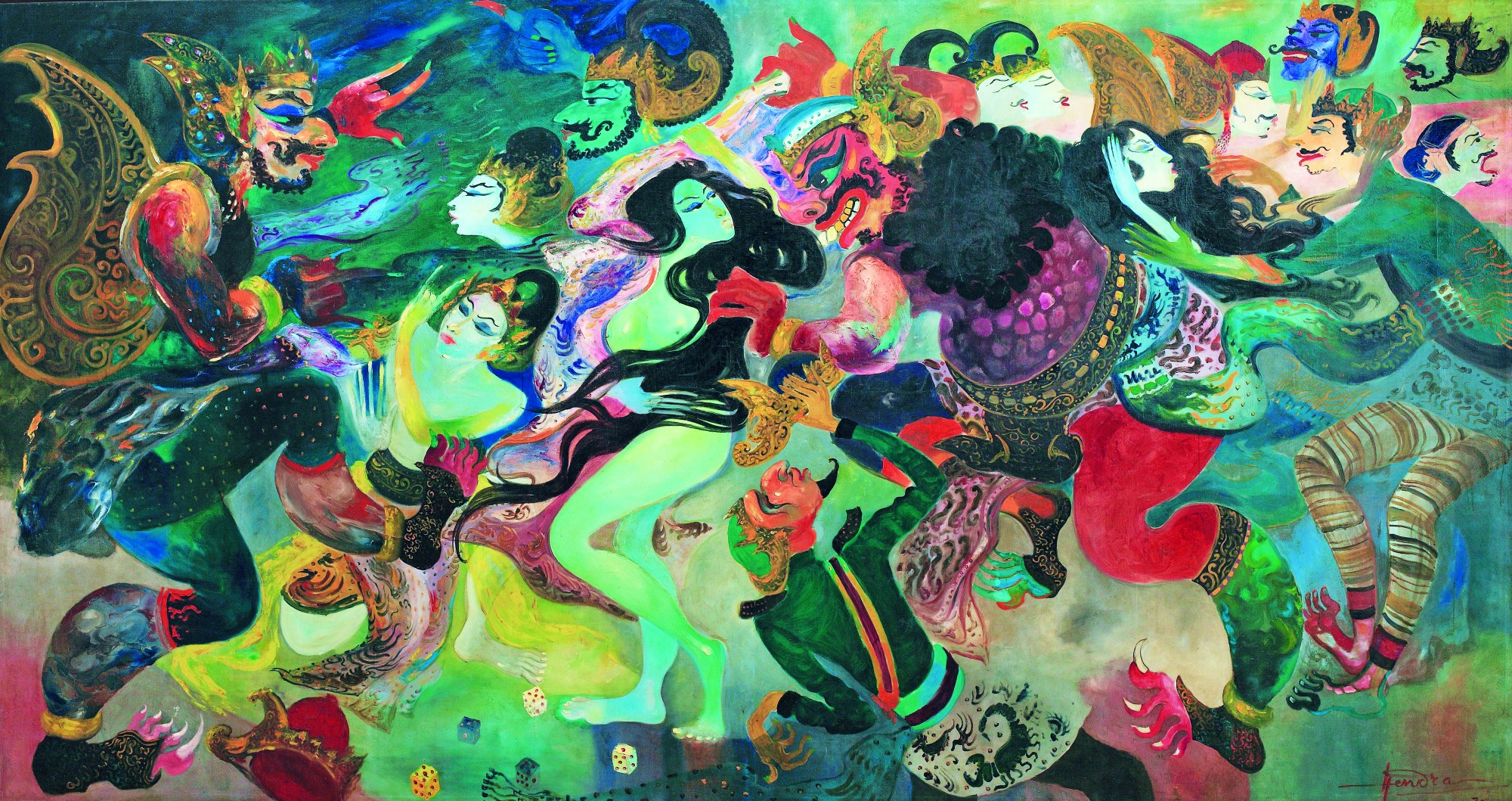 The greatest collector of Hendra's works is real estate tycoon Ciputra, who has commissioned massive sculptures inspired by paintings at his malls and housing estates. These days, most of the Hendra Gunawan paintings offered by dealers are fakes. Pandawa Dadu illustrates a rigged game of dice between the semi-divine Yudistra of the Pandawa family and his devious cousins, the earthly Korawas, who have loaded the dice. The painting depicts the instant when Yudistra loses everything: his wealth, kingdom, freedom, brothers and his wife.
What the experts say: Through the production of this work, Hendra was making sense of his personal trauma. This rare masterwork reveals the artist's subtle wit, fascination of his nation in conjunction with foreign traditions, his sincere respect for women, and ultimately, his sensitive mind.
Other top sellers: Mandi di Pancuran (Bathing in the Shower) sold in 2015 for US$1.3 million, and Kuda Lumping (Horse Puppet Dance) sold in 2016 for US$1.1 million.
Borobudur and the Sun
Painted: 1984
Artist: Affandi (1907-1990)
Sold: October 2016, Sotheby's Hong Kong
Price: HK$9.8 million (US$1.26 million)
Dimensions:  149.5 x 195 cm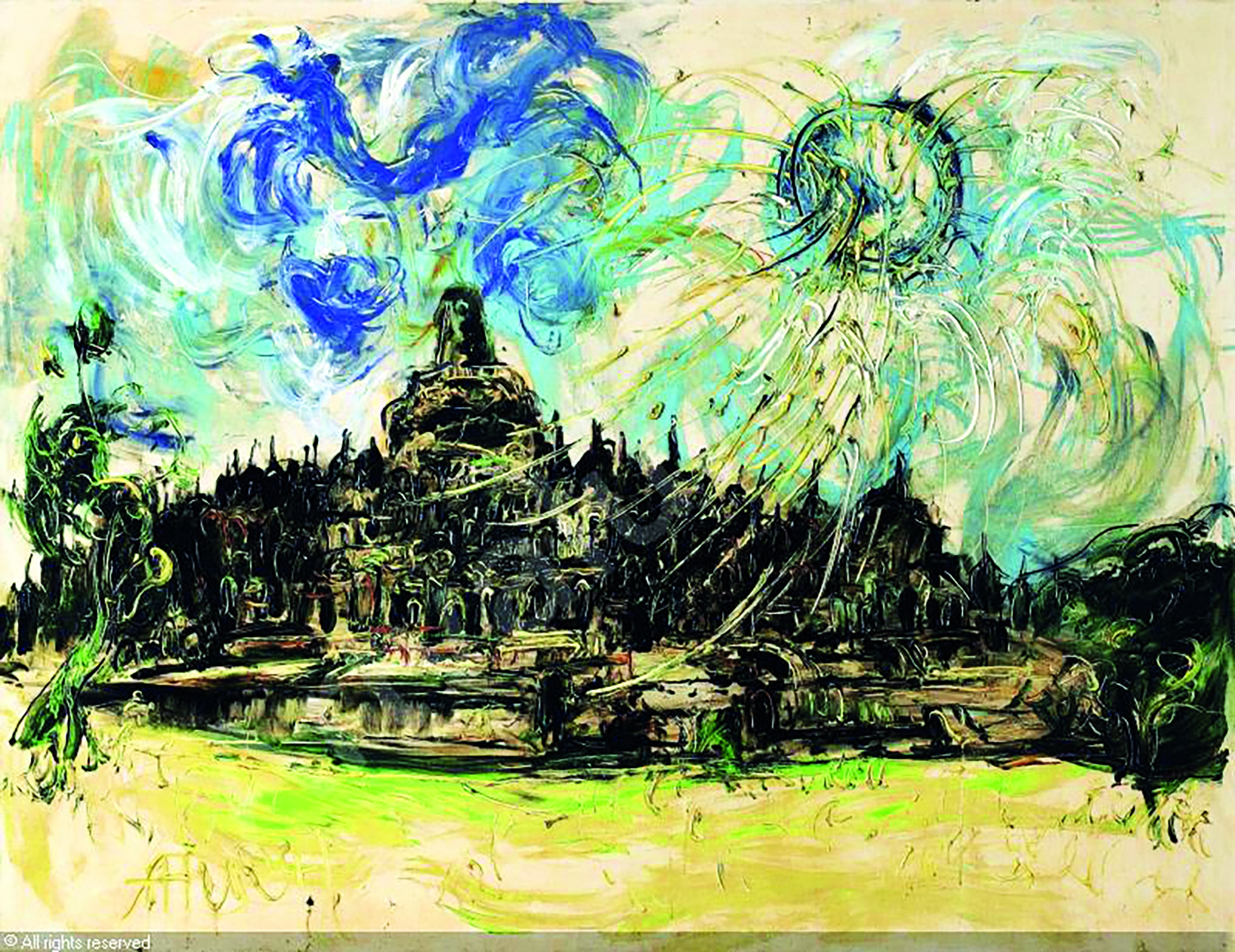 Affandi has been dubbed the father of modern Indonesian art and compared to Vincent van Gogh. He is best known for his expressionist paintings, in which he squeezed paint directly from the tube to the canvas. This was the result of an accident: one day, he could not find a pencil to draw a line, so he used a paint tube. He thought the resulting effect brought his art more to life. Self-taught, he felt that his paintings should be gritty and authentic, rather than pleasing illusions of beautiful people and romanticised landscapes. He gained fame in the 1950s, travelled to Europe and worked from his studio in Yogyakarta.
What the experts say: Upon viewing this work, which was painted just six years prior to his death, it is evident that Affandi's highly instinctive manner of painting allowed his oeuvre to grow steadily beyond reality, ultimately metamorphosing into a visual reflection of the cosmic nature of things. Borobudur and the Sun truly a provides a unity with the cosmological forces through art, with the temple itself seemingly ascending into the sky, attempting to commune with the divine.
The Ruins and the Piano
Painted: 1956
Artist: Sindudarsono Sudjojono
Sold: May 2017, Christie's Hong Kong
Price: HK$9.06 million (US$1.16 million)
Dimensions: 126 x 200 cm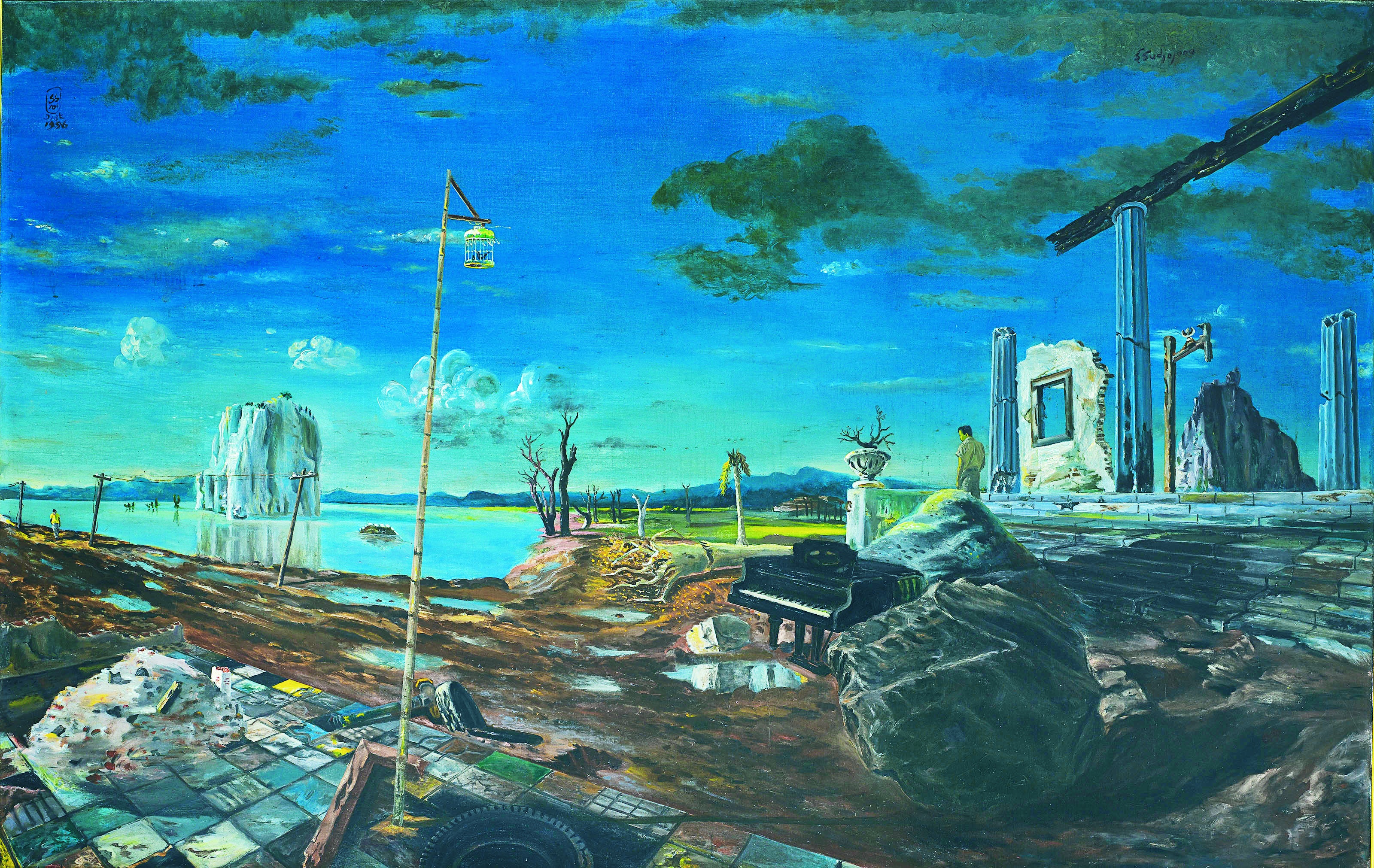 Sudjojono is considered a pioneer of social realism in Indonesian art. He criticised what he felt were the colonial or unrealistically idealistic works of earlier Indonesian painters. He was also a prominent art critic and political activist, establishing an artists' union when just 24 years old. He was elected to Indonesian parliament in 1955 as a member of the Indonesian Communist Party (PKI). In 1951, Sudjojono met Rose Pandanwangi, a strikingly beautiful Indo-European singer, who was already married. He and Rose fell in love and he began painting portraits of her. By 1958, PKI was demanding Sudjojono cease his relationship with Rose. Disillusioned by political corruption, he quit the party and also resigned from the affiliated People's Cultural League (Lekra). This ensured he was spared imprisonment when PKI was annihilated over 1965-67. Sudjojono and Rose were married in 1959, after she had divorced. It is Rose's piano depicted in this painting.
What the critics say: The Ruins and the Piano has a visceral quality that is simultaneously realistic and surreal, differing and far from a conventional landscape. The painting is clearly a symbolic landscape of Sudjojono's inner world, left in a shambles and twisted in turmoil as he deliberates his actions: to face reality or to give in to his feelings?
The Man From Bantul (The Final Round)
Painted: 2000
Artist: I Nyoman Masriadi (1973-)
Sold: October 6, 2008, Sotheby's Hong Kong
Price: HK$7.82 million (US$1 million)
Dimensions: 250 x 435 cm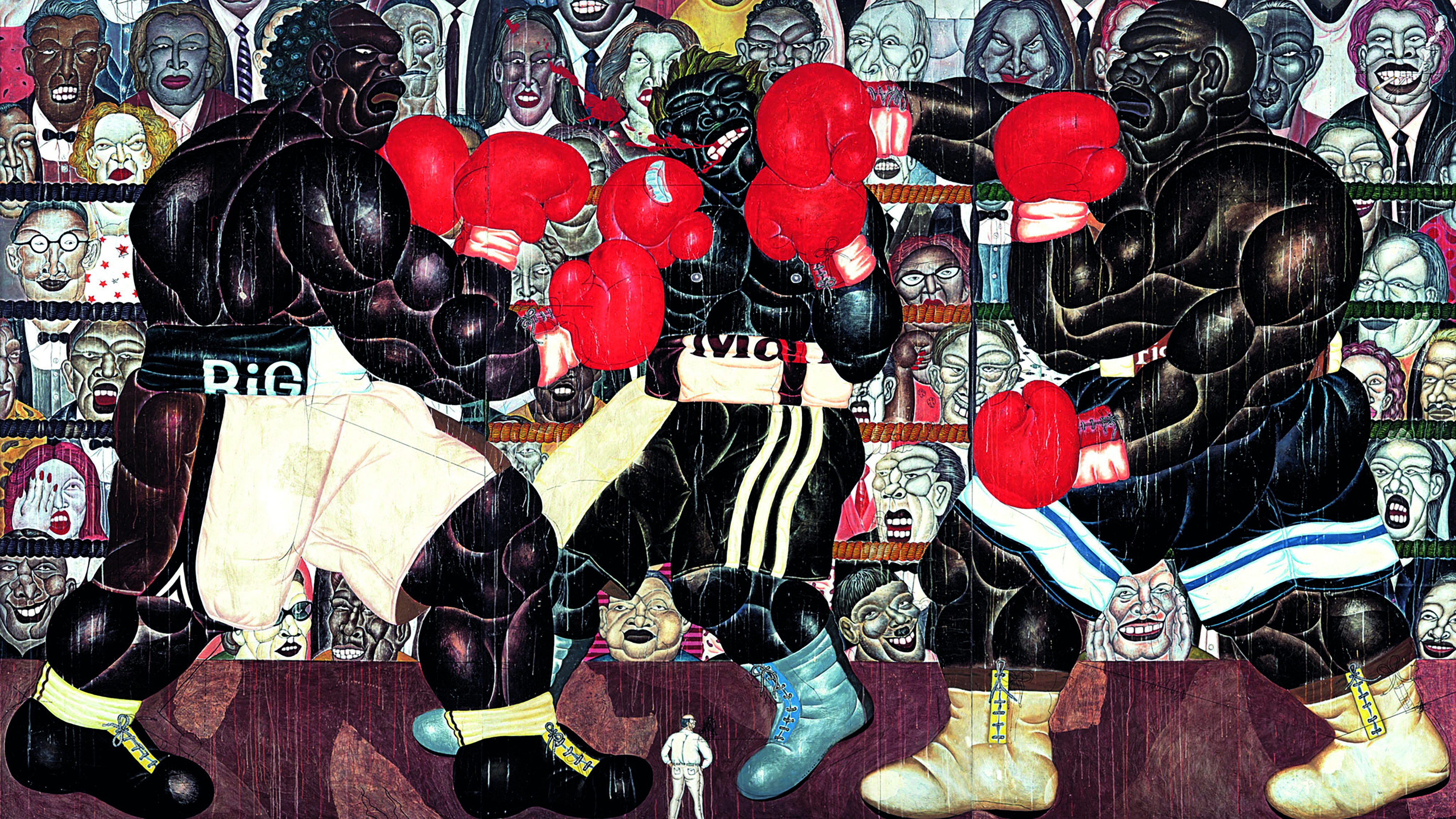 A contemporary artist of the post-Suharto era, I Nyoman Masriadi was born in the culture-rich town of Gianyar in Bali. He started out selling his souvenir paintings to tourists for about US$20. He is now based in Yogyakarta, producing about four to eight works a year, and selling them for US$100,000 and upward. His childhood fondness for superhero comic books and pop culture is reflected in his satirical art. His paintings often feature cartoonish, oversized, muscular and dark-skinned men, or parodies of Batman. The Man From Bantul (The Final Round) has been variously described as "conveying the resolve of the human spirit" and "a powerful allegory of Indonesian politics" and "evocative of the weighty struggle of Sumo wrestlers juxtaposed with the calculated belligerence of boxers." When auctioned in 2008, it sold for almost five times its estimated price, setting a record for a contemporary Southeast Asian painting.