Sometimes we all just want to get away and feel like we are on a holiday, but at the same time we don't want go through all the hassle of airports and immigration. For those who feel this way, the newest travel trend, the "staycation" is the best solution. The SNA Media Team were invited for a weekend staycation at one of Surabaya's renowned five-star hotels, the Shangri-La, and would like to share their unforgettable experience.
Strategically situated near top notch malls Ciputra World and Pakuwon Mall, the Shangri-La Hotel Surabaya provides a free-form outdoor pool with tropical landscapes, a spa centre with a sauna, English-speaking staff, a paperless check-in process, free Wi-Fi and a free shuttle service to the nearby shopping malls.
Shangri-La has several types of room to suit the preferences and budgets of all guests. The Deluxe Room is perfect for budget luxury seekers, businessmen or anyone looking for a short luxurious getaway. With a king-size bed, a comfortable couch and a wide television your basic room needs are covered. A special feature of the room is an elongated window that displays a panoramic view of Surabaya city. The room has Javanese and post-modern architecture, characterised by a simple, traditional and bright style.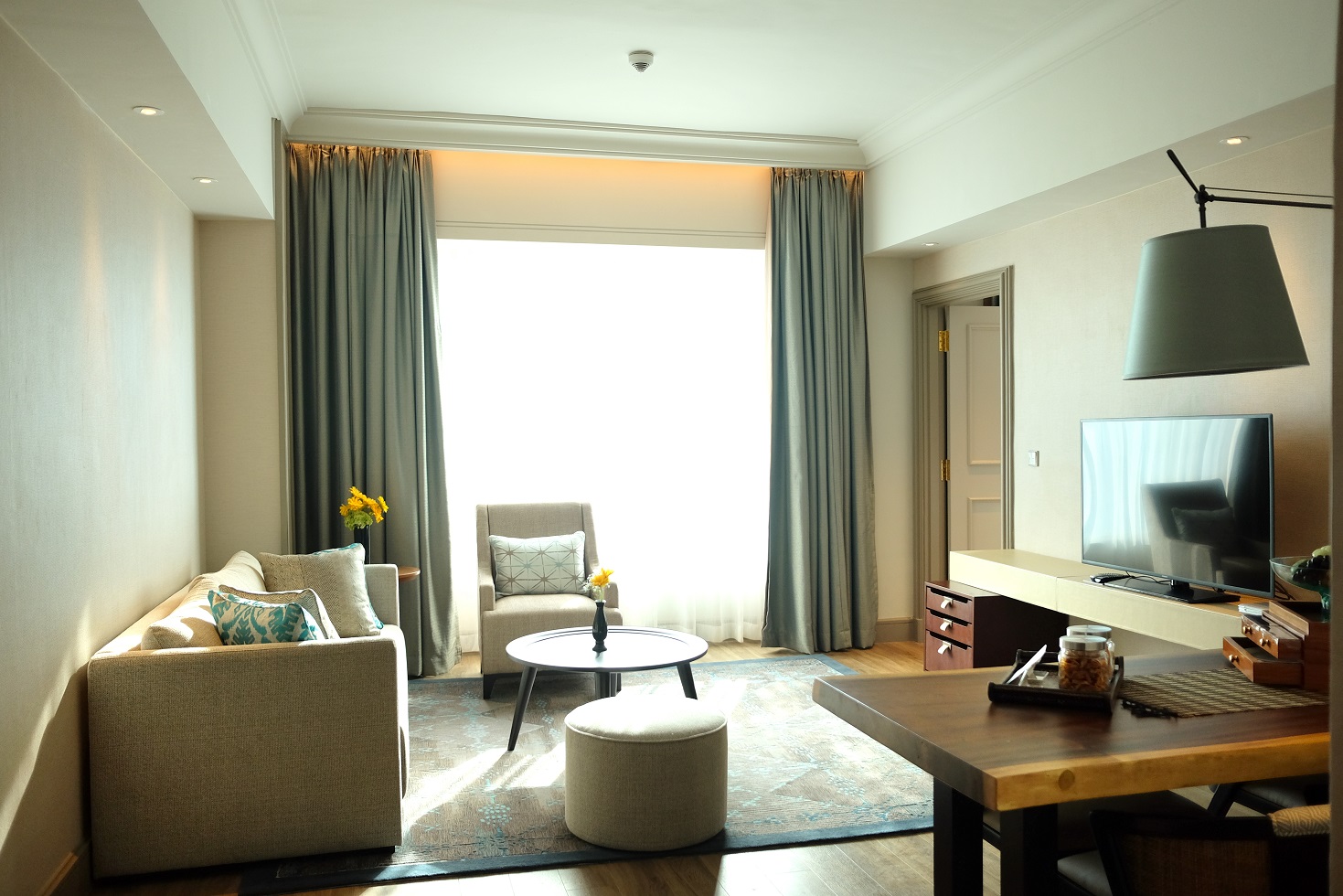 The Executive Room is a grander version of the deluxe room and is especially suitable for families. The more spacious Executive Suite is decorated with Surabaya's most elegant interior ornaments. Staying in this suite gives guests complete, personal services, such as access to the exclusive Horizon Club Lounge. This suite is highly recommended for an extended stay.
The Resident Suite has an opulent style. It has a personal office, and the dining room features a beautiful dining table made from one large natural slab of timber. The kitchen is compact and the living room is spacious and comfortable with an L-shaped sofa and lounge chairs and a flat-screen TV. You can spend many hours of fun family time in this cosy suite.
If you are looking for the most authentic room in the hotel, then the Bali Suite is your answer. The Bali Suite is equivalent to three deluxe rooms and newly renovated with three distinctive spaces: the casual TV area, a more formal lounge area and dining room for eight with a beautiful round marble dining table in front of a unique art panel with golden glazed lotus leaves. The pantry is fully equipped to serve a simple coffee or a large dinner party. A cosy study is just off the TV lounge area and can be closed for private meetings. The master bedroom has its own lounge area, a king size bed, a mini-bar and a very large walk-in closet with a makeup vanity. The bathroom is all new with a separate shower and bath and an extra-long vanity with his and hers basins. A special feature of this suite is you can hire a Shangri-La chef to cook for you in the kitchen.
The most lavish suite available is the Presidential Suite and, true to its name, Indonesian presidents have stayed here during their visits to Surabaya. The suite is definitely fit for VIPs with its Indonesian style antiques and natural elements like stone walls and dark wood decoration. All suites feature L'Occitane luxury bathroom amenities.
Shangri-La also prides itself in providing a range of delicious cuisines for its guests. Executive Chef, Mr. Kamal Silva, who has been working with the Shangri-La Group for several years, maintains high standards by paying close attention to detail from plating to taste. "The most rewarding part of my job is keeping my employees motivated as they perform a fantastic job that satisfies guests," he says. Shangri-La believes that when it comes to food, the customer's smile matters the most.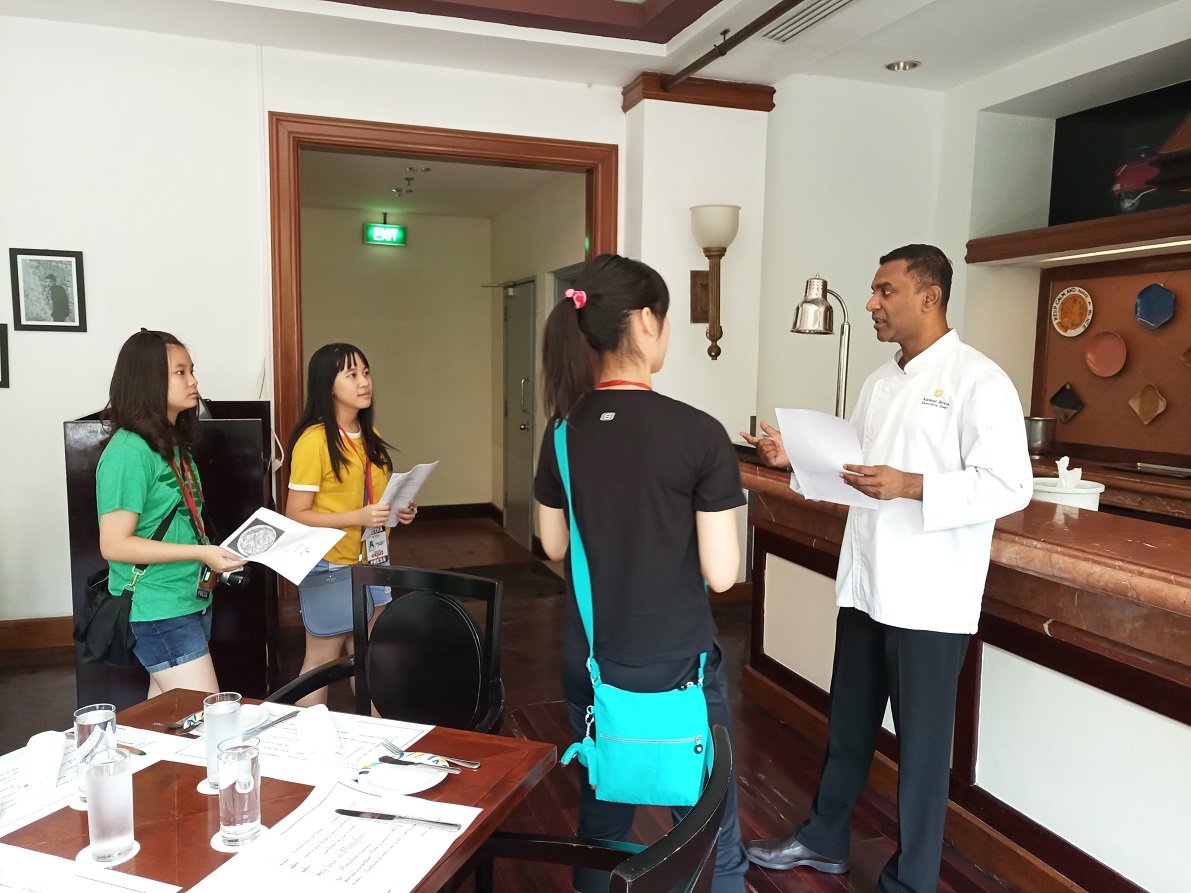 Portofino is the authentic Italian fine dining restaurant, with a cosy and intimate atmosphere. The walls are embellished in a strong Italian design, and there is a traditional pizza brick oven. Portofino specialises in Italian style pizza, pasta, steak and desserts.
Nishimura is a Japanese restaurant that features traditional teppanyaki, yakiniku, a la carte, and a tempting range of set menus. There are different dining areas in the restaurant for teppanyaki, yakiniku and sushi.
JAMOO is the hotel's all-day dining café and restaurant serving Asian and international dishes in a sleekly designed dining room or on an outdoor terrace. The showcase buffet includes a variety of antipasti, sushi, a hot-pot section, a noodles section and a Chinese wok station.
Along with a landscaped pool and a fully equipped gym, Shangri-La provides CHI, The Spa. Treatments are based on natural healing methods shared by many Asian cultures, and include the Balinese Massage, Maduranese Harmony, Spirit of Java, Rempah Body Scrub, manicure and pedicure treatments.
Ms. Yenny, Shangri-La training manager, values employees' attitude because Shangri-La believes that "attitude comes before skills." Shangri-La closely monitors its staff's service and conducts frequent trainings to further upgrade performance.
General Manager Mr. Jonathan Reynolds says that by providing highly personal intuitive service and genuine care the hotel will continue to build strong relationships and create everlasting memories for its guests. High quality service is always the priority. The Shangri-La provides all-round services and does its best to make guests feel at home. Extraordinary hospitality has always been Shangri-La's motto and vision.