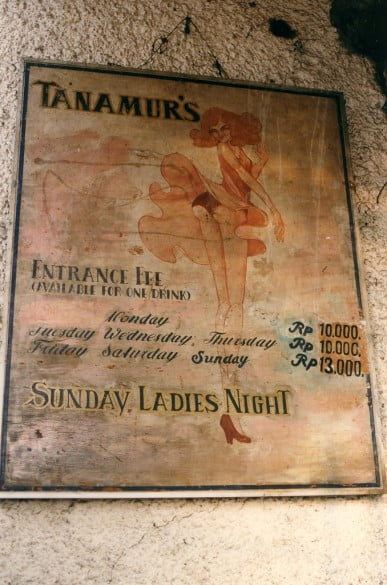 "Every dog has its day" goes the old saying.
Yes, that's certainly true for Tanamur – a good number of years have now passed since Tanamur's popularity reached its zenith in 1997/98.
I always loved Tanamur. Unlike virtually all other nightclubs in Jakarta, Tanamur was located in its own building and not within the safety of a large and anonymous shopping mall, or worst still, in some antiseptic and thoroughly cringe-worthy 5 star hotel. As a result of this "structural" freedom, the owner of Tanamur (*) was in the position to allow his establishment to become pretty much whatever it wanted to be: ultimately a highly egalitarian madhouse where all were welcome to enjoy long, wild nights accompanied by a gut-wrenching house-music boom.
Yes, Tanamur had a life of its own alright; it was like an untamed, uncontrollable beast – yet possessing a strong heart – which was resolute in its defiance to the conservatism and authoritarianism of the day. The hedonism is here to stay! This was best exemplified by the in-house "sexy dancers" who would dance erotically in specially designated areas, high above the ecstatic crowds below. It felt like ancient Rome in there I can tell you – except without the grapes.
You could meet all sorts of people at Tanamur. It really was that sort of place: from CEOs of multinational corporations to hard-nosed working girls; from shop assistants to celebrities, from SPGs to airline stewardesses, from gays, lesbians and cross gender types to investment bankers and lawyers. The list goes on.
Anyone who ever visited Tanamur has stories to tell. Mine could fill a book. Some are unrepeatable, others scary, but most simply wacky. I'll never forget the time, for example, when I'd gone with a friend to watch an Indonesian eleven take on Signori and his mates (Lazio) in an exhibition game at the huge football stadium in Senayan. After the game, we'd intended to put the icing on the cake by visiting Tanamur, which, as it was Sunday, was also Ladies Night.
We hadn't been in Tanamur for that long when suddenly a bunch of Italian guys showed up! The girls were screaming like mad – yep, you've guessed it –some bright spark had dragged half the Lazio team down to Tanamur to give the players the chance to really experience the warmth of Indonesian culture firsthand! I bet Signori hadn't been happier all day.
Saturday nights were the really busy nights and sometimes you could barely move in there. If there'd been a fire, no one would have stood a chance. The worst thing about Tanamur was the parking area outside. The combination of well-heeled pleasure seekers and impoverished hoodlums is not always the greatest mix, and I once remember a thug grabbing a machete from the man who used it to chop up ice, before pinning a horrified expat against the wall with the blade of the machete only inches away from his neck.
Thankfully a couple of other hoodlums quickly broke it up, but for a fleeting instant I had the vision of this foreigner being chopped up into lots of little chunks of flesh – which would later be skewered and then barbecued –anyone up for sate bule tonight?
What a great place and what heady times.
Tanamur RIP.
(*) Tanamur is of great historical significance, being the first real disco to open in the whole of South East Asia. For this great achievement we should honour the vision of Ahmad Fahmy, an Arab Indonesian, who got the idea of opening Tanamur after a visit to Europe where he had studied textile production. Ahmad Fahmy passed away in 2008; his legacy, many happy memories.