Solid infrastructure is a key ingredient to a nation's development. All countries need efficient transportation, energy and sanitation in order to provide a decent standard of living for its citizens.  Indonesia may be Southeast Asia's largest economy; its infrastructure however leaves much to be desired.
In a recent report from the Asian Development Bank, the Indonesian government recognised that lagging infrastructure, underdeveloped inter-island connectivity and an inefficient logistics system are among key constraints on achieving its target of higher growth.
In view of that, President SBY has drawn up ambitious plans to power the nation to the next level, starting with increased spending on the country's overburdened roads and other infrastructure, as reported by the Wall Street Journal. The proposed 2013 national budget would see infrastructure spending increase from 160 trillion rupiah to 194 trillion rupiah (US$20billion).
Many have often criticized that funds allocated for infrastructure investments are mainly focused in and around Jakarta. As one of the most populated cities in the world, Jakarta is a badly planned city and struggling to accommodate growing demand for basic infrastructure.
Roads
The Transport Ministry's study finds that Jakarta is in need of 12,000 kilometres of roads to accommodate traffic in 2012 while existing roads currently only stand at 7,208 kilometres. Car sales seem to be on track to surpassing the one million mark this year, more than double the amount of cars sold eight years ago. Should this trend continue, Jakarta's traffic is predicted to come to a standstill by 2014.
Jason's Tip: Make sure you have mastered bladder-control.
Airport
The Soekarno-Hatta airport opened its runways in 1985 and currently suffers from overcrowding. In 2011, it handled more than 50 million passengers, well above its maximum capacity of 22 million passengers. The airport is currently undergoing a massive US$1.2 billion overhaul, expected to be completed in 2014, that will increase its capacity to 62 million passengers a year.
While the airport did receive several awards for being among the top 10 for punctual flight arrivals and departures, the same can't be said for its passengers who are often late to arrive at the check-in counters due to the horrendous traffic snarls.
Jason's Tip: Always leave early for the airport, it's better to hang around the airport rather than wanting to hang yourself being stressed out by the traffic.
Jakarta's monorail ambitions had been abandoned and are evident by the rusty half-finished pylons along certain streets of Jakarta. Some companies have been interested in the project's revival, but nothing concrete yet for now.
On the other hand, the Jakarta MRT project is welcomed by many and plans to be operational by 2016, although for now it's just talk as the first brick has yet to be laid. Construction of the first phase was expected to start in the first quarter of 2012 but had been pushed to 2013.
While the MRT and Monorail remain to be materialized, an estimated 450,000 passengers from neighbouring cities rely on the conventional rail service as their means of transportation into the city.  However, train accidents are common in Indonesia, with officials often citing badly maintained trains and a lack of investment in rail infrastructure being among the main causes. According to state railway operator, Kereta Api Indonesia, there were only 145 (10 fatalities) accidents in 2011, but the first eight months of 2012 had already recorded 181 (28 fatalities) accidents.
Jason's Tip (Warning: seriously bad puns ahead): The operators have RAIL-ly not been TRAINed well. So CHOO-CHOOse other modes of transportation if you have the choice.
Energy and Electricity
Thermal power plants fuelled by coal, gas and diesel generate about 85% of the electricity consumed in Indonesia. In 2011, only 71 percent of households had access to electricity, but the government aims to provide electricity to 90% of households by 2014. The increased demand for electricity also had the government mulling over the idea of building nuclear power plants.
Power outages, lasting few minutes to a few hours are a regular occurrence. As a result, many companies, hotels, restaurants and private individuals own backup generators.
Jason's Tip: Always save your files periodically, I had to retype this article due to a power outage.
Water and Sanitation
Health Minister Nafsiah Mboi said about 55 percent of Indonesians do not have access to sanitation, while 43% do not have access to clean water. Water and sanitation issues remain as a serious issue for the Indonesian government to deal with. This is a major concern because lack of clean water could lead to sickness such ranging from mild diarrhoea to severe food poisoning and possibly death.
Jason's Tip: Always drink bottled water and avoid ice cubes from street vendors, unless you want a free full-body detox.

At the national level, the ruling party has long acknowledged the above issues. However, they can't do it alone as the nation's coffers are limited, therefore when the Indonesian Chamber of Commerce and Industry (Kadin) announced that the private sector had committed US$135 billion toward investments in infrastructure, it was well received by all stakeholders.
Apart from relying on local investors and conglomerates, President SBY makes use of every possible opportunity to woo investors in this sector. During the recent Asia Pacific Economic Cooperation (APEC) 2012 summit, he called on the leaders of member nations to invest in Indonesia's planned infrastructure projects. This was followed by him shaking hands with his Japanese counterparts after Japan had agreed to invest an estimated US$43 billion in strategic infrastructure in Indonesia.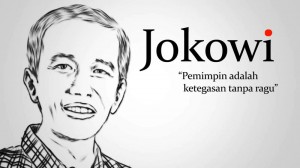 At the city-level, Jakarta badly needs a comprehensive plan for the future to address the issues of transportation, energy and water infrastructure. Many have pinned high hopes on their newly elected governor, Jokowi, who has talked about an integrated transport plan as part of his pre-election promise. The highlight of the new plan is the completion of all 15 busway corridors, revival of the monorail project and the development of a rail bus. A quick implementation and execution has always been Jokowi's forte, but will he be able to work his magic in the Big Durian like he did in Solo?