Create eternal sweet memories surrounding sumptuous treats and astonishing views with Ayodya Resort Bali's festive packages this December.
With prices starting from Rp475,000 (not including tax), we welcome you and your dearest to feast on a bundle of Japanese, Indian, Arabic, and Italian cuisine from 20 to 31 December 2019. While you're in the resort, don't miss out on children from local orphanages serenading Christmas carols, as together we witness the Christmas Tree Lighting Ceremony at the Main Lobby, on 20 December 2019.
Eat sumptuously on Christmas Day as we have prepared a significant menu for a cosy Christmas Buffet Dinner at our beachfront restaurant, Ayodya Beach Club and Grill for Rp475,000++ per person. You have another option to feast this Christmas. 'Nusantara and Fire Dance' at the Balinese Theatre presents a dining experience like nothing before, as you can try Indonesian delicacies while you watch traditional Indonesian dances for Rp475,000++ per person.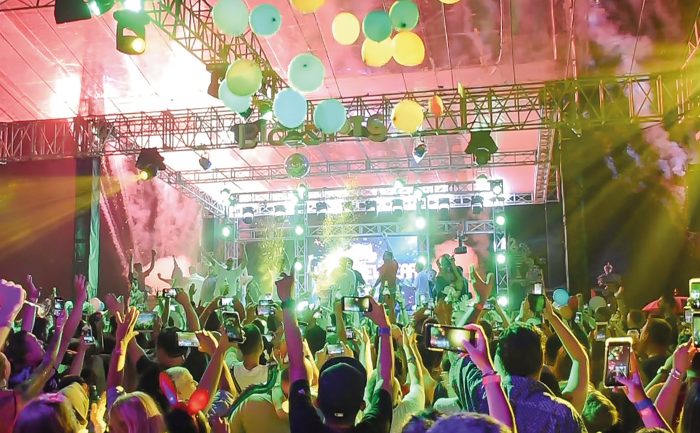 Christmas offers don't stop just here. From the 26th-30th December, you can devour until your heart's content for Rp475,000++ per person, on respective dates, during an authentic Japanese Buffet Dinner at Genji Restaurant (26 December), Smoker Buffet Dinner while dining with the sea breeze blowing your hair at Ayodya Beach Club and Grill (27 December), Italian Buffet Dinner as live guitar performances serenade you into a Mediterranean vibe at Octopus Ristorante (28 December), and lastly, an exotic Indian Arabic Buffet Dinner at Ayodya Beach Club and Grill (30 December).
Get lost in a paradise jungle to welcome in the New Year with 'Big Shots 2020 at Eden', as the clock ticks to midnight and the biggest firework display in Nusa Dua colours the Balinese night sky this New Year's Eve at Ayodya Beach Club and Grill for Rp2,000,000 (not including tax) per person inclusive of delicacies and free-flow wine for two hours.
It sounds appetising, doesn't it? Call (0361)–771102, email to [email protected] or visit www.ayodyaresortbali.com for bookings and more details.