Want a perfect, long-weekend, island escape, with very little planning required? Koh Samui is close enough to enjoy over an extended weekend.
Flights are easy: just get to Bangkok then hop on a short Bangkok Airways flight to Samui, which departs from BKK every two hours. To get the best deals, book online and ahead of time.
This island has clean beaches and some mountains that are ideal for short treks, but it is less populated than the popular Thai beach destination of Phuket.
First, travel to Bangkok – check your booking because there are two airports, BKK and DMK. If you choose to spend the night in Bangkok and want some party and dancing without the ping-pong shows (don't Google that while at work!), check out Levels. It's a well-known night club in the Sukhumvit area. Sexy dancers and DJ's ply their trade across different rooms, which provide a bit of variety. On Ladies' Night, women get four free drinks before midnight. The place shuts down at 3 am, leaving you plenty of time to get some rest before the next day's flight to paradise.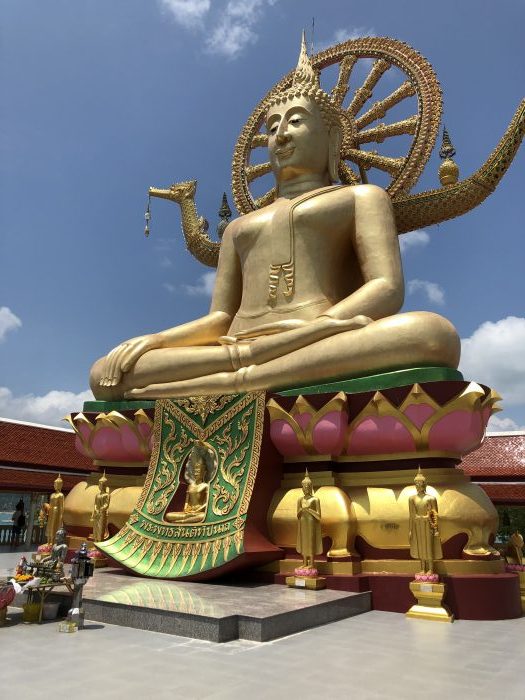 Don't want to go dancing? For a memorable, yet more subdued evening, try the Banyan Tree rooftop restaurant, Vertigo. The top of this five-star hotel offers stunning views over the Bangkok cityscape and a fabulous foodie menu, including a set menu and a la carte options. Have a nice outfit packed for this one! Or, opt for a slightly more casual experience at the Moon Bar for a few cocktails.
Get ready to fly to paradise the next morning!
Arrange your airport transfer at Samui through your accommodation, it's a little nicer and a lot easier than getting a taxi and will probably cost the same, around 300-500 Thai Baht. Note that the taxi services on the island can feel a bit like a scam, you just need to negotiate the price before getting in to avoid being overcharged.
Where to stay?
Great Beach and Party Scene:
Chaweng is the main area; the most populated, upbeat, and with a party environment. If you want to find a party and join in with the infamous Full Moon parties with the young tourists and backpackers, this is the place to be. Clubs offer fun drag shows, the streets are alive with vendors selling their wares late into the evening, and Muay Thai fights are the ultimate entertainment destination.
Great Beach, Less Action:
If you crave a quieter getaway with less action, Lamai is a great choice. It has a clean, golden sand beach that faces the sunrise. Get your jog on along the beach before it gets too hot! There are many restaurants to choose from, with lots of them offering beach loungers and pool access for a very small fee. The general rule of thumb here is you buy a drink and you can use the facilities. The water is so wonderfully warm, and surf small enough for great swimming, as long as you obey the flags.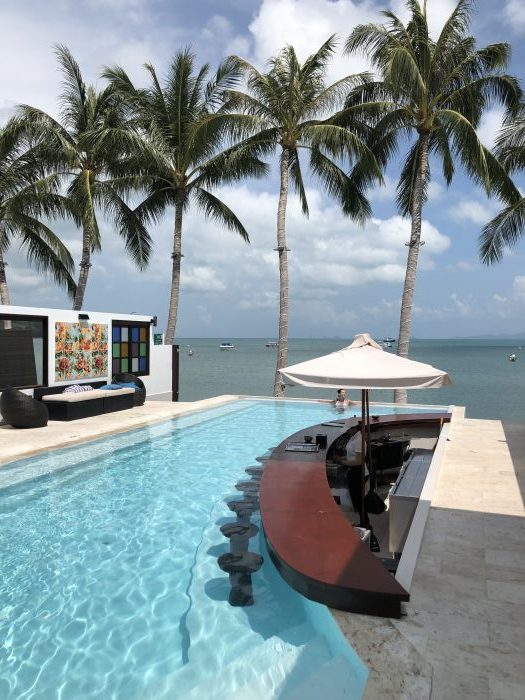 My stay at Thai House Beach Resort was superb. The pool had unobstructed ocean views, the service was swift and friendly, and the breakfast buffet was the best I've seen on the island for this type of villa accommodation, offering a wide variety of Thai and western options.
Even Quieter:
Another good spot, even quieter, and sitting conveniently ten minutes from the airport: Bang Rak Beach. This is your paradise-with-no-frills location. There are fewer restaurants to choose from than in Lamai and Chaweng, but it is so peaceful and quiet: ideal for lounging poolside and beachside for total rest and relaxation. This area is also less walkable than Chaweng and Lamai: it's simply a small strip of accommodation and restaurants along the main road. It's also pretty close to Big Buddha and Fisherman's Village. There is virtually no surf here, great for swimming and paddle boarding. Our villa, Ban Mok Talay, was tucked away in a lush garden and gave us our own private beach entrance.
If you do want a bit of frill, or have a more refined palette and want a posh beach-club vibe, try Chi for a day. The menu and décor are decadent. I enjoyed French oysters and rosé during happy hour, whilst sitting at their river table, in the open-air restaurant enjoying pool and ocean views. There is attention to detail at this spot and the managers take their time to make you feel welcome. The pool and facilities are divine, and they have a proper wine menu and cigars, in case there's something to celebrate!
If you want a more casual beach club with an inexpensive local menu that offers some great views, shaded dining area, and pool with bean bag floaties, go to Ivy Beach Club. You can use the facilities all day if you spend some money on drinks or a meal. The shrimp and asparagus was a simple, tasty, afternoon snack and the bartenders were friendly and chatty.
Worth checking out on the island:
Fisherman's Village, Bophut in the evening: It's a fun night market that is off the main road, so you don't have to dodge scooters and trucks while enjoying your mango with sticky rice or ice cream rolls. There are many vendors lined up offering Thai souvenirs, and of course, Thai massage. The restaurants here line the beach, offering a great dining experience – think beanbags on Legian beach on Bali, but far less crowded, cleaner, and no exposed wiring on the umbrella lamps for the tide to short-circuit!
Try Coco Tam's for great Italian fare and entertainment. The burrata cheese was fresh, and pizza was perfect, with simple ingredients – no MSG, yay! They have impressive fire dancers performing every night. You can lounge on the beach beanbags with shisha and carefully constructed tiki cocktails, or sit in the restaurant which has tiered seating so everyone can take in the view.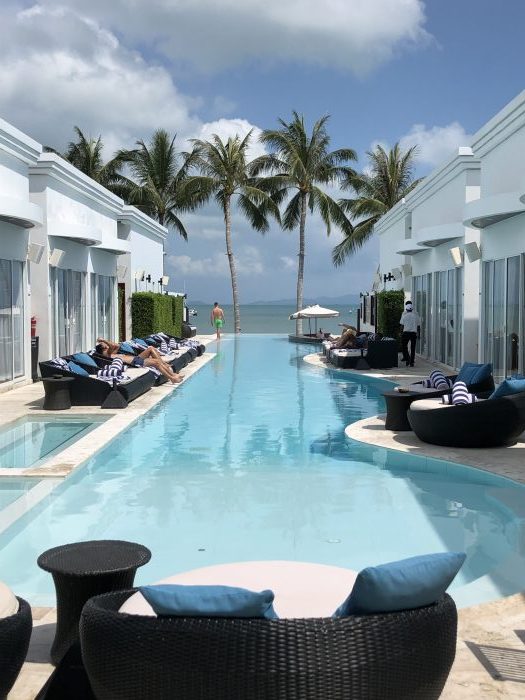 Central Festival and Muay Thai in the evening: Even if you're not staying in Chaweng, I recommend visiting for an evening. Do a walkthrough of the market at Central Festival Samui to browse the street food and Thai trinkets, then head to the Muay Thai fights where you can buy tickets at the door. You will see signs and billboards everywhere for the fights, either for the Chaweng Muay Thai Boxing Stadium, or Samui International Muay Thai Stadium. Grab a bite first as its only drinks for sale at the event.
Big Buddha and waterfalls: Rent a scooter or car to get to this giant gold statue of Buddha. I think its best to go in the morning, take in the sight, enjoy a cold drink from the vendors, then mosey along to chase some waterfalls. There are a few nice treks and viewpoints on the island, most of which are marked on the maps and fairly close to the main road. I recommend packing a backpack with plenty of water and sunscreen. You will need water to stay hydrated in the hot sun, as well as to pour on your scooter brakes if you are taking the steep roads to the viewpoints. Do be careful though, traffic is fast, and helmets and general regard for safety are not so common. Only ride a scooter if you are competent. If not, renting a car is just as easy. I spent a day missing turns and getting lost, going on spontaneous hikes through the lush green jungle and drinking fresh coconut water roadside. It was fabulous.
Have more time? If flying from Indonesia, you will get more bang for your buck if you stay longer. If you have the time, the neighbouring island, Koh Phangan is highly recommended. You can see the lush green mountains from the northern beaches of Samui. Take a boat over for one hour, there are several departures per day. Since it takes this additional effort, there are far fewer tourists. It's more pristine, cleaner; a picturesque paradise. You will find yogis and musicians dotting the beaches. Enter chill vibes only.