Welcome to your monthly insight into the world of the JIFL. Most pro players these days will move from club to club – either striving to develop or preserve their career.
We all know the stories of Beckham and Ronaldo gliding between A list clubs – juxtaposed with Nicolas Anelka and Mario Balotelli annoying coaches all over Europe. In direct contrast to these exploits, we have players seeing out long and successful careers at just one club – the One Club Men.
Superstars that are in this illustrious group include Paolo Maldini at Milan, a recent visitor to Jakarta; Carles Puyol at Barcelona; Paul Scholes, Ryan Giggs, and Bobby Charlton (one for the teenagers there) at Manchester United; and Francesco Totti at Roma.
Totti is even quoted as saying "I have cheated on all my girlfriends… but I would never cheat on Roma." Ryan Giggs is also known to have had similar sentiments.
The JIFL, too has it's One Club Men – so this month we will meet the JIFL's longest-serving club players.
Alex Thorpe – Jakarta Vikings
Your author must disclose a bias here, but this guy is a legend! Not so much for his almost 27-year service to a 30-year-old club, but more for the fact that he looks exactly the same now as he did the day he joined!
Alex is a Kiwi (NZ) national and runs his own environmental consultancy. An extensive traveller (through his work), Alex can often be found in the jungles of Kalimantan or in the highlands of Papua – as well as the badlands of Star Deli in Kemang.
Alex has played every position for Vikings, even including goalie, and is still a regular starter and doubles as the Vikings team coach. On field he still delivers that magic change of pace, although now shifting from dead slow to quite slow, which has foiled JIFL defenders since 1993.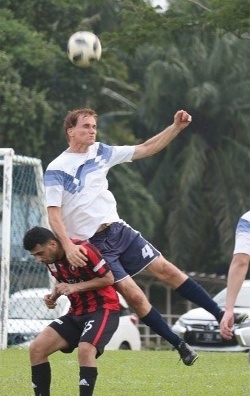 Jurrien Sietsma – JIS
Jurrien has been playing in the JIFL for 21 years. Unbelievably, he was the top scorer back in the day, but he has gradually moved backwards down the pitch and ended up as the ball-playing, dominating centre-half he is today: dominating centre-half who still regularly scores from corners.
Jurrien has been around so long he now plays in the same team as his son, Noah. A graduate of the Ajax Academy (this may or may not be true), he likes to play the beautiful game in the correct way and is still an inspiration to his JIS teammates.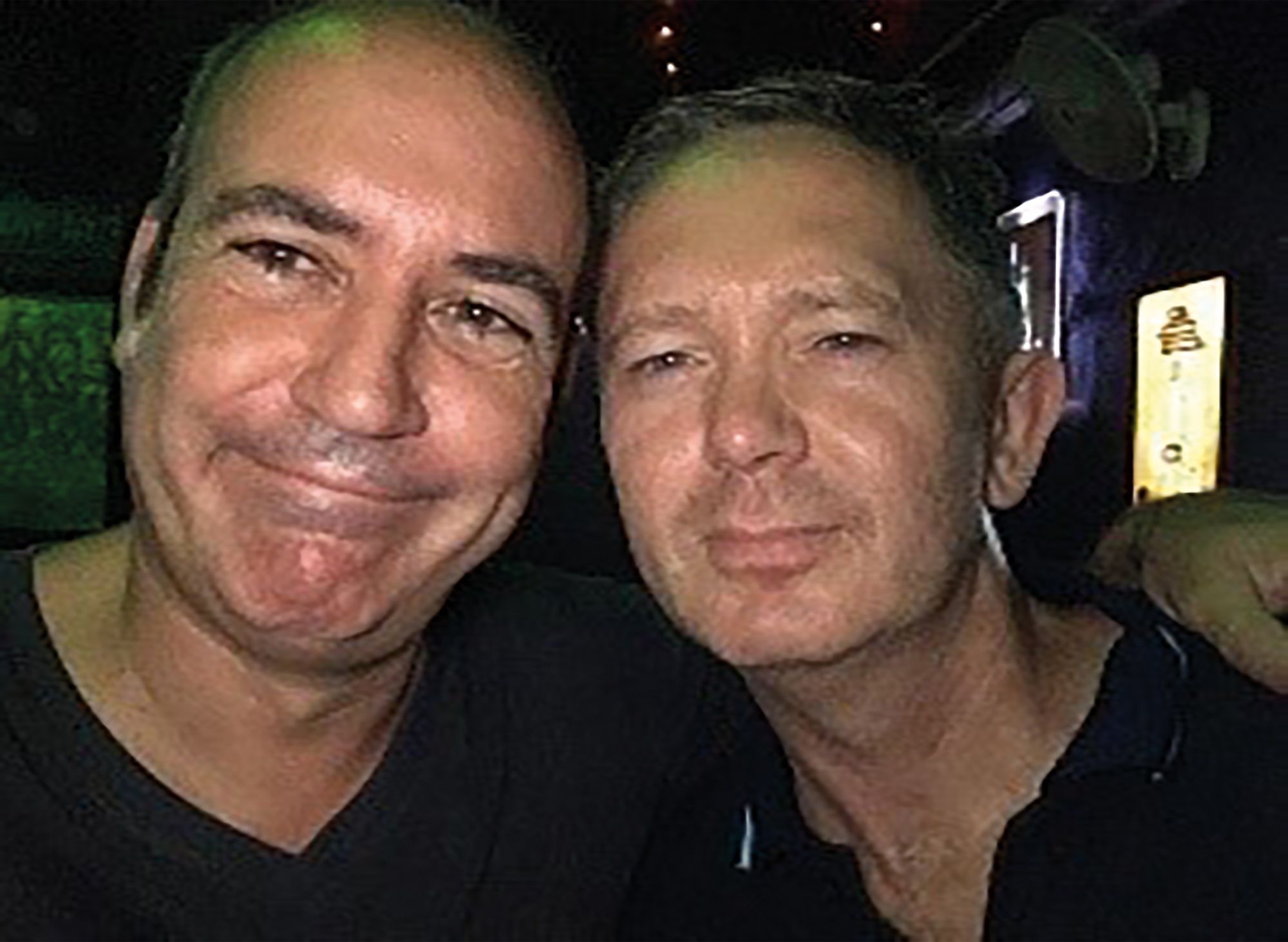 Lens Ter Wee and Graham Garven – Bugils
BuGils are a social team and the "third half" is as important as the game for them. It's fair to say that these two players are probably better in the third half than on the pitch – so much so that they've forgotten which one has played for BuGils the longest, but it's at least 50 years.
Both have progressed from regular to occasional player to player-coach, with varying degrees of success – Lens took BuGils to the cup final many moons ago whilst GG's coaching credentials are still under scrutiny as he dreams of reaching the dizzying heights of Lens achievements.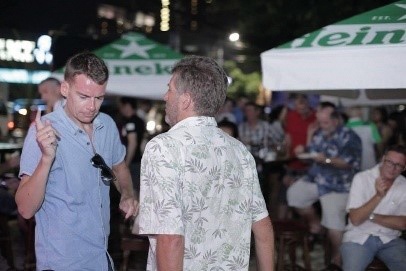 Damien Barden – Lions
Arriving in Jakarta as a fresh-faced 18-year-old from Herne Bay in Kent, England, Damien 'Huddles' Barden has been playing in the JIFL for almost 20 years.
With his playing power not being quite what it is now, he, along with another JIFL legend, Mr John Harrington, overcame a lack of playing time at his first club by helping form the Lions over 15 years ago. He has been a keystone of the team ever since. A truly versatile player, he has not only graced the JIFL with his very own brand of tiki-taka football from LB, CB, RB, DM, CM and even GK, but can also be found shouting abuse at opponents from the side lines, as long as he isn't saving his voice for a gig with his band The Megawatts – Oasis and Britney covers for every occasion!
Today, Damien spends much of his time in Bali at the HQ of his fashion empire, but returns and pulls on the boots as often as he can. He has also branched out into the world of martial arts and boasts a 100 percent unbeaten record! (1-0-0)
Despite being a Spurs fan, we love him. A true legend of the club, the Lions just wouldn't be the same without him.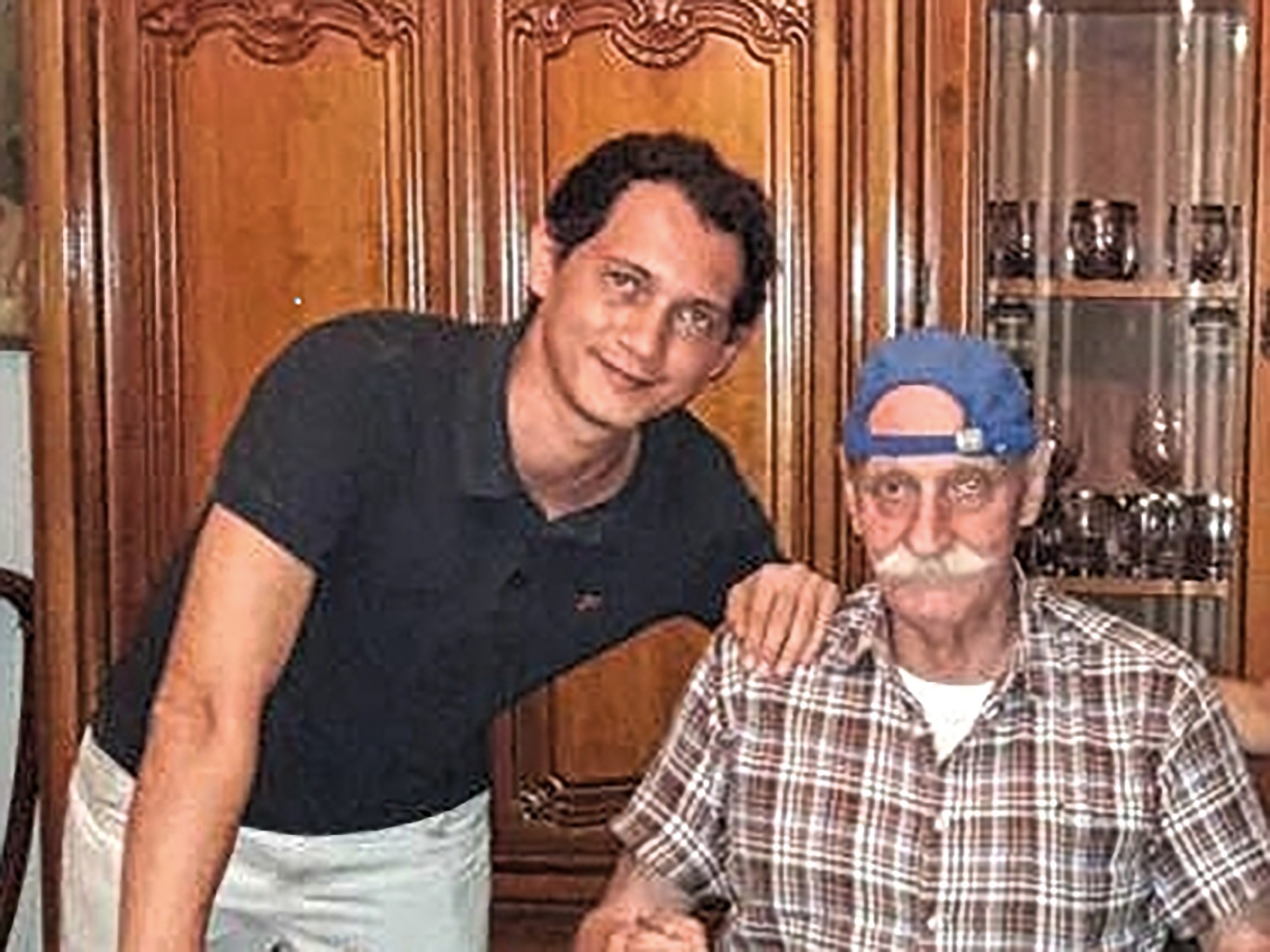 Mathias Cremer – German Plus
German Plus's current long-timer is Mathias Cremer, with 694 appearances and 153 goals since 1997. "I might be the most experienced one in our squad," Mathias says, "but of course I am still happy to learn from the best, such as our captains Amin and Seb!"
In fact, Mathias is derived from a true German Plus dynasty: his brothers Max and Michael used to play for the team for many years, and his father is a legend: Dieter Cremer (pictured here with Mathias) was one of the founders of German Plus and played an incredible 1413 times between 1964 and 2014. His record of 35 goals in 50 years indicates that he was more of a merciless defender than an elegant striker, though!
Of course, some of our teams have only been around for a couple of years – so we gave them the chance to share their senior service personnel with us too.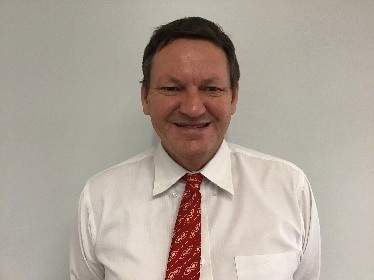 Chris Lever – La Vera Spartans
Chris has been involved with the Spartans from the start and helped set up the club. Initially, he was the king of the centre midfield, delivering incisive, defence splitting passes to his strikers. Latterly he moved to the back, and now is only as substitute, claiming dodgy knees and his age of 56 has driven him to this!
Most of his time is spent helping to manage and organise the team and encouraging the younger players to play "pass and move" football, inspired by Liverpool in the 1980's – it worked for them. Chris says, "to my credit, I have never been booked or given a red card during my 40 years of playing competitive football" – are you sure you are English Chris?? (Ed.)
So, there we have it, some old stagers and some not so old. All of these guys are committed team players and exactly the reason JIFL continues to flourish. Remember, the guys you meet at football will be friends for life… usually.
The race for the McGettigans JIFL title continues to intrigue, with two of the leading pack unable to maximise their points haul in recent games.
Following a superb 5 – 2-win vs. Japan, Nomad's own push for the lead was slowed down by a 2 – 2 draw with Vikings. Capitalising on this, and following a 10 – 1 victory over La Vera Spartans, Global Expats are, at time of writing, top of the McGettigans JIFL
Big shout out to Spartans though, who on March 9, got a superb 2 – 2 draw against the Mighty Lions. Big thanks also to our JIFL league sponsors McGettigans, the best venue in Kuningan, and the cup sponsors Geodis – who logistic your growth. Please support them with your business and all the partners of JIFL – www.jifleague.com
If you want to join JIFL you can start by contacting any of the JIFL Teams via www. jifleague.com, our Facebook page, or the JIFL Committee, Phil on +62 815 1302 5166, Roberto on +62 858 8182 0828, or Laurent on 0811 1975 662.
See you on the pitch!