The Government says it will improve the garbage bank system in a bid to ease some of the burden from Indonesia's landfills.
Sofia Blake, wife of the US ambassador to Indonesia, has been living in Jakarta for two years. Despite the capital's notorious image as a city with increasing garbage problems, she can't help but notice that Jakarta residents have a tendency to clean the streets in front of their stores and homes.
However, there are limitations on what residents can do with the garbage they collect, as there is not yet a centralised recycling system in the country, says Blake on the sidelines of a national seminar on waste management. "It's just, what do you do with the plastic after it's been removed […]?" She asks. "Where do you dump it? What do you do with it? So I think people have the right intention, but we need to help this on a larger scale. There is not much they can do with it."
Due to a lack of waste disposal options, Jakartans still heavily rely on transporting waste to the Bantar Gebang waste facility in the neighbouring regency of Bekasi. The dumpsite is the cause of growing concern, and the embodiment of Indonesia's waste problems. Garbage piles up to form a surreal mountainous landscape where approximately 5,000 pemulung (trash-pickers) live and sort through the garbage to salvage recyclables. The landfill has to treat 6,700 tonnes of garbage daily from households, offices, industries, and other commercial entities in and around Jakarta.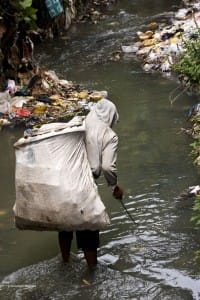 The city has long tried to stop its dependency on the landfill, and the scavengers who live in the area. So far, efforts have not been successful. Jakarta's waste management system is unfit to deal with all the rubbish accummulating at Bantar Gebang's 111-hectare facility.
However, the problem is not exclusive to the capital. Indonesia's national waste management system is struggling to keep up with the archipelago's increasing population. Waste production, with 175,000 tonnes of garbage produced per day in the country, amounts to 64 million tonnes each year.
The Government has tried to reduce the nation's dependency on landfills, which currently makes up 69 percent of the waste management. It says it has tried to educate the public about the concept of the 'three Rs' – reduce, reuse, recycle – through the country's first solid waste management law passed in 2008.
To further promote the concept, the Government implemented the bank sampah (garbage bank) system in 2011 to reduce the volume of waste at the household level. Under the system, residents would save their non-organic rubbish and deposit it. Participants weigh and record their trash deposits, which are later sold to trash collectors every month. The incentive is that money would then be transferred to participants' bank accounts.
The Environment and Forestry Ministry's director general of dangerous toxic material and waste management, Tuti Hendrawati Mintarsih, tells Indonesia Expat garbage banks now exist in 129 cities.
The number of garbage banks across Indonesia has increased in recent years by some 60 percent from 1,640 to 2,861, she says. They serve 175,413 customers and managing 5,551 tonnes of waste monthly. The transaction value has also jumped from Rp.15 billion (US$1.08 million) to Rp.34.4 billion ($2.48 million) a month, Mintarsih adds. However, only around 14 percent of Indonesia's total garbage volume is currently managed or recycled via garbage banks.
As a result, a dedicated online system to coordinate the banks is now in the Government's pipeline. Officials want to push the project into a full-fledged centralised recycling intelligence platform. Accessible through Android smartphones, the system would help people deposit their garbage and assist personnel tasked with taking the garbage. The app would be equipped with GPS technology so organisers could understand where the city's pain points truly sit in terms of waste management bottlenecks.
Apart from that, the Government also aims to establish parent waste banks in six cities to coordinate all other subordinate banks and waste management services in 2016. "There are already three businessmen who want to help me in establishing these parent banks. We will build them in Makassar, Jakarta, Surabaya, Semarang, Surakarta, and Medan," says the ministry's waste management director, Sudirman.
Ideally, the country should have large-scale recycling centres with incinerators to process the garbage collected from the waste banks, explains Mintarsih. Waste collectors, instead, send the garbage to recycling companies. "Actually we have limited budget. We are building small-scale recycling centres for the public, but for large ones, we haven't been able to," she adds.
Such a large recycling centre would greatly alleviate Jakarta's waste burden.
"With thousands of tonnes of waste per day, Jakarta should have a large recycling centre. Just look at a small country like Singapore which can have six incinerators," Mintarsih says. "Incinerators use advanced technology and are safe [for the environment]."
Likewise, Sudirman says an incinerator is the best solution for the capital's growing waste problem. "Clearly Jakartans are not too excited [with the concept of recycling], so the city has to look for new innovations in waste management, one of them being an incinerator," he explains. "Furthermore, the transportation between Jakarta and Bantar Gebang is difficult [due to traffic] and the conditions of the dumpsite are getting more chaotic."
Sudirman urges the Jakarta provincial government to build recycling centres, as it now has a robust sanitation budget of Rp.1.9 trillion (US$137 million). He compares Jakarta to Surabaya, Indonesia's second largest city, which has 25 recycling centres with capacities between 10 to 20 tonnes of waste. Surabaya's sanitation budget is a fraction of Jakarta's at Rp.325 billion (US$23.48 million).
"Why is Surabaya prettier and cleaner [than Jakarta]?" Sudirman asks the question rhetorically, hinting corruption is behind the capital's abysmal waste management. Jakarta Governor Ahok recently claimed he discovered a budget misappropriation in the province's Sanitation Agency. The agency kept renting garbage trucks instead of purchasing them.
"Last year alone, Rp.400 billion [$28.9 million] was spent [to rent the trucks]," he said. With the same amount of money, the agency could have bought hundreds of garbage trucks.
The current head of the Sanitation Agency, Isnawa Adji, who was appointed in July 2015, says he's been focusing on expanding the number of waste banks in the province. He also says his organisation is developing intermediate treatment facilities.
"We have around 150 waste banks, ranging in scale from small- to mid-sized. My goal is to have at least 1,000 waste banks, seeing that we have 267 subdistricts in Jakarta," he tells Indonesia Expat.
Adji claims he asked Governor Ahok to instruct all subdistrict and village heads to build waste banks using their own sanitation budgets. "The budget needed is not expensive. They just need to use [a] composter," he says.
Adji adds that he planned to use a new business model to handle the capital's waste. "In the future, waste in commercial districts and trade areas, such as Kuningan and Kelapa Gading, should no longer be handled by the Sanitation Agency. Private companies will work together […] to transport their waste to Bantar Gebang," he says.
The Government will start a pilot project with the new model at the end of this year, scheduled to start full operations by January 2016. "Starting in 2016, I'll no longer rent private garbage trucks," Adji says.