There are two schools of thought regarding palm oil. First, that it's unhealthy and oil palm plantations are pushing orangutans to extinction. Critics claim traditional forest dwellers have been driven off their land or coerced into plantation work crews, while profits go to big corporations and their political patrons.
The second view is that palm oil is brimming with health benefits, and plantations create carbon sinks and lift remote communities out of poverty. Proponents dismiss allegations of deforestation and biodiversity loss as "exaggerated lies".
Palm oil is classified as a vegetable oil and comes from the reddish fruit clusters of the African oil palm, which has been used by humans for 5,000 years. The palms flourish in the tropics and now cover vast swathes of Borneo and Sumatra.
Crude palm oil has an orange-reddish colour and undergoes considerable processing before ending up in supermarkets. First, it is degummed and then bleached to remove oxidative trace metals and pigments. Next, it undergoes steam refining and deodorization to remove smells, fatty acids and remaining pigments. The resulting product is a yellowish-whitish mush. It is further processed by fractionation to produce olein (liquid) and stearin (solid). Palm olein is used for frying, while palm stearin goes into soaps, instant noodles, confectionary, biscuits, margarine and other products.
Palm oil became popular during Britain's Industrial Revolution as a machine lubricant and an ingredient for candles. During World War II, scientists at Harvard University mixed palmitic acid with naphthenic acid to create napalm. These days, palm oil is the most popular edible oil and is used in about half of the products in supermarkets. It is also sold as a biofuel.
The Dutch introduced oil palms to Java in 1848, when four seedlings from West Africa were planted in the botanical gardens in what is now Bogor. Offspring of those palms were planted in Sumatra in the 1900s by a Belgian farmer and the industry began to grow.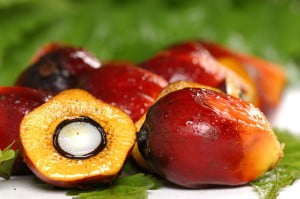 Indonesia is now the world's top producer of crude palm oil, with production reaching 26.5 million tons last year. Most of this output is exported for processing. The government has been pushing for more refining and processing facilities to make Indonesia the undisputed palm oil king.
This comes at the expense of rain forests, with domestic plantations officially covering 8.38 million hectares (20.7 million acres). The Indonesian Palm Oil Association (Gapki) says about 600,000 hectares of new plantations are created every year, although the government's moratorium on forest clearance (due to expire in May) kept expansion down to 220,000 hectares last year.
Environmentalists say ongoing forest clearing is destroying local livelihoods and biodiversity. A court in East Kalimantan last year sentenced four men to eight months in jail over the slaughter of orangutans. The Malaysian manager of an oil palm plantation had paid two workers a Rp.1 million bounty for each orangutan they killed. The apes were shot with air rifles and then either clubbed to death or strung up and left to die.
In the neighbouring Malaysian state of Sabah, at least 14 pygmy elephants were found dead in a forest reserve this January, apparently poisoned. There are fears that pygmy elephants in Indonesia's newly created North Kalimantan province could face a similar fate, as part of their habitat has been zoned to industrial plantation companies.
Last year, at least 17 Sumatran elephants were found killed, mostly in Riau and Aceh provinces. A park ranger said some were probably poisoned in revenge for a stampede that destroyed huts of palm oil plantation workers. Tigers, orangutans, sun bears and rhinoceroses are also under threat. Aceh's former governor last year ignored the deforestation moratorium by allowing two palm oil firms to destroy a combined 1,800 hectares of a protected peat forest.
President Susilo Bambang Yudhoyono has warned that orangutans could become extinct by 2050 and has pledged to take action to save them – but he is also a champion of the powerful palm oil industry.
Palm oil is popular because it's cheap and has a longer shelf life than butter and other vegetable oils. Oil palms yield more edible oil per hectare than any other crops. A litre of palm oil in the supermarket costs from Rp.9,000 to Rp.15,000. Soybean, canola and sunflower oil are all more than double that, while olive oil starts at Rp.60,000.
Some people boycott palm oil for environmental and health reasons. A 2003 joint report by the World Health Organization and United Nations' Food and Agriculture Organization said "there is convincing evidence" that palmitic acids contribute to an increase in risk in cardiovascular disease. The report acknowledged that "in developing countries … specific sources of saturated fat, such as coconut and palm oil, provide low-cost energy and may be an important source of energy for the poor".
Labels on Indonesian palm oil tout its health benefits, such as Omega 6 and Omega 9 fatty acids, Vitamin E and the addition of Vitamin A.
In Australia, some senators have proposed legislation that would require all food products containing palm oil to label it as an ingredient, rather than simply listing it as "vegetable oil". The Indonesian Palm Oil Commission sent a protest letter to Australian Parliament, claiming the bill was unfair and could create a consumer boycott. The Malaysian Palm Oil Council said the legislation will "severely hinder … attempts to utilise palm oil as a means for alleviating poverty in our country".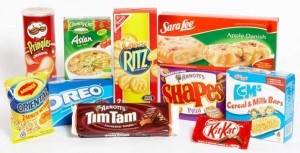 Indonesia in 2011 exited an international grouping for certified sustainable palm oil and has now set up the Indonesian Sustainable Palm Oil certification standard, with compliance due by 2014.
The palm oil lobby is assisted by groups decrying health concerns and insulting environmentalists. The Palm Oil Truth Foundation declares: "When the words Palm Oil invoke doubt, suspicion or even fear in your mind, you must be on RED-ALERT! You are definitely a victim assailed by the concerted disinformation and propaganda of information terrorists who are denying you of YOUR RIGHT TO TRUTHFUL information. Your sovereignty as a human being to TRUTHFUL information, has been subverted subtly and unconsciously."
In response to a green group's poster depicting a terrified mother and baby orangutan saved from a palm oil company death squad, the Foundation asserted: "Their stage-managed orangutan poseurs and photo shop touch-ups fool no one."
When I went to hospital with a throat ailment last month, the doctor ordered an x-ray and an endoscopy, and then declared: "No cancer. Stop eating gorengan [fried food] cooked in palm oil." A few days later, a Chinese quack recommended the same course of action. Sound advice perhaps, but I have always opted for olive oil.
*Kenneth Yeung also prefers red rice over white rice.