For more than two decades, German-built music software Ableton has become the inevitable tool for music makers worldwide, whether they are popular DJs or old-fashioned instrumentalists, amateurs or pros.
Already well known and widely used in Jakarta among the capital city's musician community, this computerised music app doesn't seem to have attracted much attention in Bali. This is where French sound engineer Guillaume Ravenel comes into play. The producer is on a mission with one goal: to develop the Ableton users' community on the island.
Maybe we'll need to go through a simple pedagogic presentation of this software for our readers with few skills or even knowledge of the modern music business. If not the only one on the market, alongside Logic Pro and Pro Tools, Ableton Live is now the most prominent digital audio workstation and MIDI sequencer program. Why? Most likely because of its versatility; allowing music production, live performance, and DJing all at once. The trick is that Ableton allows both studio work and live performances in just one ready-to-use software, simply installed on your computer. Add a true intuitive and visual environment and you have the major key to its long-time success.
Head and founder of PMA Marche Noir Productions, 47 years old sound engineer and music producer Guillaume Ravenel, wants to build a community of Ableton users in Bali to propel the many musical talents found on the island to a new level of creativity and professionalism. In order to do so, since 2021, he has instigated a series of master classes on the topic. Starting at Genesis Creative Center in Canggu, the meetings have now moved to the Park 23 Creative Hub in Tuban, an old, disaffected mall turned into an amazing crossroad for anything artful and trendy. As manager of the newly set up Ableton Users Group of Bali, Guillaume Ravenel has no doubt about the huge potential of the island. Between local musicians and international talents residing there, there are all the necessary factors to build a powerful community of sound technicians and music makers, he asserts.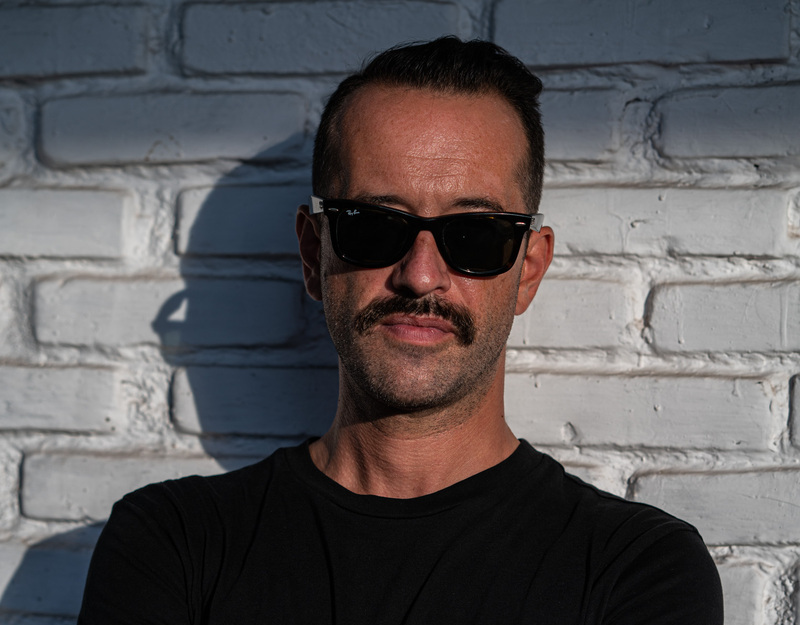 Sessions for beginners and advanced users as well
"All these people need to meet and share ideas, it's that simple," he explains with enthusiasm. Indeed, the Bali musical network needs a push and that is exactly what the Frenchman has been working on. If the first-ever session during COVID-19 times was promising in terms of attendance, with about 15 people, it now can boast double that figure for each session, including beginners and advanced users. With the help of Westside MuzeeQ shop owner Andikha at Park23, the last master classes that were held there had two major guests to attract the crowd: Pablo Vicencio, the producer, multi-instrumentalist and Latin Grammy Award winner from Labyrinth Studio, plus electronic music composer Latex. The attendants were all thirsty for knowledge, whatever their skill levels and the two hosts were shelled with interesting questions, recalls the Frenchman. Each of them explained how they use the software, showcasing practical demos and spreading new ideas and visions to a captivated audience. After each event, there is a meet-up at a nearby Double Sip liquor bar. Whoever wants to demo his or her musical production is welcome to do so in the readied DJ booth.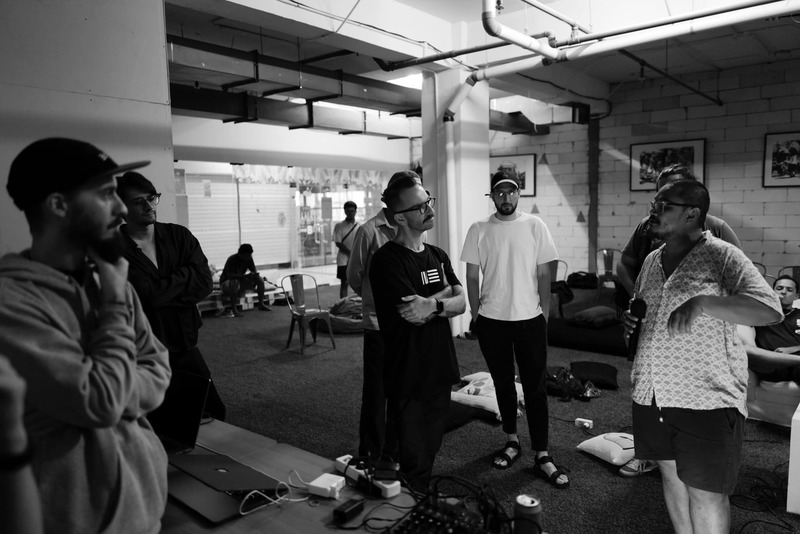 Each time, Guillaume Ravenel prepares the sessions with the help and supervision of Ableton headquarters in Berlin. Indeed, from the very beginning, the brand has expressed the will to build user communities worldwide and they make themselves readily available through their network. Believe it or not, in some countries, almost every major city has an Ableton users' community. The topics are not only directly linked to the software use, either. Advising during master classes goes far beyond, with extra themes like artistic career handling or social media management, gig, and tour organisation or record label mailing and communication. Being responsible for the Bali users' group means Guillaume Ravenel always reports back to Berlin and keeps the brand updated about the progress and community inputs.
"There are plenty of high-level music producers living in Bali. Professional recording studios are booming too. Sadly enough, all these talents are not necessarily connected together," he explains further. Indonesia is a huge country where many different music styles are thriving. Guillaume Ravenel also looks at traditional music: "Customary bands and musicians here are set apart with peculiar instruments and sound. This participates in the overall musical assets of the country with an almost infinite profusion of creative possibilities." Hence, the man's dream of building international bridges through his Ableton meetings, and soon of introducing the idea of integrating workshops during these sessions.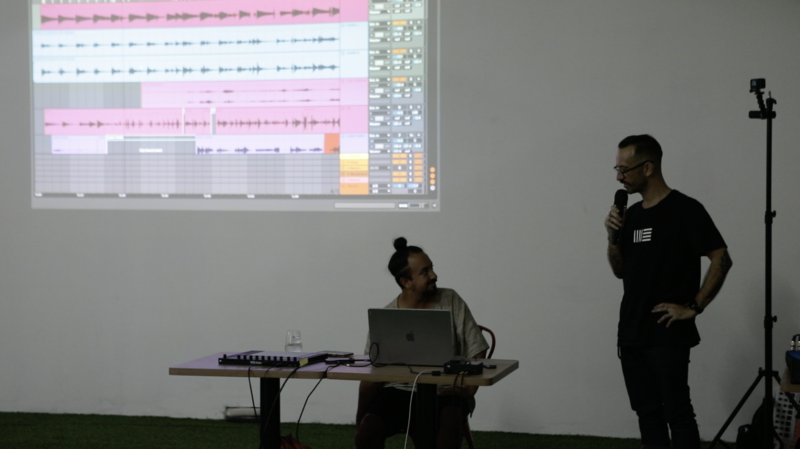 Ableton and beyond with… new company Marche Noir
All sessions are free to attend. Guillaume Ravenel reckons organising them is a demanding job that takes a lot of his time, including convincing sponsors to help by placing or presenting their products at each event. He dreams of being seconded by an intendant. Is anyone interested? Just contact him… The sessions are held on a regular basis, although not too often. The French sound engineer's endeavour to develop a local synergy in the audio business doesn't stop at Ableton training and advising. That is why he has set up a company here in Bali to promote his vision and mission. Guillaume Ravenel's skills and professional knowledge don't stop at music and software usage; he's also a film sound engineer and specialises in sound recording on documentaries, working locally for some noticeable film productions.
If the man is on to a game changer with his new life in Bali and feels reinvigorated with new goals after more than 20 years in the French music industry, will he achieve his new ideal of sharing and developing his passion here in Indonesia? Sure, for the moment the Ableton Community is a great free resource for anyone who uses the software and wants to enhance their capability, as well as collaborate and learn from others. But practically, it comes at the expense of those, like professional Guillaume Ravenel, who dare to sacrifice a lot of their free time for the trade they love. Between all these time-consuming activities, the Frenchman is therefore a very busy entrepreneur. Any strong collaboration in the various fields of sound engineering will be most appreciated. Is anyone interested? Just contact him; you've got your man!
Get in touch via the website https://marchenoirproductions.com or email [email protected].