Bali offers a number of unique, beachfront villas and quirky hotels, not to mention cliffside resorts untouched by the hectic pace of our modern world.
Without a doubt, waterfront locations are amongst the most coveted real estate in the world: where turquoise hues enhance your daily life. Check out our selection of beachfront properties – offering rolling surf and sea breezes right on your doorstep.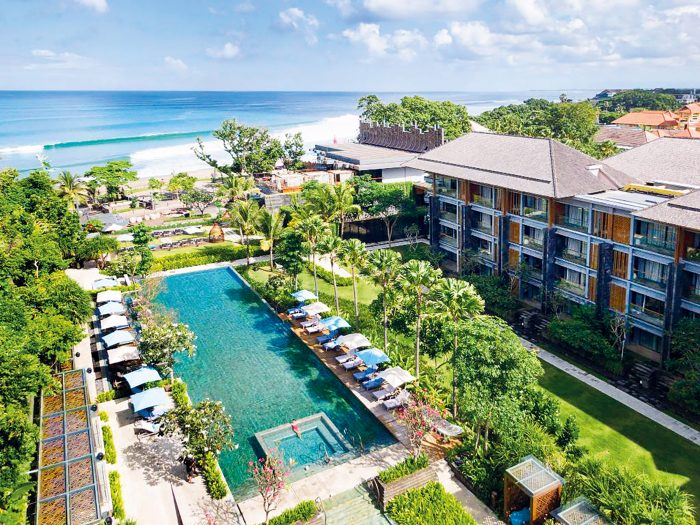 Hotel Indigo
A contemporary accommodation with an eclectic design, Hotel Indigo fits into the cosmopolitan and fashionable town of Seminyak perfectly, exuding style and sophistication. The resort has been created with Balinese-inspired lamps and cool art-deco decor – a real treat for the eyes! Hotel Indigo boasts no less than four swimming pools, complete with a Cave Pool Lounge where you can sip your sunset cocktails as you laze by the water. Guests can choose from the spacious resort rooms and suites, or from the 19 private pool villas. The outstanding interior has been tastefully furnished with beautiful, Balinese-inspired decor.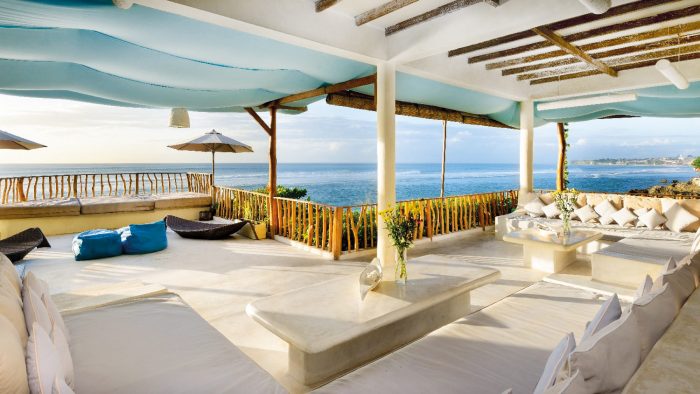 Villa Impossible
The amazing Villa Impossible is a private villa offering 180-degree panoramic views of the Indian Ocean. This six-bedroom abode in Uluwatu is built on stilts in an open-house style to experience the breeze of paradise. Switch off from the daily humdrum of the modern world at this perfect hideaway. Every part of Villa Impossible has been designed to make the most of the gorgeous beach, with enormous sliding doors in each bedroom. Listen to the waves at night and watch epic surf breaks by day. The ten-minute walk to the beach makes it feel very remote and exotic with an awesome, bohemian, beachy vibe and friendly staff.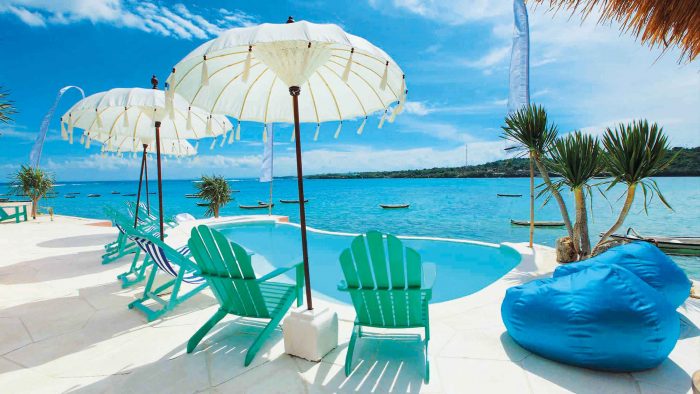 Le Pirate Beach Club
Le Pirate Beach Club allows you to wake up to the panorama of turquoise waters surrounding Nusa Ceningan, where you can enjoy simple, barefoot luxury in a pristine island environment. Each of Le Pirate's unique ECOnomical Resorts has been designed to enhance your experience of the natural setting: with each room resembling a small beach hut with an open-roof bathroom and air conditioning. The perfect getaway when you just want to relax all day with beautiful beaches at your doorstep and a choice of water sports! Guests can hire bikes from reception and explore the amazing island of Ceningan for an added sense of adventure.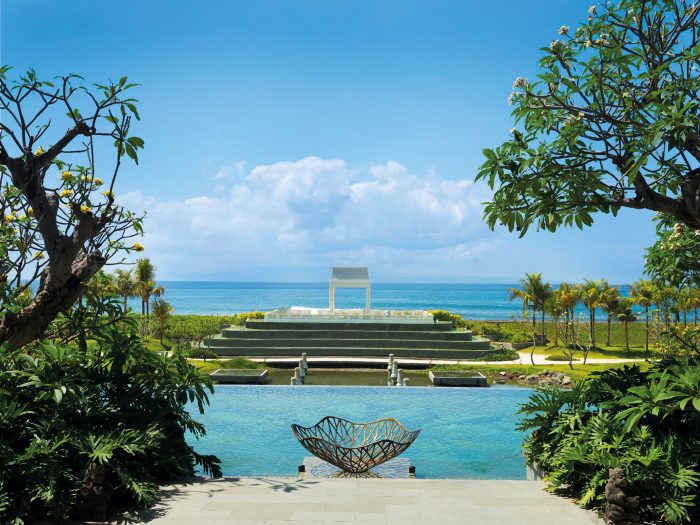 Rumah Luwih
This stand-alone hotel is a unique, modern-day mansion perched right on the beach. You can enjoy sweeping views of the resort's landscaped gardens that reach all the way to the Bali Sea. The decor of each room is utterly charming with romantic influences, evoking the feel of a luxurious estate untouched by the hectic pace of the modern world. In keeping with Rumah Luwih's romantic design, the elegant dining room is adorned with chandeliers and ornate wooden carvings, creating a truly unique setting facing a rice paddy, with morning sun to greet guests as well as Mount Agung in the distance. The resort also features a massive swimming pool and a stunning lake replete with geese for a wholesome touch.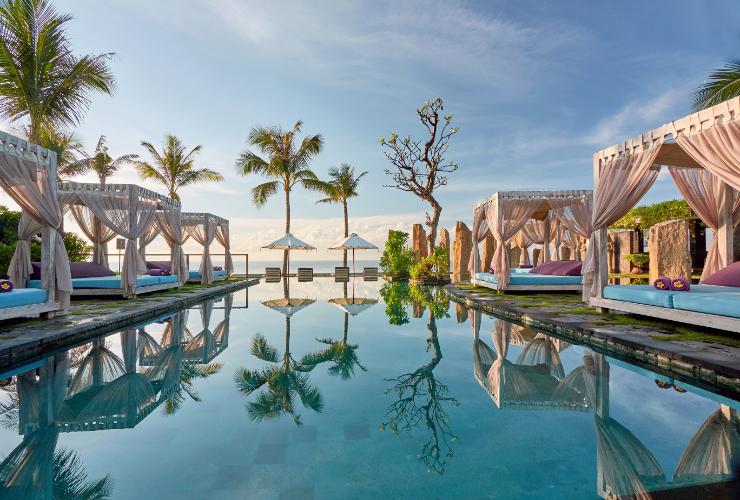 The Royal Purnama Art Suites and Villas
Nestled beside the glittering, black, crystal sands of Pantai Purnama (Full Moon Beach) on the southeast coast of Bali, The Royal Purnama presents 48 private pool villas and suites, embellished with the brilliance of local artistry. At this exclusive boutique retreat, Balinese culture permeates the space. Intricately handcrafted local-style furniture and precious Balinese artworks are in display in every villa and suite. It is possible to experience a one-of-a-kind journey of the mind to England's Stonehenge; here, the majestic stone formations are recreated for guests. You can savour Balinese, Asian, and European cuisine against a gorgeous backdrop of sweeping sea views. Perfect for a romantic getaway.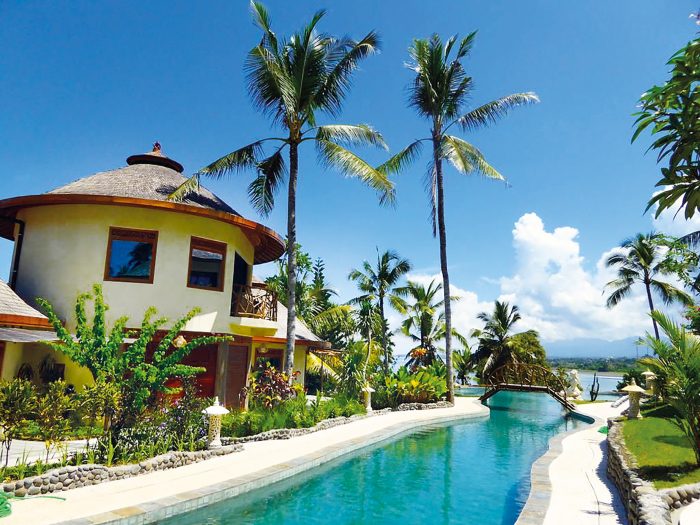 Puri Dajuma Cottages
Experience a "back to nature" getaway at the Puri Dajuma Cottages, an eco-resort with vast ocean views that you need to see to believe. Constructed almost entirely from local wood, the villa utilises natural timber and bamboo resources from the area to maintain ecological sustainability as well as natural balance. You can watch the glorious sunset from your balcony, while enjoying the exquisite artisan carvings that add detail and class. The rich inheritance of Bali Barat National Park offers a wide selection of treks to observe rare fauna and flora. Discover the Balinese traditional craft industry, ancestral music of Jegog, or multi-coloured buffalo races. It's the ideal balance for a personalised holiday.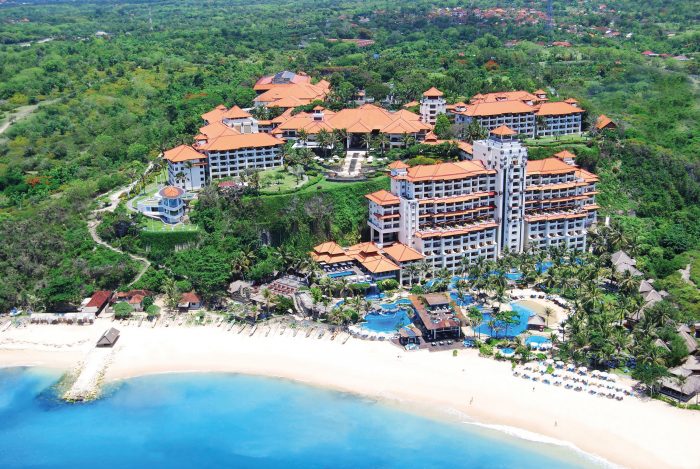 Hilton Bali Resort
Perched atop a 40-metre cliff overlooking the Indian Ocean, Hilton Bali Resort in Nusa Dua is famous for its breathtaking views, extensive recreation facilities, and unique, ocean-facing wedding venues. This luxury, beachfront property offers an impossibly wide range of rooms and suites, it also has one of Bali's most unique beach activities: camel riding. With five Australian-imported camels you can ride at one of Bali's most beautiful beaches! The Hilton Resort's camel safari is a treat for all ages. It's the best place to capture the feeling of travelling across a desert and will give you some truly Instagram-worthy spots. Don't forget your camera!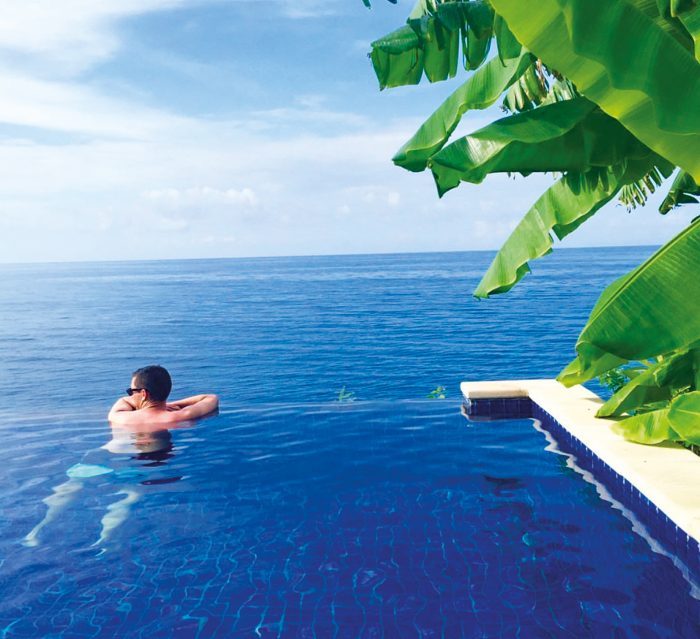 Villa Infinite Horizon
Villa Infinite Horizon is found along the island's east coast, in Karangasem Regency: surrounded by traditional Balinese rural life; villages; temples; breathtaking, pristine black sand beaches; volcanoes; rice paddies; and tropical jungle. The Infinite Horizon features opulent villa suites with jaw-dropping ocean views. You'll appear to be floating into the sea, or even better – drifting away into the clear blue sky while swimming in the glorious infinity pool. Enjoy on-site watersports and snorkelling in Tulamben (ten minutes' drive away) to see the rich, colourful marine life and a sunken Japanese shipwreck. It's the perfect place to unwind and read a book or chill by the pool: a slice of paradise for everyone.