Yendra Fahmi is one of the successful Minangnese entrepreneurs and is noted for his contribution to the country.
He is the son of Hj. Yuliana originating from Sulit Air, Solok Regency and H. Nafli Munaf from Sianok, Agam Regency. Being a successful businessman is not an instant step for Yendra Fahmi.
Raised by a father who worked as a low-ranking police mobile brigade (Brimob) officer, a young Fahmi, born in the city of Pekanbaru, on 23rd January 1971, truly understood the very nature of sustained enthusiastic action with unflagging vitality. It makes sense as he spent his childhood with less financial security.  Things started to change by the time his mother ventured into a new business in Tanah Abang, Jakarta. She really created something from the ground up.
Since his childhood, besides going to school, Fahmi often helped his mother deliver bags to her customers. By selling bags and clothes, his family's life changed for the better. Then his father resigned from the police force and chose to work with and boost his wife's business activity. It turned out that his father's decision was right, with her mother's shop developing rapidly thanks to her untiring efforts. Fahmi engaged in his family's regular business activities without ruling out his education.
However, while studying at the Faculty of Law University of Indonesia, he withdrew from college and started his own business instead. His first venture was a property business, establishing Sudirman Suites Apartment in Benhil, Central Jakarta. As it has been selling well, he further expanded his business and founded the Indobagus Investama (Indobagus Group), a holding company engaged in mining, plantation and property. Thanks to this business group, he owns and controls various mining sectors (coal, nickel, marble and granite) and oil palm plantations spreading across Sumatra, Java, Kalimantan, and North Maluku.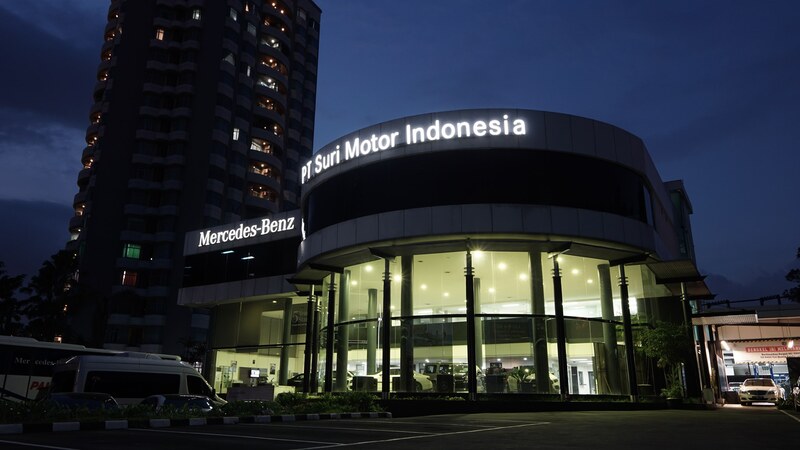 In addition, Indobagus Investama holds and manages a number of real estate assets in Jakarta. Later he established Suri Motor Indonesia. Through this enterprise, Fahmi is the largest Mercedes-Benz dealer in Indonesia whose head office is on Jalan TB Simatupang in South Jakarta. He took over the dealer previously owned by the Jusuf Gading family.
Despite being a lucrative businessman at a national scale, Fahmi has never pretermitted his origin or hometown, West Sumatra. This proved to be right when he helped many Minangnese residents across the region. Fahmi has been recorded facilitating the return of Minangnese migrants to West Sumatra during the riots of Wamena in 2019. At the time, deadly unrest broke out in Wamena in Jayawijaya regency, Papua, as a mob – reportedly consisting of native Papuans – set buildings on fire and attacked residents with weapons. For a quick response, he spent money from his own pocket for the homecoming process to the tune of Rp1 billion (US$67.275).
In the same year, he contributed Rp30 billion (US$ 2.01 million) to the construction of a large mosque in the Mualimin Complex of Muhammadiyah in Bantul, Yogyakarta. The mosque, inaugurated by President Jokowi in September 2021, was named after his deceased mother, Hj. Yuliana. Fahmi said it was a sign of his dedication to his mother who guided and raised him, leading him to do great jobs and make the break during his lifetime. Similarly, he donated AUS$300,000 s (around IDR 3 billion) to add to the funds to purchase a property for Surau Sydney Australia (SSA) in 2020. This surau (prayer house) was built by Minang Saiyo, a Minangnese organisation in Australia. Thanks to his financial support, the Minangnese diaspora's dream of having their own mosque in Sydney eventually materialised.
His love for giving back and contributing to people has been magnified, epitomising he is a generous philanthropist. On 3rd November 2022, the 119th Muhammadiyah Hospital was inaugurated in Ciheulang village, Ciparay, Bandung Regency, West Java. The development process of this type C hospital with 55 beds, an intensive care unit (ICU) and emergency hospital installations (IGD) cost Rp60 billion (US$4.04 million) – all came from Fahmi's monetary resources. Fahmi happens to be one of the members of the Central Economic Council of Muhammadiyah.
During the hospital inauguration event, former Vice President Jusuf Kalla in his speech said that having 119 hospitals, Muhammadiyah is the largest hospital network in Indonesia, second to the government. Kalla praised Fahmi's generosity and deemed him a living model of a businessman. "This man, Fahmi, has donated anywhere. That's why he keeps making headway. So do recall, if you wish to gain a fortune in business, do not have qualms about donating or giving charity," said Kalla who was greeted with applause and laughter.
Married to Suri Meidina Hanifah and blessed with three children, Fahmi has been renowned for his meekness or modesty in behaviour, attitude, and spirit. His employees testified that Fahmi, who is accustomed to fasting on Monday and Thursday, has a unique habit every time he returns from the office. He has a lot of lunch/dinner boxes in his car and shares them straight away with the disadvantaged people he would meet on the street, like scavengers or homeless people. When asked about this story, Fahmi replied it was inspired by his parent's advice: "Good deeds should be done alone, single-handedly. Do not let someone else act on behalf of you." 
Indonesia calls for more awareness and readiness from the rich, conglomerate and prosperous private corporations to be more progressive in their philanthropic activities. Many big companies are encouraged to spare some portion of their profit for mandatory corporate social responsibility (CSR). Though he is not on the list of the country's richest people, Yendra Fahmi is one of the conglomerates that came forward to participate in philanthropy, especially in the education, religious and health sectors.
Hopefully, he will move on with long-term and well-planned programs. Indonesia needs more help from generous philanthropists to tackle the country's various social issues. It's a great time to focus on doing good in the world. It's also a great time to think more about how we can do the best, not just globally, but on a local scale as well. Fahmi is neither indoctrinating us giving back to society nor spoon feeding us to be social entrepreneurs. Rather, he is showing us that we will earn a spot in people's heart and mind every time we pour our largesse into humanity.