Ecotourism in Indonesia is an emerging trend that could be the next big thing. Here's a guide on how to start an ecotourism business in the archipelago.
Despite occupying only 1.3 percent of Earth's land surface, Indonesia is one of the richest nations in terms of biodiversity. The archipelago's more than 17,000 islands are home to roughly 12 percent of the world's mammals, 16 percent of the planet's reptiles and amphibians, 17 percent of the world's birds, and 25 percent of the global fish population.
The word 'ecotourism' is defined as tourism directed toward exotic, often threatened, natural environments, particularly to support conservation efforts and observe wildlife.
Indonesia has tremendous potential to build out its local ecotourism space, as the sector remains largely untapped nationwide. Currently, there are only a limited number of destinations across the country that offer excursions and accommodations that can be referred to as ecotourism.
With this in mind, there are many potential green investments to be made in the local tourism sector, many of which can marry the growing demand for green tourism with reduced operating costs.
Lorna Dowson-Collins from the UK saw this opportunity more than a decade ago, when she lived in Kalimantan. Back in 2005, she and her business partner Gaye Thavisin, established a company called Kalimantan Tour Destinations (today known as WOW Borneo), an ecotourism company based in Palangkaraya, Central Kalimantan. Lorna and Gaye pioneered ecotourism in a part of Indonesia that at the time had no tourism to speak of.
"We shared a passion for Kalimantan and its people with their fascinating culture, the beautiful forests of diverse flora and fauna, and especially the iconic orangutan," says Lorna in an interview with Indonesia Expat.
The business idea behind Kalimantan Tour Destinations revolved around Kalimantan's rivers, which provide access to exploring the island's natural attractions.
"Inspired by all the above, an idea for a social enterprise emerged. We would build a boat that would both attract and transport guests through the beautiful forests and into inaccessible villages, and provide comfortable accommodation," explains Lorna.
The boat would bring more business to the villagers who would act as guides. From the locals, visitors could rent canoes, go on fishing trips, collect traditional medicines in the jungle, and learn to make indigenous handicrafts.
But before launching the startup, Dowson-Collins had to learn about the legal procedures involved with setting up an ecotourism company in Indonesia. Because both Dowson-Collins and Thavisin were foreigners, their company had to be listed as a foreign investment company, incorporated in Indonesia.
Today, setting up a foreign investment company in Indonesia can be a tricky business. In almost every case, your business will have to submit an investment plan with approximately Rp.10 billion in capital (US$750,000). According to market entry services firm IndoSight, 25 percent of that capital needs to be paid-up in advance and deposited into an Indonesian bank account. The firm says enforcement of this minimum capital rule wasn't in place until 2015, which means it was surely much easier for Kalimantan Tour Destinations to hack the red tape and set up a foreign investment company back in 2005.
Kalimantan Tour Destinations' legal function is a water recreation company and travel agent. It deals in activities as a boat owner and operator, tour operator and developer, and as a designer of tourism publications. The owners claim the business is run in accordance with all the local laws related to employment and taxation in Indonesia.
"We were lucky during our setup because we had a good lawyer in Jakarta, Pak Suprianto, and the governor at the time urged all departments to help us get permits quickly," recalls Dowson-Collins.
In order to set up an ecotourism business, one must obtain a nature tourism development permit. But before you can do that, you have to obtain a recommendation letter from a regional head of the area (like a governor).
In order to get the recommendation, you have to submit a working plan as well as an environmental impact analysis. After getting the recommendation, founders must submit a proposal to the Environment and Forestry Ministry. The scheme should include a project proposal, pre-planned tour package outlines, as well as an economic and financial analysis. You also have to submit a map of the area in which you aim to run the ecotourism business, with a topographical scale of 1:25,000 (the devil is in the details).
The next document to submit is a complete set of data related to your company, such as a company profile, tax documents, bank information, and a financial balance sheet.
Finally, ecotourism founders in Indonesia need to submit a power purchasing agreement. Essentially, this is a contract between two parties, one which generates electricity and one which is looking to purchase electricity. This part can be tricky if you intend to set up your business in a remote Indonesian jungle that may not yet be on a power grid.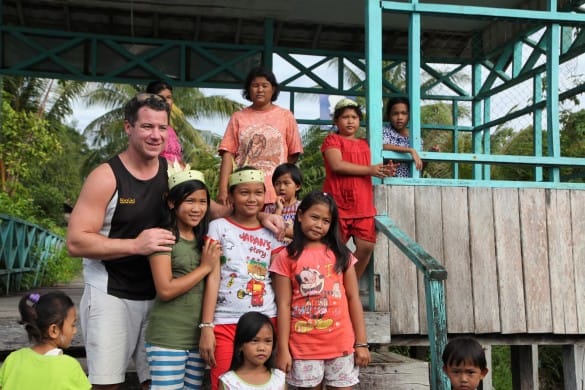 Dowson-Collins says having a strong network in the country will help smooth out most of these processes. "We built good relationships and were supported because people were excited by the idea of our business," she says. "I believe having been brought up in Indonesia, speaking [the language], and loving Indonesia helped to develop these bonds."
Despite having a positive rapport with the government, Dowson-Collins says she did not receive any subsidies from the state.
In order to raise capital to kick-start their ecotourism firm, Dowson-Collins and Thavisin entered their business idea into a Dutch-funded competition called Business in Development. The contest sought out innovative ideas for developing businesses that benefited local communities and the environment.
Out of 1,600 participants worldwide, Kalimantan Tour Destinations was one of the winners back in 2006. The prize money of €6,000 helped Thavisin and Dowson-Collins cover legal fees in Kalimantan.
"Although we did not receive any subsidies, we were greatly supported by the governor of Central Kalimantan, A. Teras Narang, who launched our newly built boat the Rahai'i Pangun," explains Dowson-Collins. "The local tourism department helped to promote our enterprise by inviting agents and the media to support us."
Fast forward to today. After running an ecotourism business for more than a decade, Dowson-Collins and Thavisin acknowledge having their ups and downs. According to Dowson-Collins, the biggest challenge in running an ecotourism business in Indonesia is actually the environment itself, which continues to suffer from annual forest fires as a result of irresponsible palm oil operations.
"This caused our business to close down for a number of months," she says. "The other challenges are normal business challenges – marketing, training good staff, ensuring that we are a responsible employer and bringing benefits to the local communities."
Lorna admits that the company faces an added obstacle of finding a new partner, one who can eventually run Kalimantan Tour Destinations when she and Thavisin decide to retire.
"Gaye and I will not be able to run the business forever, and the question of finding a suitable partner or selling the business to someone who shares our values is one that challenges us," she says, adding that in the end, the most important component of running an ecotourism business is passion.
Regardless of which ecotourism sector founders choose to operate in, the co-founders believe
you have to work with passion, and make sure that whatever you do has a positive impact on the people and the place.
Dowson-Collins believes Kalimantan Tour Destinations only works because of her unflinching commitment to Kalimantan, both its setting and the individuals who reside there. She says, "Ecotourism is ultimately about place – environment and people. Without a true passion for this, don't even bother."