American expat Michael Lorenti Jr. is siphoning money from the booming cosmetics industry back into the pockets of locals in the East Bali village he now calls home.
Industry stakeholders will tell you that cosmetics and skincare in Indonesia are a big opportunity. According to Boston Consulting Group, the cosmetics industry is one of the fastest-growing sectors in the nation and has consistently seen double-digit growth in recent years. It has been named as a priority and strategic sector by the government, as it employs roughly 75,000 people in terms of direct labour and 600,000 in terms of indirect labour.
'Data from the Ministry of Industry suggests the export value of Indonesian cosmetic products in recent years reached US$818 million annually. Meanwhile, the import value has exceeded US$441 million'
The opportunity to capitalize on the budding cosmetics trade in Jakarta would seem ripe for the picking, especially for someone who could bring international experience. But for some people – like American expat Michael Lorenti Jr. – the archipelago's cosmetics and skincare space represents a chance to try new business models on for size.
Cut to a small village in East Bali, far removed from the traffic, high-rise buildings, boardrooms and pressed suits of Jakarta. Natural skincare company Sensatia Botanicals operates out of Jasri, Karangasem. Lorenti is one of those easy-going, feel-good entrepreneurs who is a long-time resident in the archipelago. Hailing from San Francisco in the US, Lorenti says his vision was to build a cosmetics company in paradise. According to him, Sensatia sells natural skincare products that "induce sensory experiences."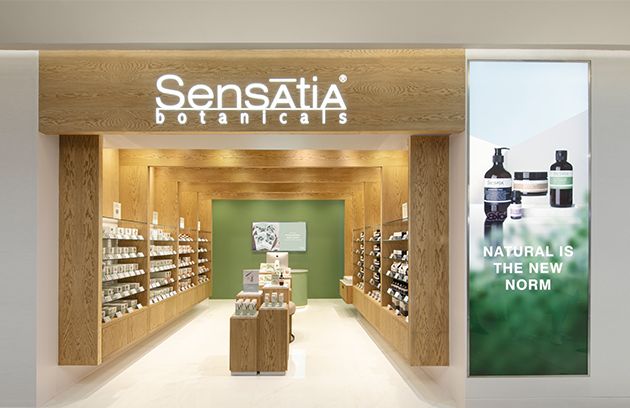 "I think Sensatia is ahead of the game in that we are producing good, solid natural products for a very reasonable price," explains pecially for someone who could bring international experience. But for some people – like American expat Michael Lorenti Jr. "When other monster companies are paying huge royalty fees for actresses and actors to be the 'face' of their products, Sensatia is just ticking always quietly, confident that the product speaks for itself."
Sensatia Botanicals offers a variety of all-natural skincare products including soaps, body, face and bath products. The company sells its products online but also has store fronts in key locations around Bali, including Ubud's central Monkey Forest area, Seminyak Village, Lippo Mall Kuta, Legian, Bali Collection in Nusa Dua and more. In Jakarta, you can find a Sensatia Botanicals store at Supermal Karawaci.
Sensatia's products are not the cheap kind. A 300-gram container of seaside citrus sea salt scrub sells for Rp.220,000 (US$16.50) a pop. A 250-gram container of lemongrass and Mandarin body butter sells for Rp.280,000 (US$21).
Lorenti says the market outlook for the cosmetics industry in Indonesia is good. According to him, it's a good thing that Indonesia has implemented very strict regulations on products like Sensatia's.
"Whether you are producing in Indonesia or importing into Indonesia, neither are very simple and both require quite a long process, as well as many different kinds of licensing," explains Lorenti. "Actually the licensing process never seems to end […] This is very important in any country, but for some reason, people come to Indonesia and think they can do anything they like. The reality is quite the contrary. There are many rules to follow with many heavy penalties for not doing so. For example, many people don't even realize that there is a serious penalty for distributing any cosmetic-type product without a proper BPOM registration number (POM NA). The law states a fine of up to Rp.1 billion (US$75,000) and one year in jail can be given out."
Cosmetics with a Conscience
At first glance, one would assume that Lorenti built Sensatia Botanicals to capitalize on the growing market trend and opportunity – 'to make sky-high stacks', to put it in the right vernacular. But after speaking to Lorenti for five minutes, it becomes abundantly clear that he has no intention of enriching himself.
Sensatia is what Lorenti calls a "profit-sharing business," meaning a large portion of the profit that comes in goes right back out to the locals of Karangasem. Lorenti explains:
"The business is a means by which we can siphon a small bit of the world's affluence into this little village the world has forgotten, or perhaps never even knew about."
According to Michael Lorenti Jr., the local employees who work for Sensatia can take comfort in knowing that 20 percent of the company's profits will be dispersed back to them.
"What's mine is yours and yours is mine," says Lorenti. "I remember asking one of the boys how he spent his monthly wage. I think it was the biggest profit share for them at that point. He said to me as a matter of normal procedure, he gave it to his mom to take care of. So you can physically see money being dispersed in every direction to friends and family come payday. It's beautiful. So if you were to actually count how many people make a living through Sensatia, it would be quite a few."
Sensatia claims to follow the lead of Yvon Chouinard, founder of outdoor sports clothing company Patagonia, whereby it participates in 'One Percent For The Planet,' an international organization whose members contribute at least 1 percent of their annual sales to environmental causes.
"I began to think about how we could apply this to our current state of affairs here in Indonesia, where in many places some of the most simple, basic human requirements cannot be achieved," says Lorenti. "This year, Sensatia will be developing in more complete detail 'One Percent for Indonesia,' a non-profit organization that will focus on humanitarian efforts helping to fulfil basic human needs."