If you're serious about business, you won't be a stranger to the many networking events that Jakarta has to offer. Jakarta Business Networkers (JBN) was created to give networkers a chance to gain new contacts, new knowledge and most importantly, new business referrals, which eventually convert into revenue. We talk to JBN Founder Jean-Philippe Beraud to find out more.
Can you tell us when JBN was founded and for what reason?
Years ago, in Ireland, I attended professional, referrals-focused networking events. When I began my career in Jakarta, I struggled to find a networking club that matched what I had experienced in Ireland. I attended a lot of different events, both for locals and expats, which, although enjoyable, did not yield much in the way of generating good business contacts and real value to the attendees. A lot of people would stand around awkwardly at these events, talking to the same small group of friends, or not knowing whom to approach.
In September 2013, I decided to set up a structured and professional networking club to meet the needs of most Small and Medium-Sized Enterprises (SMEs) and multinationals. For that, I needed to find a reliable partner I already knew who shared the same values as me and bought into the idea.
In December 2013, the co-founder Nick Blake and I gathered a small group of eight professionals from different industries around Jakarta to discuss attending a weekly morning event to be focused on referring businesses to other members of the group.
What kind of backgrounds do yourself and co-founder Nick Blake have?
I have an MSc in International Trade and Marketing from a French Business School and I currently work as the Deputy GM for the French welding institute, Institut de Soudure, and have been in Jakarta for the last six years.
Nick is someone with an entrepreneurial spirit, having started his first venture at 18 years old in the UK. He has done business internationally for several years and is a director for a training and development business here in Jakarta.
How many members does JBN have today?
We currently have 40 companies who have committed to attend regularly, joining our weekly sessions. Over 300 professionals have attended JBN's sessions so far this year and our growing LinkedIn group now has 375 members.
How many networking events do you organise yearly?
Every week we hold morning sessions at Kemang and the World Trade Centre (WTC), Sudirman, which attract between 12 and 18 networkers. We also host a quarterly major event, which brings in between 40 and 60 networkers.
At your events, your attendees are encouraged to help other members by exchanging referrals. Can you explain this process and why it's so beneficial?
That's right; a lot of people go to networking events trying to sell their products and services. At JBN the focus is very much on giving (to the other members) and referring them to people within their networks – rather than hard selling. The idea behind that is that through giving referrals, eventually the other members will give back to you. 'Give and you shall receive' is the ethos and our networkers really buy into that message; the sessions are very productive. We have part of each session dedicated to referrals and helping the group.
What kinds of professionals attend your networking events? Who is your target audience?
We have a wide range of attendees. Typically the sessions attract business owners from SMEs, although we do have some multinationals that send their directors or senior management. Anyone who is looking to generate business and or expand their network would benefit from attending.
Can you tell us what makes your networking events different from others?
This session is focused on business. At 7am, all the networkers who attend are serious about generating referrals! A lot of other events are centred on free-flow drinks after working hours; at JBN we want the sessions to be effective, productive and completely focused on generating business of members and guests. Given that we attract a high percentage of local business people means that JBN is open to everyone.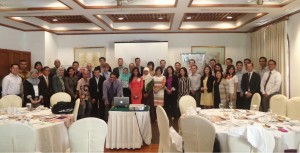 Why do your members enjoy attending your events? Do you have any testimonials that you could share with us?
Although a lot of the members attend and enjoy the events for the social aspect (we have a cooked breakfast and coffee together each week), the members who benefit most would say that it is because of the way it has helped their business.
Alex Hawkes (International Sales Manager – Infrastructure Asia) says, "One of the first things I did when I arrived in Jakarta was to look for a business networking club. JBN has helped us to find clients, partners, suppliers and employees. It is the best investment of my Thursday mornings."
What kind of demographics makes up your members?
Although the sessions do attract expatriates, this is far from being an expat-only group. We have a good mix of local business people and expatriates. Not all of our attendees live in Jakarta; we have had visitors from USA, Dubai, Hong Kong, Singapore and Europe.
As I understand it, you usually have guest speakers at your events. How do you choose your speakers and what kind of presentations have been given in the past?
Each week, one of the members shares something about their industry with the rest of the group by means of a short presentation. This enables the other members and guests to learn a bit more about that specific business and industry.
For our quarterly events, we ask our members for some feedback on who they would like to invite as a guest speaker. For the last two events we have been fortunate enough to have the likes of PwC and Colliers speaking about topics of real interest to our audience.
What is the vision for JBN's future?
When the meeting room at our WTC event became too small to accommodate the number of networkers wanting to attend, we opened up a second group in Kemang to give networkers in South Jakarta the chance to attend more easily. We wish to continue our growth, providing real value to our members and keep the referrals coming in. The vision for the future involves really getting networkers' businesses promoted online and making sure that this is a club that continues to attract a high calibre of attendees. Once both WTC and Kemang reach capacity it could then be time to open up a third venue. Watch this space.
Many companies now make networking a key part of their marketing plan. Tell us why you believe it is so important in today's business climate.
Old-school sales strategies consist of 'playing the numbers game' and the belief is that by talking to and approaching as many contacts as possible, sales will increase. We believe that if your contacts can refer your business to people they know, that acts as more of an endorsement and gives you credibility and a much better chance of converting that opportunity. Relationships are so important and you are much more likely to refer (or indeed buy) the services of someone you meet every week, compared to a complete stranger.
How can readers find out more about your events? Should they join your LinkedIn page?
That's correct, the group is called 'Jakarta Business Networkers' and we post information every week about our latest meetings.
Thank you, Jean-Philippe. To get in touch, please email:  [email protected]