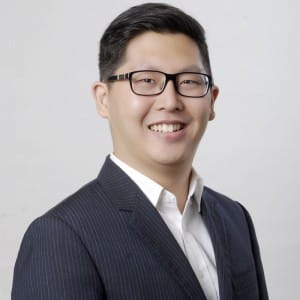 With the fresh new look of Indonesia Expat, we will be regularly shining a light on successful businessmen and women in Indonesia, Expatriate and Indonesian, to discover more about their journey and their business, and what drives them personally.
We're kicking off our series with an interview with Mario Gaw, General Manager of Rumah123.com.
Mario, firstly congratulations on your new title of General Manager of Rumah123.com, which you started in January this year. You are effectively the most senior person running the operations of Rumah123.com. What are your main responsibilities and how large a team do you manage?
Thanks, Angela! My main responsibilities are to lead, manage and represent the Indonesia business incorporating rumah123.com and rumahdanproperti.com teams to achieve business goals, objectives and financial and non-financial KPIs. The current team in Indonesia is about 80-85 people and we are growing. I am very excited to be part of this growth!
How has the transition from VP of Pricing & Production at Lazada Indonesia to GM of Rumah123.com been, going from managing an e-commerce site to online property?
The transition has been interesting from day one. Despite the same nature of being online businesses, both run completely different business models. In a way, the online property classifieds business is a simpler model, without the need to deal with physical inventory, logistics, etc., but nonetheless, it has been nothing short of challenges that are both exciting and fulfilling! There are lots of new things to learn especially about the industry, market, and its specific customers among other things.
Can you please tell us a little bit about Rumah123.com and the iProperty Group?
Rumah123.com was established in Jakarta in January 2007 with about 30 employees. The company was then owned by Saratoga Capital, which is controlled by Edwin Soeryadjaya and Sandiaga Uno. In 2011, the iProperty Group, an ASX-listed company based in Kuala Lumpur, Malaysia, that owns leading online property portal websites in Asia, acquired Rumah123.com after identifying Indonesia as a natural growth market for its business. Since the iProperty Group acquired Rumah123.com, it has become home to the largest number of property listings and property agents in Indonesia with numbers far exceeding its competitors.
The company continues to see significant growth in all key metrics, a clear indication that Rumah123.com is continuing to meet the needs of both its consumers and customers. We provide consumers with the most comprehensive and up-to-date property related news and the best property search experience. We are also committed in being the partner of choice for our customers by working together with them to grow their business.
To date, Rumah123.com has more than 247,000 listings and over 8,000 property agents. On a monthly basis, there are over 1.8 million visitors that turn to Rumah123.com to search for their dream home or next property investment, which in turn results in the portal delivering more than 485,000 leads to its agents.
What motivated you to take on the position of GM of Rumah123.com? What is your ultimate goal in this position?
I was approached by the iProperty Group to discuss a possible role which I could play in theirRumah123.com business in order to take it to the next level. They have clearly determined that Indonesia was an important market for them and that a local General Manager was a key part of their strategy in order to take the business further.
It was important for them to find the right candidate. Their seriousness was shown through my recruitment process where I not only met Shaun Di Gregorio, CEO of iProperty Group, but also Patrick Grove, Chairman of iProperty Group & CEO of the Catcha Group. I was impressed by them and was motivated to take on this new, big and exciting challenge of pushing the business forward and making a significant impact on how Indonesians search for the right properties for them to own, live in or invest.
My ultimate goal as General Manager of Rumah123.com is to ensure that Rumah123.com continues to be the leader in its market by providing the best property hunting experience possible. At the same time, to become the best qualified leads generation tool for customers and partners.
What challenges do you and have you faced in the online industry in Indonesia? What are your thoughts in internet connection speeds in relation to their prices? How and when will this improve?
Although the online industry has seen tremendous growth in the past few years, fuelled by the ever-increasing internet penetration in Indonesia, it is still early and young. There is still a lot of work to be done in improving internet accessibility, speed, costs and education. Internet speed compared to its costs is still quite low but on the bright side, improvements are definitely coming.
We recently saw the launch of a new special mobile device named Bolt offering 4G mobile internet service in Indonesia and First Media, a local ISP, quietly rolled out its 4G internet speed service offering up to 100 Mbps starting in Jakarta last month. I am confident and hopeful that it will continue to improve even faster as consumer demands for better services grows.
Let's talk business. How much is the website Rumah123.com worth? What are your projections for 2014?
As rumah123.com operates under the iProperty Group, the company recently released its 4C statement, reporting growth in cash collections driving a net operating cash flow result of A$0.16 m for the quarter. Cash receipts from operating activities for the period amounted to A$5.4 m, an increase of 31% from the corresponding period in 2012.
We have big plans for 2014. We are geared for a fantastic growth and I am confident that our talented team will continue to break new grounds. We will continue to focus on providing innovative advertising solutions to property developers and property agents. It is also our commitment to provide consumers searching for property with the best possible user experience, driven by innovation with a 'mobile first' focus.
What is your business model – where is the bulk of revenue generated?
Our business model is primarily based in paid advertising. We consider ourselves an online media company and we generate our revenues from listing fees, premium listings, online banners and marketing solutions, and other secondary products such as property expos and print media.
How do you gather all the information to populate your website? How many property agents do you work with? Do you work with private owners too?
We have sales teams that focus on working with property agents and property developers on getting their listings or offerings online as quickly as possible. We have more than 8,000 property agents actively listing on our site. Yes, private owners are also welcomed on our site.
Back to more personal questions, you studied Computer Science at Simon Fraser University in Canada and lived in Canada for nearly 10 years. What was the deciding factor to return to Indonesia?
Vancouver, BC, is a very beautiful city and place to live in. It was very hard for me and my wife to leave behind. However, I was determined to return to Indonesia for two primary reasons. First was to be closer to parts of my family still residing in Indonesia. Second was that I was reading a lot of news on how Asia and especially Indonesia and other countries in the Southeast Asia region was experiencing strong economic growth in recent years. Being Indonesian myself, I was curious enough about it and was willing to move back and try to find opportunities where I would be able to use what I've learned overseas to benefit the Indonesian economy and people.
You are concerned about social issues such as poverty and disaster relief. What social projects are you involved in and do you think it's important to get involved with charity work?
Absolutely. I believe we should all try to do our part in giving back to our community and to those who need help. I personally do not think I have done enough on any specific social issues, however I have always been interested in various initiatives related to building schools and/or churches to remote parts of Indonesia. Helping kids attain proper education would equip them with the right tools to be able to lift themselves and family out of poverty in the future.
What motivates you to go to work every morning?
There are many things that motivate me to go to work every morning, but if I had to narrow it to just one thing, it would be family. When I was growing up, I was constantly reminded by my parents to make them really proud one day. Even though I knew that my mum was already proud of me as I went to college, eventually graduated and received my first pay cheque from my first job, my dad did not have the opportunity to see any of it. He had passed away when I was 14 years old due to health reasons.
Since then, I have made it my personal goal to work hard and give my best in everything that I do. I want to see where life takes me by constantly challenging and improving myself. Nowadays, my lovely supportive wife is another source of motivation of mine.