Jakarta is full of colour, vibrancy and life.  At first glance it looks like a huge modern city with a towering skyline, however in the backstreets you will find a patchwork of small lanes called Jalan Tikus (which translates to "mouse street") where life continues as it has done for hundreds of years and reflects traditional kampong (village) life.  
Local vendors still push colourful kaki lima (wooden food carts) along the streets, wielding wares such as straw brooms and plastic buckets or selling food like piping hot soybeans and a wide variety of delicious street food.
Jakarta is a city of the old and the new. Being the nation's capital, it is a city steeped in history and culture. Start your discovery of Jakarta by heading to the heritage zone of North Jakarta.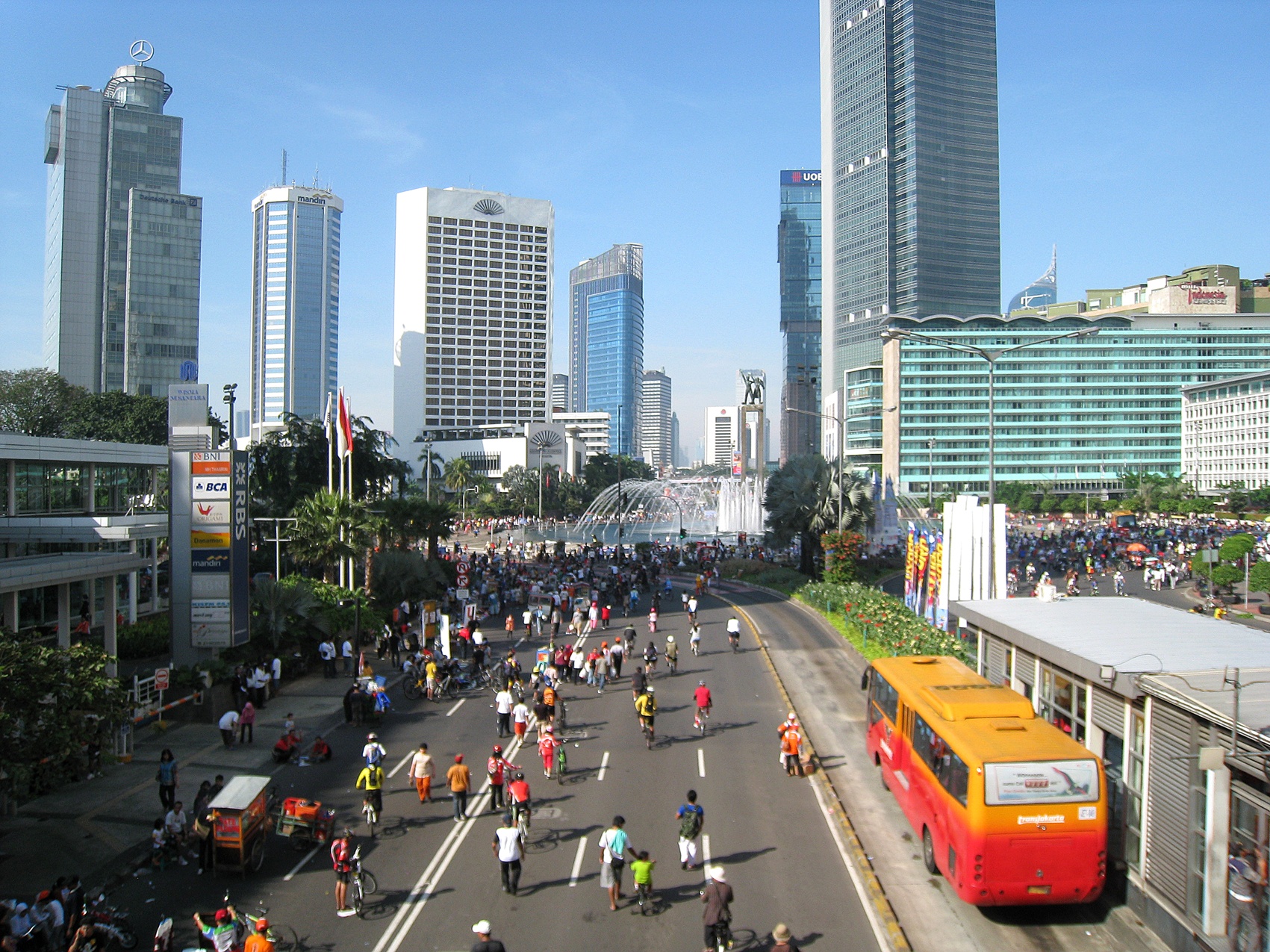 History
Wandering around Fatahillah Square will bring you to the Jakarta History Museum (Museum Fatahillah), which was built in 1710 and houses over 23,000 items. It's a fossicker's dream of yesteryear items.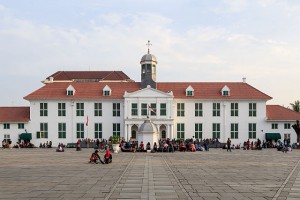 You can move on next to the Maritime Museum to absorb some of the seafaring cultures. If you love art, the Museum of Fine Arts and Ceramics housed in a building dating back to 1870 is a must-see. My personal favourite is the charming Puppet Museum (Museum Wayan) where you can learn about Javanese puppetry.
Nearby is the old harbour of North Jakarta, where you will find a long line of traditional wooden boats called pinisi. Wandering the old port is fascinating. The loading and unloading of the cargo is mesmerising. The crew and other workers balance massive loads on their shoulders as they move backwards and forwards on skinny gangplanks — a practice that has hardly changed in centuries.
Jakarta History Museum – Jalan Taman Fatahillah No.1,
Finding the Green  
The theme parks of Ancol, Waterbom and Taman Mini Indonesia are all large green open spaces in Jakarta. Explore and have some fun at these places, plus you can escape the heat. Lots of green leafy shade will give you a welcome relief from the city's fierce heat, as Jakarta sits only six degrees off the equator.
Golf courses abound in Jakarta, with over 35 in the city area and 50 in the wider area including the hills of Bogor and Puncak. The green fees are some of the most affordable in all of Asia and you can tee off over a jungle ravine, drive your shot over a rice field and enjoy the lush tropical greenery.
Want more green spaces? For only US$60 you can take a car and driver and breathe in the crisp mountain air of Bogor or Puncak. Do you prefer beaches and the ocean? Grab a speedboat and zoom off on a short trip to the 1,000-island chain, a string of islands stretching for 45 kilometres just to the north of Jakarta's coast. A one-day trip is feasible or stay the night.
Shopping and Markets
There are over 170 shopping malls in Jakarta, all stacked with modern goods to buy, but why not start with a traditional market walking tour of Pasar Baru? You will find a variety of local ethnic wares, Chinese and Indian products and many colourful textiles.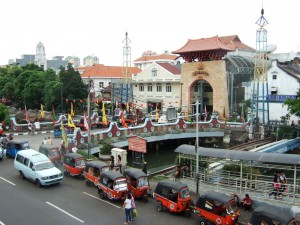 The Mangga Dua area in North Jakarta has six popular malls with bargain low-priced clothes, accessories and shoes. However, most people are attracted to Jakarta's super luxury malls. These are a meeting place for business people, travellers and local families alike. Pacific Place, for example, features the ever-popular Kidzania, the Hard Rock Café and a wide variety of dining options from food court style to fine dining. Many of the top-end malls have nightclubs and state of the art gyms as well as gold class cinema complexes. In fact, Pacific Place even includes a hotel – The Ritz-Carlton – right at the mall.
In most Jakarta malls you will find all the major global brands and other attractions like bowling alleys or ice-skating rinks and even an adjoining waterslide park. Plaza Senayan, Pondok Indah Mall and Senayan City are three of the most popular malls and offer some of the best restaurant choices, like the trendy Union Square at Plaza Senayan.
Pacific Place: Open 10:00 – 22:00. Location: Jl Jen. Sudirman, Jakarta Selatan  www.pacificplace.co.id
Wellness and Spas
Javanese massage treatments draw on natural remedies based on ancient recipes and herbal potions. Try the Royal Javanese Spa Treatment, which has its origins from Javanese palaces dating back to the 17th century.
Spa complexes are located in many of the 5-star hotels. Do check these out – often prices start at only Rp.239,000 (US$18). Local salons are easy to find and tend to be even cheaper so, whatever your budget, you will find a fit. One thing is assured though, you can expect to be treated like royalty at any day-spa.
You can float off to another world, luxuriating in the aromas of local herbs, enjoying calming water therapy or enjoying a traditional Javanese body treatment using jamu (traditional Indonesian herbal remedy).
http://tamansariroyalheritagespa.com
Arts and Crafts
To know a place like Indonesia is to appreciate its talented artisans. Jakarta is a place to find arts and crafts specific from the unique islands spread across the archipelago.
You can find woven songket cloth from Sumba or intricately printed batik from Solo or delicate beadwork from Kalimantan.
How about Lombok pottery or beautiful Javanese jewellery? You can find these and more treasures at Pasaraya Shopping Mall. It is one of the more established older malls, and batiks are less expensive here than in the luxury malls. Pasaraya is an Indonesian institution and every type of handicraft can be found here.
Another good spot is Jalan Surabaya in Jakarta's Menteng district. Visit early morning or in the late afternoon (it is outdoor, so it's advisable to avoid the heat of the day) and discover this treasure trove of handicrafts and antiques including colourful puppets, brass items, art deco lamps and porcelain pieces. It's a fun and lively place to shop.
Another market is the Gem Centre (Rawabening Market) located in East Jakarta, which has hundreds of trays of precious and semi-precious gemstones. You can pick out a gemstone and have it cut, polished and set – all in one day. This poky, fabulous, dusty little market is a truly rich cultural experience.