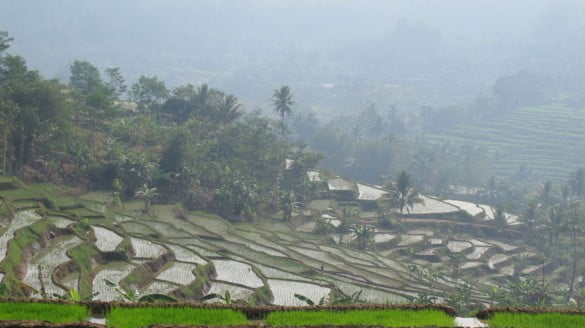 If you've ever dreamt of riding through the hills and rice terraces of West Java on a trail bike, dream no more. Now it's possible. Not only that but, as I discovered when I took a friend who was a complete biking novice with me on my second visit, even total beginners to bike-riding can become proficient in a weekend. A little operation, called Totally Wild Tours, offers trail-biking weekends in the foothills of Gunung Gede, not far from Sukabumi. One of the great things about the weekend is that you are picked up from your home in Jakarta on Friday. You don't have to worry about driving through rush-hour traffic; instead you just sit back and enjoy the ride. In a few hours you're up in the fresh hill air of Ubrug, the village that is the base for the weekend, which is a few kilometres off the road down to Pelabuhan Ratu on the south coast.
TWT is run by a youthful and energetic Indonesian called Joko. Occupying a small area of land, his centre of operations has the most amazing views across a lush-green terraced valley looking towards the dark volcanic outline of Gunung Gede on the horizon. There are four small but tastefully styled bungalows (maximum capacity of 8 people) overlooking the valley, a small swimming pool, and a comfortable joglo, for relaxing and enjoying the view.
After a wonderfully peaceful night's sleep lulled by the sound of cicadas, we were up and ready for the first ride the following morning. All the protective gear is provided, including knee- and elbow-protectors, and boots too, so you need only bring suitable clothing for yourself. After getting fitted in the gear, we were introduced to our trail bikes, in my case a customized Kawasaki KLX 150. And then, with Joko leading the way, we were off!
After passing through the edge of Ubrug, with Sundanese villagers going about their daily chores of preparing food, hanging out washing, and caring for small children, we headed into the sawah (rice-fields) down a rocky track. Having never done this kind of biking before, we focused on getting used to the bikes. But that didn't prevent us from appreciating the stunning scenery and the terraces, dotted with small desa.
We had a short break after half an hour, at which point Joko informed us that we had just finished the "warm-up". He was right: we then proceeded to attack a steep hill, called Bukit Cilutung, passing through small Sundanese desa, and rubber and minyak sawit (palm oil) plantations higher up. It was exhilarating stuff; the rocky track was so steep that I doubted the ability of the bike to pull me up the incline, but what was lacking was only my faith in the power in the bike. Remarkably forgiving but potent, the trail bike managed to deal with every challenge and rock in my way, right up to the top of the hill. But it's physically tiring stuff, so another rest was in order once we'd made it. We then headed on, passing through a development area, complete with newly finished golf course, half-finished hotel, and still largely empty housing plots — a sign of things to come. These Sundanese hills will probably be one big luxury housing estate for the Jabotabeka elite a decade from now.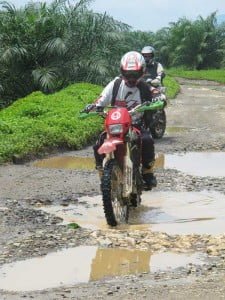 After passing along a track overlooking the small town of Cibadak, we made our way back to Ubrug in the early afternoon, triumphant in having overcome the challenges of the 40 km route, but also happy to be able to profit from a mandi and a bit of relaxation back in the joglo. In the evening, we were treated to a traditional Sundanese dinner served on a large banana-leaf 'table-cloth' prepared by Joko's wife.
On the second day's ride, we descended further into the valley instead of scrambling up into the hills. Surprisingly, this made for quite challenging riding, as the tracks were very muddy, and it was hard to stay on the bike at times. We suffered a couple of undignified spills, but no major harm was done. And the verdant rice terraces, tiny hamlets and friendly locals made up for the mishaps. As Joko explained, these rice-fields are not on the tourist track, and most of the locals have never laid eyes on a westerner. So, dressed in our rather outlandish Robocop protectors and riding our growling bikes we got a lot of thumbs-up as we passed.
Apart from biking weekends, Joko also organizes three-day trips down to Ujung Genteng on the south coast of West Java. The only caveat is that you need a group of at least three riders to make it viable, so I'm on the look-out for another couple of adventurous souls to join the next trip.
But it's not just about trail biking. If you're not into the biking thing, then Joko can also take you on mountain-bike trips. Or, if you prefer walking, then just day trekking through the hills is also an option. The Ubrug base is also a great place just to hang out for a weekend away from the stress of Jakarta, reading, writing, or just taking things easy.
The pick-up from, and drop-off back to, Jakarta costs Rp 300,000 per person, while the trail-bike riding costs Rp 250,000 for the first hour of the day, and Rp 150,000 for each subsequent hour, all gear, fuel, and instruction included. Not bad for a totally wild break from the city.
Totally Wild Tours
Contact: Joko Sutiyono 0817 847 039
[email protected]