For yet another year, France tops the table for having received more applications for short-term visas than any other Schengen country, according to the Schengen Visa statistics for consulates in 2017, published by the Migration and Home Affairs of the European Commission.
In all 418,485 more people applied for a Schengen short-term visa to France last year compared to 2016 when France consulates around the world received 3,265,919 visa applications.
Out of the overall short-term visa applications received, France issued 3,161,274 visas, 965,661 of which were multiple-entry short-term visas.
Germany follows France as the second on the list, having approved 1,857,770 visas out of the 2,049,055 visa applications its consulates around the world received, and Italy is listed as the third with 1,703,693 visas issued out of 1,850,260 applications received. Both countries were in the same positions in 2016. Spain remains the fourth on the list once again with 40,428 more applications than the previous year, with 615,897 visas issued among others.
The six other countries out of the top ten that received most applications:
• Greece – 981,091 visas issued out of 1,029,564 applications received
• Finland – 814,047 visas issued out of 827,520 applications received
• Poland – 789,343 visas issued out of 823,101 applications received
• Czech Republic – 594,225 visas issued out of 623,255 applications received
• Netherlands – 550,910 visas issued out of 621,431 applications received
• Switzerland – 451,528 visas issued out of 517,010 applications received
SCHENGEN COUNTRIES WITH MOST MEVs ISSUED
However, statistics change when it comes to the number of multiple-entry visas (MEVs) issued. The table is topped by Germany, followed by Italy having issued most visas of this type, leaving France in the third position, just above Greece, Finland and Spain. A total of 8,677,376 multiple-entry visas were issued within 2017, with Iceland at the bottom of the table having issued only 5,082 multiple-entry uniform visas.
The numbers for the five countries that issued most multiple-entry visas are:
• Germany 1,525,361
• Italy 1,229,938
• France 965,661
• Greece 776,529
• Finland 729,559
GERMANY AND SWITZERLAND ISSUED THE MOST LTV VISAS IN 2017
As for Limited Territorial Validity visa applications, Germany and Switzerland once again topped the table in this regard, with the first issuing 34,892 visas of this type and the latter issuing 28,018. On the other hand, while France issued 4,190 LTV visas in 2017, the numbers lowered in 2017, with around 600 less LTV visas issued. Germany and Switzerland are followed by countries which issued way less Limited Territorial Validity visas as follows:
• Greece    8504 LTV visas issued
• Austria    5419 LTV visas issued
• Sweden   5177 LTV visas issued
• Italy        4,845 LTV visas issued
• Spain      4,338 LTV visas issued
• France    3,477 LTV visas issued
• Slovenia 3,285 LTV visas issued
• Norway  2,844 LTV visas issued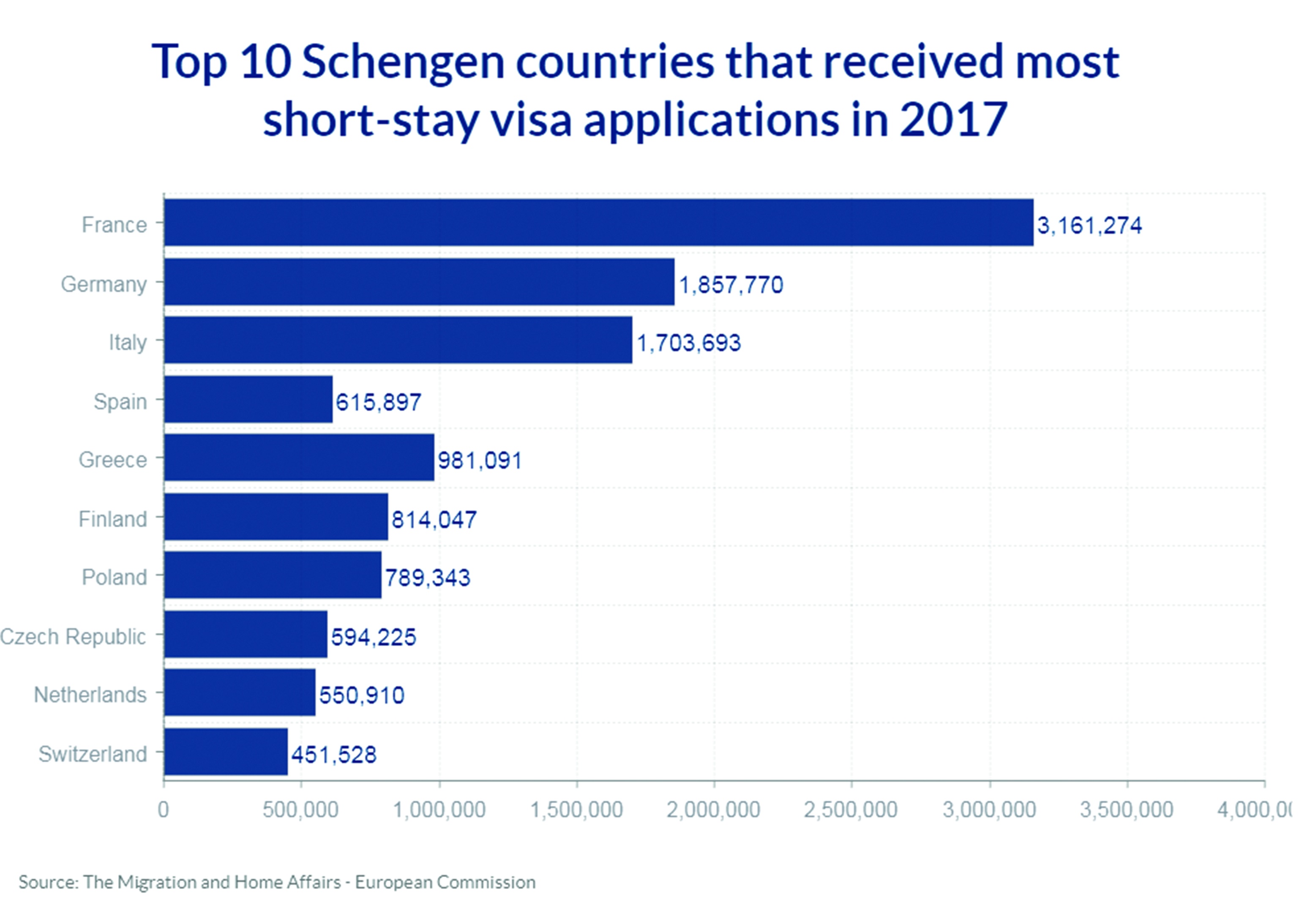 Source:Schengen Visa Info