Last month, my family and I had the privilege of spending a few days at the magnificent Lembongan Island Beach Villas, and it was an unforgettable experience.
But before I delve into our stay at these luxurious villas, let me share a little something with you. Having resided primarily in Jakarta for 17 years and a few years in Bali, it was only two years ago that I first set foot on Nusa Lembongan. I immediately wondered why I hadn't visited earlier! 
To me, despite being only 30 minutes away from Sanur, Nusa Lembongan exudes a different ambiance. Lembongan retains the charm of old Bali with stunning beaches and crystal-clear waters, tranquillity (though I wonder how long that will last), and above all, that genuine feeling of being on vacation; completely detached from the hustle and bustle of everyday life. In short, it is an absolute must-visit and comes highly recommended!
This time marked my fourth visit to Nusa Lembongan, and as mentioned earlier, we chose to stay at the Lembongan Island Beach Villas; perched atop the cliffs of Jungutbatu beach. To reach the island, we took a speedboat from Sanur, which is now a much more pleasant experience than before, thanks to the new terminals. No more boarding from the beach with wet feet and the risk of your bag falling into the water (though that did have its own charm); now, it's all about comfort and convenience from the pier. It's great to know that D'Stars boat company is a reliable choice with its docking location just steps away from Lembongan Island Beach Villas, making it a convenient option for your transportation needs. 
Upon arrival, the villa's team warmly welcomed us and within minutes, we found ourselves sipping on welcome drinks with the receptionist, who greeted us with genuine warmth. She explained that there are a total of 10 villas, all with a similar layout, but the main differences lie in the presence of a plunge pool and the number of bedrooms which were either two or three. Keep in mind that the villas situated at the highest point require climbing of about 140 steps, which can be quite a physical exertion for those with mobility issues or travelling with toddlers.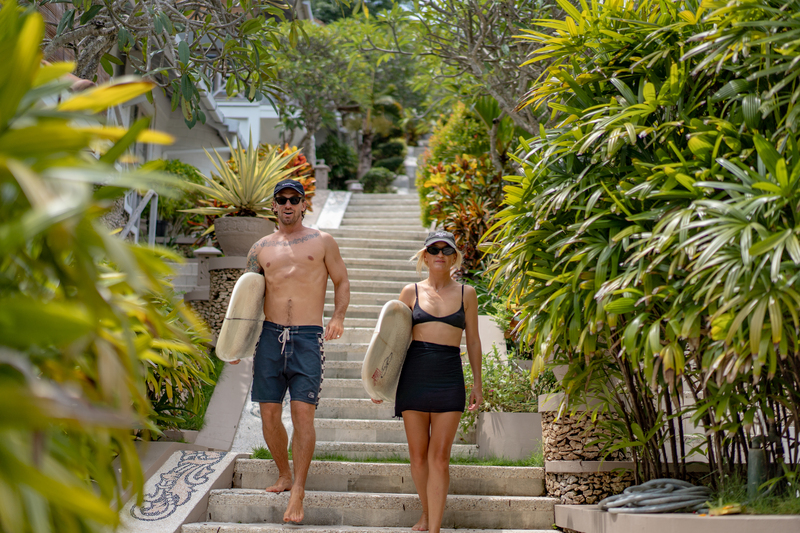 However, the reward is an incredible view that only gets better the higher you go. Our villa–number 4–was named "Senang", meaning "happy" in Indonesian. Getting there didn't require too many steps, and indeed, we were senang!. 
The villas have everything one could wish for–a spacious wooden balcony offering breathtaking ocean and Mount Agung views, a fully equipped modern kitchen, a cosy living area, fast and free Wi-Fi, access to Netflix from Smart TV, refreshing air conditioning in the bedrooms, and a beautifully luxurious bathroom. Families will enjoy the combination of privacy and common space; after a long day, everyone can retreat into own bedroom whilst the spacious living room is a great place to hang out.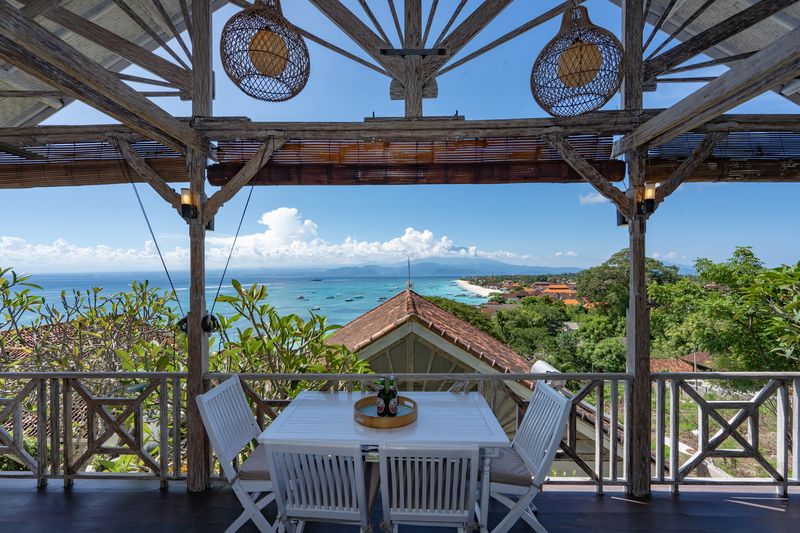 These villas are so delightful that it would be a shame not to make the most of them during your stay. On the other hand, the island beckons you to explore its wonders. Finding the right balance is key. Luckily, Lembongan Island Beach Villas is located along a beachfront boulevard with restaurants, bar, shop and spa. On our first day, we strolled along the boulevard and eventually we reached Coconut Beach, which many consider to be the most family friendly beach on the island. Later that day, we returned to the beach near the villas to witness the breathtaking sunset. After enjoying a delicious dinner, we ended the day on the villa's balcony with a bottle of wine, savouring the moment.
Each morning, we were treated to a remarkable breakfast experience by the pool, overlooking the vast ocean. The breakfast menu offered a delightful selection. Throughout the rest of our stay, we visited the finest beaches, explored the enchanting mangroves, and to top it off, we had the opportunity to snorkel with majestic Mantas! For your convenience, all excursions can be booked through the reception, as Nusa Lembongan Beach Villas collaborates with local tour operators and spas, offering reasonable prices.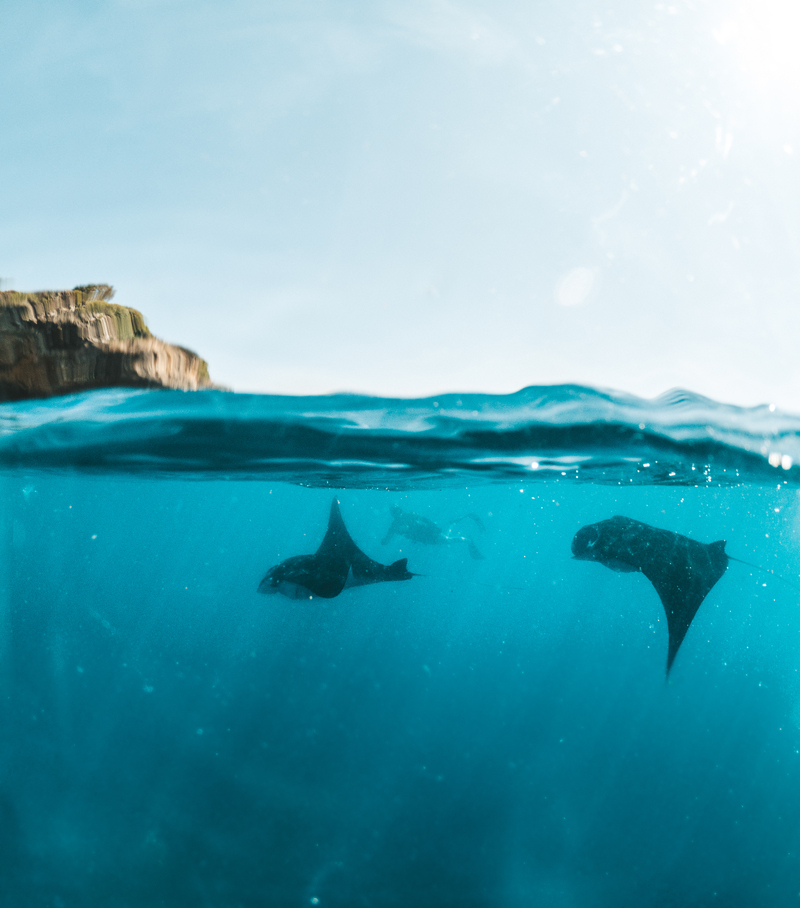 Alas, after three nights, our time there had to come to an end. Everyone bid farewell with the hope of staying longer next time! In conclusion, Lembongan Island Beach Villas is a place where every moment is carefully crafted to immerse you in the beauty of this tropical paradise. Whether you seek relaxation, adventure, or a romantic escape, your villa experience will leave you with a sense of bliss that lingers long after you depart from this enchanting island haven.
The property is managed by The Lembongan Traveller, a boutique villa, resorts and bungalow booking agency with focus and presence in Nusa Lembongan. Learn more on thelembongantraveller.com