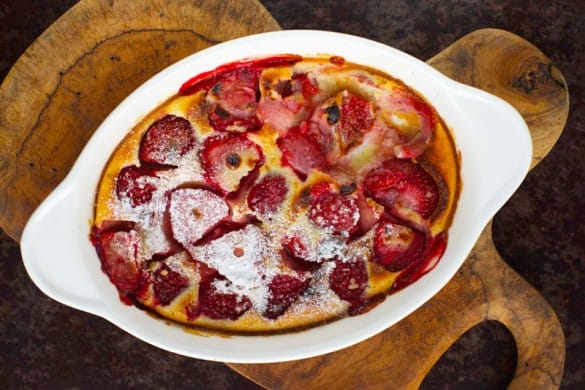 The Eurostar is actually not the fastest way to travel to Paris and London. In Bali, you can enjoy hopping into these two big European cities that are famous for their lifestyle, by taking just a few steps.
Charlie is a bar and bistro located in the heart of Seminyak. This classic London-style venue with a large red circle window on the front is also known as Charlie's Mansion, a home to a mythical character named Charlie whom nobody has met but knows very well. This Charlie man, I am told, is a well-travelled fella who enjoys living a great life. He knows how to eat and party well, and loves it when people have a great time at his mansion while he's out travelling the world.
A host's smile greets me at the door, and the voice of Amy Winehouse singing 'Back to Black', along with the lively buzz inside wipes the crowds of Seminyak goodbye. For me, stepping in this mansion is like entering a different dimension. Its dim eclectic atmosphere transports me into a realm of a romantic hedonistic fantasy in an unknown wonderland. My playful mood suddenly swings into wild imagination. The place is full of mystery, a playground for people who want to enjoy serious pleasures and great epicurean treats.
Charlie Bar and Bistro, which presents the glory of unique Baroque interiors similar to London's gentlemen clubs – with large hanging chandeliers and artisan furniture that fill up the room – has been famous for its parties. For almost a year, so much vivacious fun has taken place here, unleashing fantastic performances such as DJs, dances, cabarets and burlesques to Charlie's guests. The bar on the second level provides luscious selections of libation; the cigar and cocktail collections are the talk of the town. Charlie is a place where cupids, angels and sins have no boundaries.
But a new surprise is going to add another dimension here. A new prolific chef, Damien Le Bihan, partnered with the existing four owners, is ready to take the helm as executive chef and revamp Charlie's culinary performance. This French-born, Brittany origin chef, who is proud of his native blood, will showcase his signature, a classic French cooking style, to the newly opened bistro. The bistro is going to take pride of place on the first level of the building, splashing a whole new atmosphere with the nuance of a neo-retro Parisian bistro, with vintage French prints on the walls, antique lamps and a mirror wall.
Le Bihan has years of extensive experience in working in Michelin-star restaurants. After graduating from cooking school, his career started in a kitchen of a local restaurant in Brittany, before taking off to a more serious one at Michel Rostang, a 2-Michelin star restaurant in Paris. Not long after that, he stepped up to become a Sous Chef at Guy Savoy, a 3-Michelin Star restaurant in Paris.
His seriousness in cooking made Guy himself send Chef Damien overseas to his Las Vegas kitchen, and two years after that, Le Bihan began leading Guy Savoy Singapore as General Manager. Before arriving in Bali, he was running ten kitchens in a group of restaurants in Singapore, which include L'Entrecote, Sabio, Forlino, The Vintage Room, and Le Petit Cancal.
"What I am serving at Charlie is a logical continuation of what I've learned throughout the years," he explained. "It's important for me to like the food I'm cooking. I will serve the guests something that I would enjoy. If not [then] I won't send it out."
Taking this new experience seriously, Le Bihan says he will focus on presenting the true character of ingredients and creating a twist on the rustic style of French foods, altering the heavy characters to suit the warm tropical weather.
"My style is respecting the product, and when you eat you know what you are eating. You can taste everything; you don't have too many flavours. It's the same style and idea what I've been doing for years," Chef Damien continued.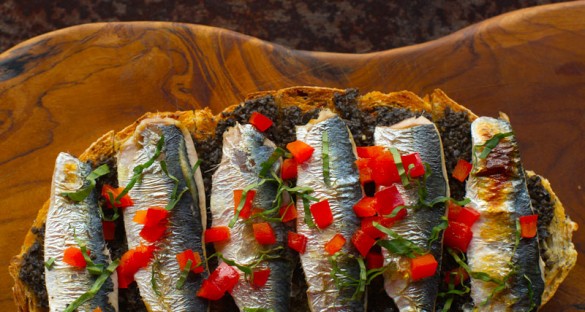 The food, which holds light characters but is bold and lush at the same time, will be divided into tapas, entrées, mains and desserts, served from 6 pm until late. The result is extraordinary. His ideas of tartine of grilled sardines on multi-cercal bread with homemade black olive tapenade and French rillettes are perfect to accompany your built & muddled, blended and shaken cocktails. The grilled sardines deliver a crisp and clean character of the fish, salted with fine salt brought over from France and balanced with the freshness of tomato dices.
I tried the refreshing juniper & cucumber martini for the drink of the night to pair with salmon rillettes served in a glass jar with homemade ciabatta toast on the side. Le Bihan's rillettes boost a light but rich taste and are perfected with a kick from the sprinkled lemon zest.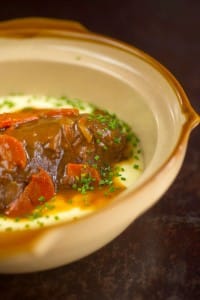 The respect shown to the main ingredients, without adding a lot of fuss and flavours, is also shown on the main course. I sample the braised beef cheek, which is cooked in a bourguignon style with wine and spices for several hours, makes the beef really succulent and rich in flavours.
Size is a surprising factor that adds to the delight. Although Chef Damien says that he prefers not to serve oversized foods, his generosity is apparent when it comes to desserts. I am overwhelmed when a portion of crème brûlée arrives on my table. The size of this creamy dessert may look intimidating, but as I scooped a spoon and tasted it, the freshness and light taste burst out and I easily finished it without a problem. I never had crème brûlée as good as this.
As the clock ticks by, the music gets louder and the crowds fill the building and the mezzanine; Charlie seems to know how to create a hell of a good time to entertain us all. I have enjoyed the best of France, now it's time for London.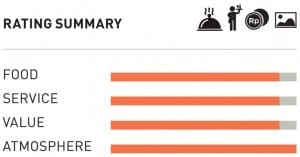 Charlie Bar & Bistro
Jl. Petitenget 5, Seminyak
Bali, Indonesia 80361
P: 0821 474 17332
Hours: 6 pm – 2 am (Monday-Saturday)
Email: [email protected]