As luck would have it, I gravitate towards a 5am flight from Jakarta to Bali, be it for business or leisure.
I like to soothe myself with the idea: the sooner I get to Bali, the more time I can revel in the island's magic.
Bali has been pelting down. Definitely not the sunshine haven I'm acquainted with. Nonetheless, I was thrilled to be back! 
Groups of students and Indonesian civil servants flocked to the exit gate of the airport's arrival hall on this Monday morning, making it somewhat tricky to spot Bli Weda, who picked me up. There he was, holding a sign that declared "Renaissance Bali Nusa Dua Resort". Bli Weda was concerned about why I took longer than expected to meet him but we both agreed, Bali is healing. Finally brushing off far from the crowd, we drove towards Nusa Dua. I've grown to love the area. Its exclusivity yet down-to-earth ambience truly embodies an island getaway that I'm fond of.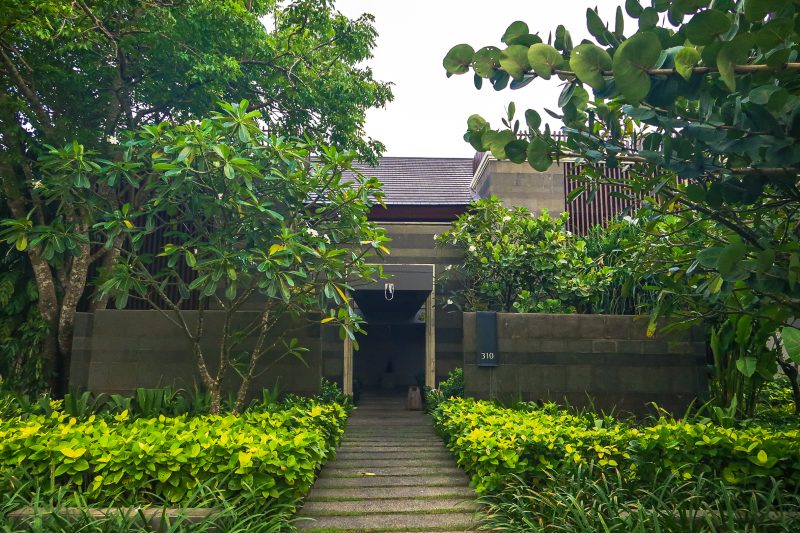 Marriott's Bali Terrace Nusa Dua is now welcoming guests – and I'm one of the lucky pioneers to stay since its opening last November. This new resort is tucked away in the tranquil, dreamy Nusa Dua gated community, which happens to be on the same grounds as Renaissance Nusa Dua. I wondered why. 
Marriott Vacation Club has set their sights on making Bali a destination available to both owners and guests. Exhilarated to open their second property, John Geller, the President and CEO of Marriott Vacations Worldwide commented, "We know travellers are looking for more flexibility and independence on how they spend their vacation, and by expanding our Vacation Club portfolio, we've deepened our footprint in the Asia Pacific Region, and we're making bucket-list destinations like Bali more approachable." Makes sense; Bali is a global phenomenon for its immaculate white sand beaches, vibrant culture, and renowned Balinese warmth. 
At around 9am, I tried my luck for an early check-in. The reception was gracious to get my apartment/villa ready. The 88 one- and two-bedroom villas are each ornamented with the comforts of home. Marriott Bali Nusa Dua Terrace is the perfect place whether visiting for a family vacation, a romantic getaway, or to work remotely from a dream destination. Anyone can curate their own version of paradise thanks to the premium travel experience these apartments provide.
A buggy took me to mine, 3108. I immediately felt at home. If I were to live in an apartment in Bali, this is how I'd want it to be. Each apartment is adorned by touches of Balinese traditions and spirit displayed through the masterful wood carvings accentuating the master bedroom's sliding door, artfully blended rich hues, colourful patterns, and diverse textures.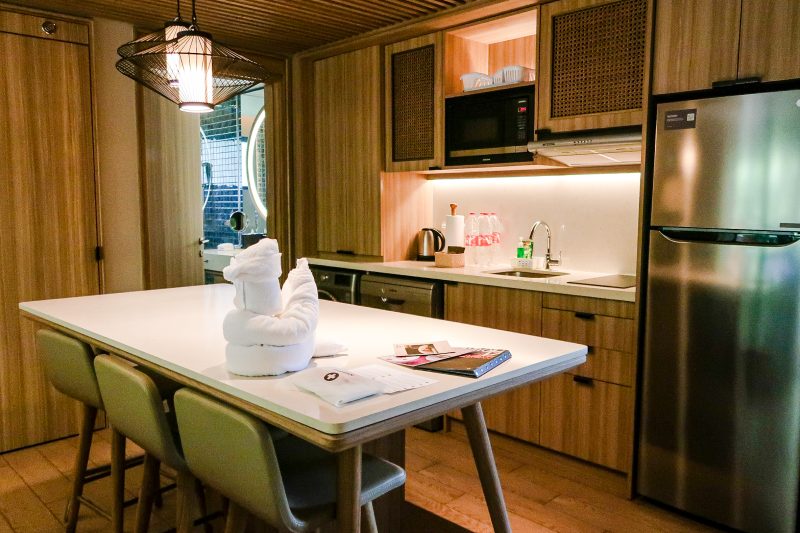 Upon entry is the fully-equipped kitchen featuring an electric stove, double-door fridge, dishwasher, blender, microwave, cutlery, a table set, and even a rice cooker. An island counter separates the kitchen from the living area that comes with a sleeper sofa and smart TV, superb for quality time with dear ones. Meanwhile, a door camouflages an in-house washer and dryer.
Next is my favourite part: the balcony or patio! It faces the dense trees thriving around the island. I can hear bugs chirping while lounging on the sofa near the private plunge pool, which every apartment comes with.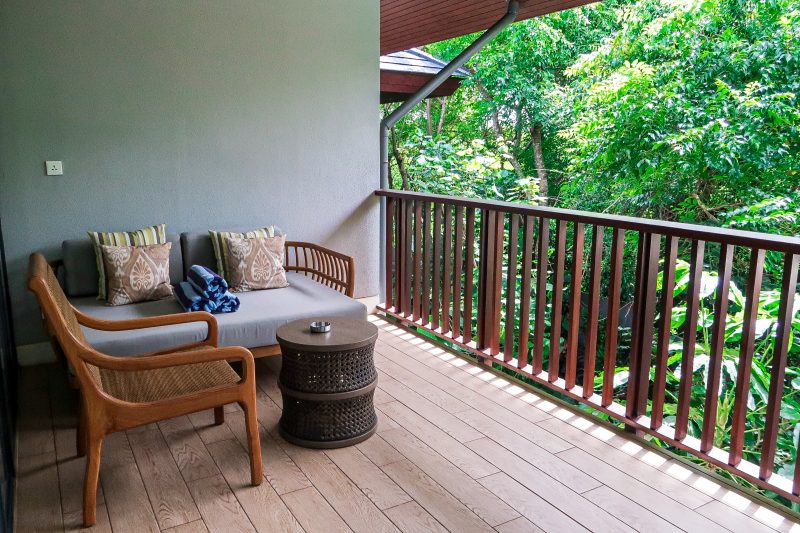 Only 15 minutes had passed yet I already felt safe and serene. Truthfully reluctant to move, my Monday was packed with fun and educational activities to experience and learn more about the Balinese culture. When else would Monday look like this?
Staying at Marriott's Bali Terrace Nusa Dua means convenient full access to shared amenities at the co-located five-star Renaissance Bali Nusa Dua Resort, including four outdoor swimming pools, a full-service spa, the Lava Land Kids Club, and six anticipated food and beverage outlets of authentic Indonesian and international cuisine. This new vacation destination sets guests just minutes from admired spiritual and cultural sites to truly immerse themselves in the local flavours and Balinese traditions.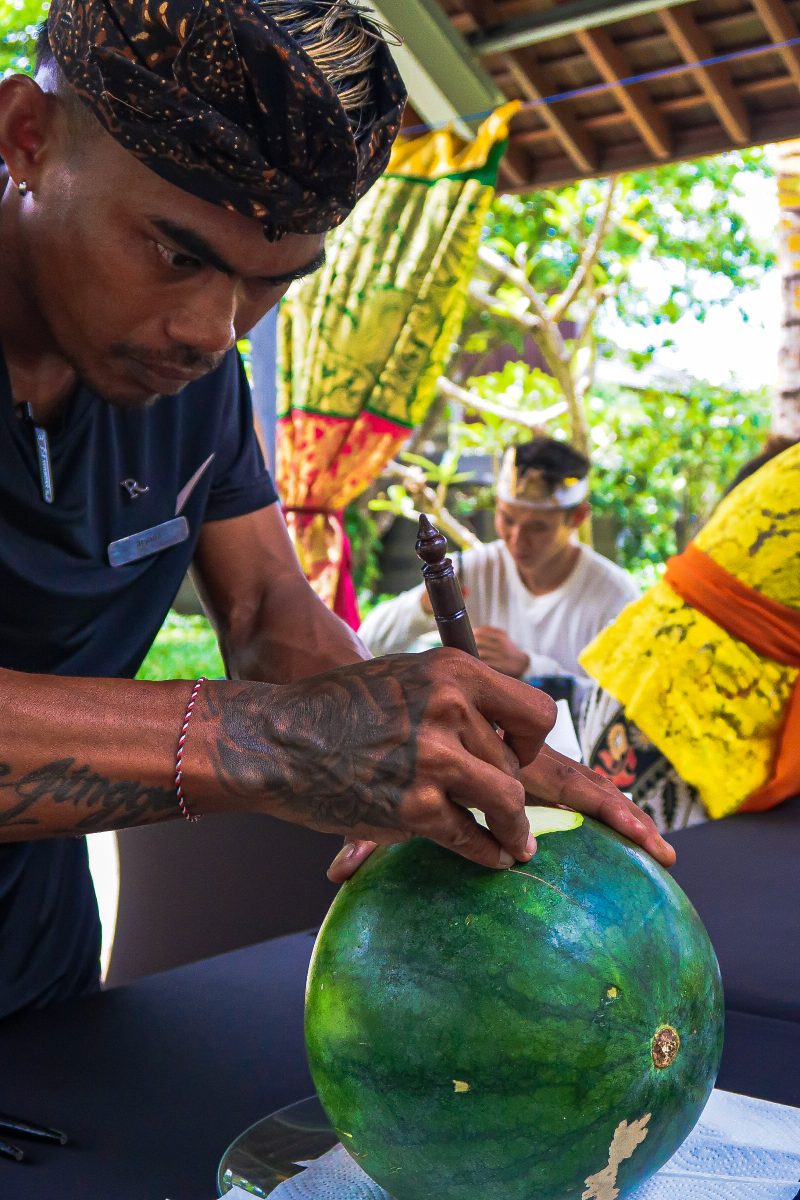 Poetry Kiln Hut, in front of Tanah Liat, stationed the first activity. The Balinese are very artistic. The only fruit art carving I'd made up to this point was a pumpkin for Hallowe'en, but this time, I learned how to carve a flower on a watermelon. In a sarong styled how Balinese women normally do, Bli Jinggo guided me. I can't fully take credit – I'd say 80 percent was Bli Jinggo and 20 percent was me. 
Lunchtime was recommended at the newly opened Lion X, a contemporary Chinese restaurant offering innovative tastes and stunningly discrete design features. Puzzled about making an order, the waiter kindly suggested several Cantonese and Szechuan heritage dishes such as the impeccable yet mysterious Flying Crispy Noodles with seafood and egg gravy Cantonese style, an array of handmade modern daily fresh dim sum, crunchy salmon skin, mouthwatering golden prawns, and more. Pairing this feast was the Disco Dragon, a refreshing cocktail with edible glitter.
Next on the agenda was a gamelan rindik lesson. Rindik is a Balinese gamelan instrument made from bamboo, played with either two or three beaters. Normally, the left hand carries the melody while the right plays a pattern that creates an interlocking configuration. Confused? I struggled tragically by only getting the first part of a Balinese song, Merah Putih, down.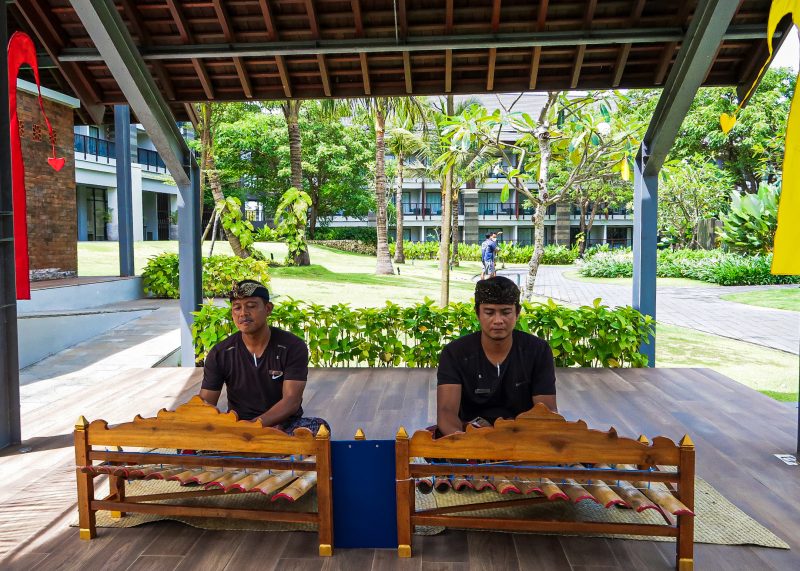 More cultural activities like Balinese dance lessons and kite making are offered, as well as wellness offerings such as yoga by the beach, water aerobics, and aqua zumba. Meanwhile, the younglings can spend time in bracelet-making lessons, treasure hunts, pool games, crab hunting, kids' yoga, and more.
Over an hour was intended for leisure time. I completed some work on the balcony. As I continuously yawned, I knew if I stayed any longer I would miss my much-anticipated spa treatment. I headed to Atomic 17 Main Pool for some sunshine peeking through the grey clouds. "Good afternoon, miss. Would you like a towel?" asked a Bli (a Balinese older man). "I just want to lay down and hopefully not fall asleep," I told him. He gushed.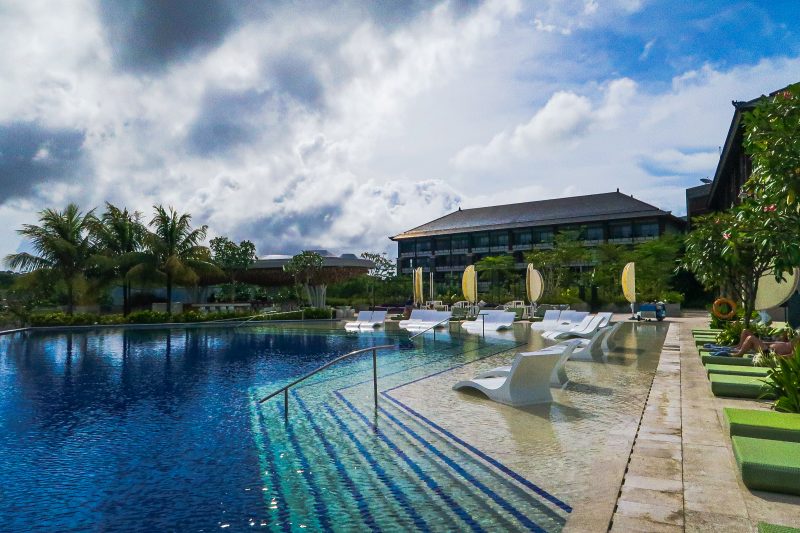 The SPA at Renaissance is a short walk away. Everyone is asked to fill in a  questionnaire. A question along the lines of "What do you want to feel afterwards?" is one of them. I wrote: to feel reborn. 
Open daily from 9am-10pm, seven single treatment rooms and two rooms for couples to receive treatments together accommodate a full range of restorative and relaxing body treatments, facials, and massages with premium skincare choices inspired by ancient Balinese treatment with fresh natural ingredients. Moreover, there are a variety of kids' services, ladies' beauty parlour services, and barbershop treatments for men. 
My treatment was the ARJA massage, a 60-minute traditional Balinese massage. Like the classic ancient Arja dance, the technique uses palm and lower hand pressure with long, firm, and kneading strokes. This is ought to relieve muscular strain – which I had plenty of – headaches, and frayed nerves.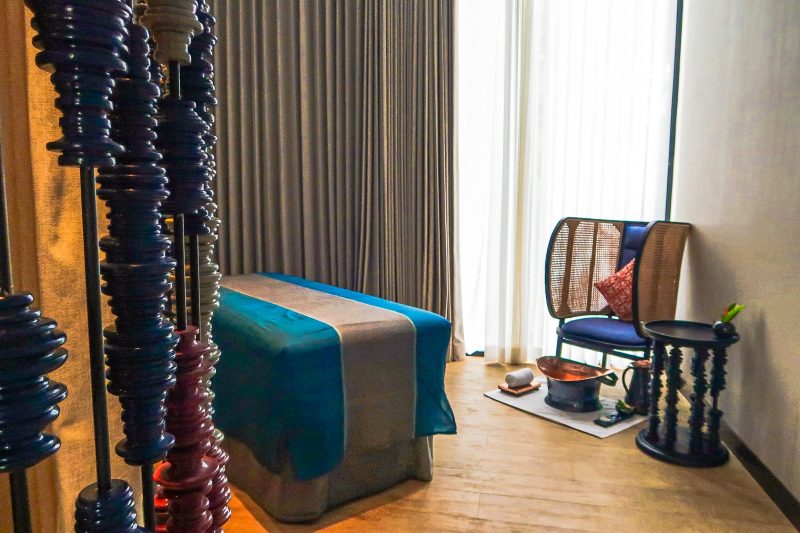 "You can choose our ready-made oils or craft your own with three essential oils," said the spa artisan. I opted to concoct my own, comprising frangipani, lemongrass, and Cananga mixed with the base, virgin coconut oil. With my face down, I dozed off soon after the masseuse was done with my lower body, which was the first part of the massage. I certainly felt reborn waking up, plus smelling naturally fresh!
The Marriott Vacation Club portfolio of brands tries to create an environment that blends a resort experience with a vacation rental experience and offers options that allow owners and guests to experience their vacation in a personalised and independent way – including from a culinary perspective! 
Cocktails at the stylish poolside bar Atomic 17 are indeed relaxing. Inventive cocktails like the Bikini Kill and the classic Margarita ousted the rain as dinner at Tanah Liat quickly approached. 
Tanah Liat is a pottery atelier and cooking lab by day, an arts-and-crafts-inspired restaurant by evening, focussing on experiential tastes, highlighting fresh seafood and plant-based cuisines sourced from local farms and an on-site "REN" garden. Never-before devoured appetisers consumed, I stuck with a plant-based "steak" alongside a cocktail based on arak Bali.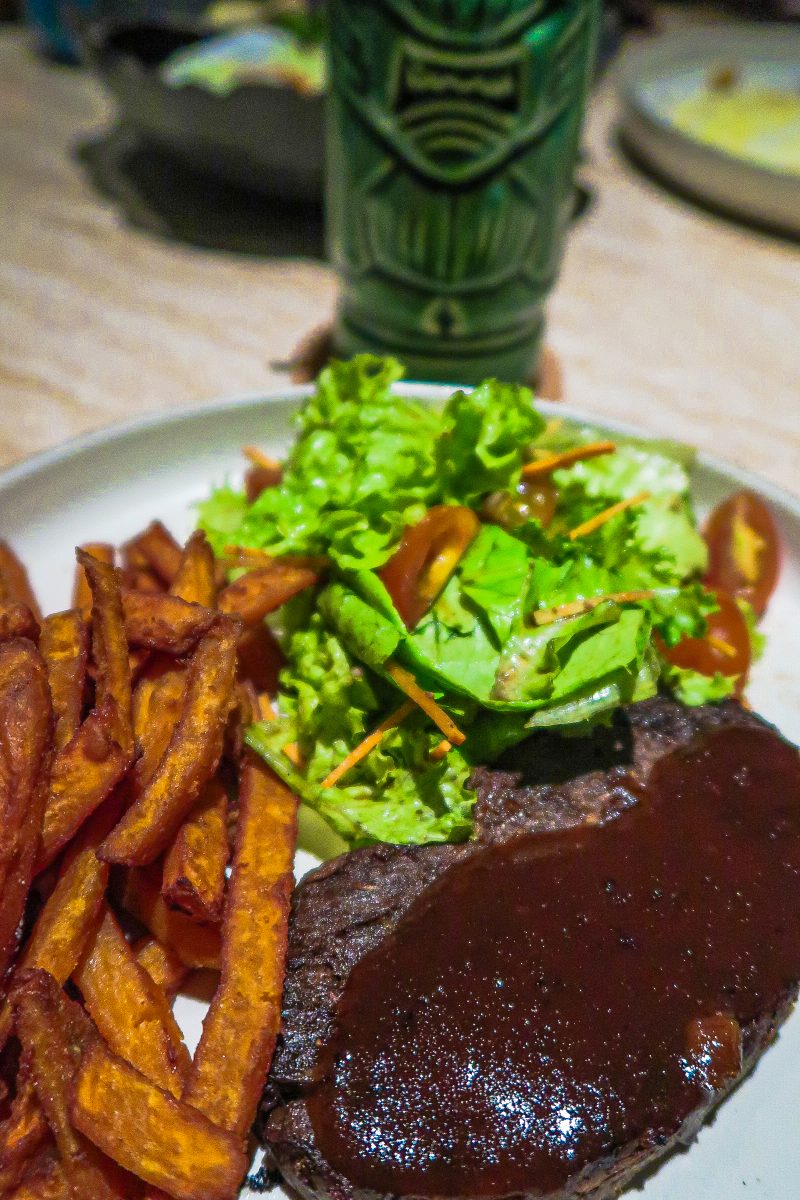 I could've called it a day, but a quick late-night dip in the private plunge pool was too inviting. I'm glad I did before a deep slumber. 
Another morning of a drenched Bali greeted me. Breakfast at the chic, all-day dining Backstage Food Theatre is a celebration of freshness featuring a buffet of Indonesian and international delights before checking out.
As Marriott's Bali Nusa Dua Terrace is part of the Marriott Vacation Club, anyone can rent villas without being an owner. The biggest takeaway of renting here, or at any other Marriott Vacation Club property, is the harmonious blend of a villa experience coupled with the amenities and support of a hotel brand like Marriott. Typically couples, families with children, and multigenerational families are urged to benefit from Marriott Vacation Club.
The point-based vacation ownership programme provides owners and their families with the flexibility to enjoy high-quality vacation experiences. Becoming an owner is a big decision. It can be extremely cost-effective in the long term, considering the money saved on purchasing food while travelling and having more space than at a traditional hotel. Conversely, timeshare accommodations are prepaid, thus making the cost to owners relatively predictable versus renting two hotel rooms with similar accommodations in this period of high inflation.
"Did you go to the spa before leaving? I recognise the scent," said the Grab driver driving me out of the resort. Perhaps this is your sign to endure Bali differently? I surely did.
Marriott's Bali Nusa Dua Terrace