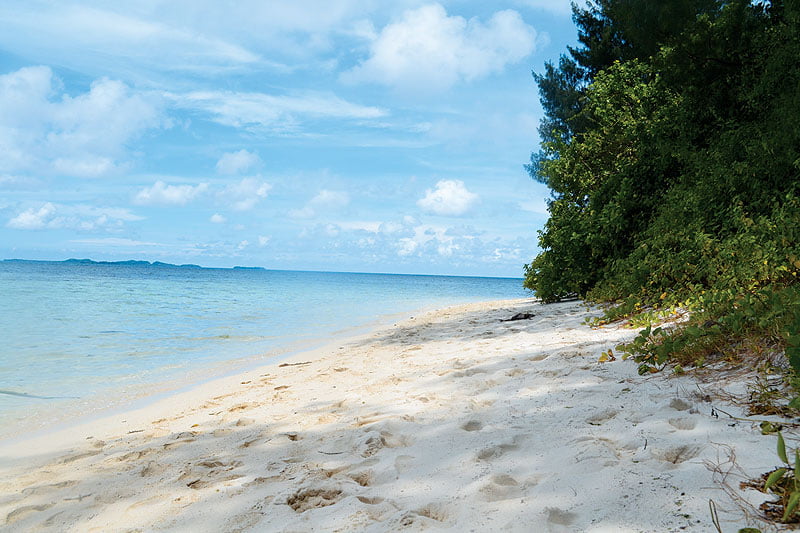 Kilimanjaro, Kalimantan, Karimunjawa, Kilimantanjawa? For a foreigner, it's fairly easy to find yourself mixing and twisting these rather similar names as if they were tossed into a word-blender at first thought. However, in order to not only visit, but experience one of the most affectionately tranquil and picturesque places that Indonesia and the Java Sea have to offer, one only needs to pronounce the word correctly: Karimunjawa.
Karimunjawa is a collection of over twenty paradise islands whose extraordinary beauty seems as if it were ripped straight from the pages of a Robert Louis Stevenson ballad. Almost every one of the 27 islands in Karimumjawa contains shallow ocean waters that are dotted with exquisite coral reefs and sand bars. Karimunjawa is truly a wonderful oceanic experience, where activities like snorkeling tours will immerse you in your own personal aquarium (however, aquarium isn't the right word here – super-marine biodiversity-mega-aquarium-in-salty-warm-Java-Sea-Waters is more like it), while at the same time the vast ocean landscape that stretches far beyond the horizon offers unforgettable sunsets and sunrises unlike anywhere else.
The blue waters of the Java Sea surround a countless amount of beaches as well, and even though decent surfing swells doesn't quite exist for most of the year, one can find these deserted beaches under tall coconut and banana trees by taking only a short walk towards the ocean. Additionally, venturing into one of the islands is a whole different experience on its own, as lush jungles and transfixed mountains will serve the desires of any ambitious adventurer.
In terms of a rocking party scene complete with showers of Bintang Beer, chocolate fountains, and lighting the bar on fire, Karimunjawa is simply not the place, as the social atmosphere of these islands mirrors the calm serenity of the ocean as it rolls upon the shore and crashes ambiguously. Life is simple and slow here, with small boats putting between the islands or a football game between the local kids under a late-afternoon sun. However, from some of the small shops or at one of the few restaurants on the main island with the harbor, Karimunjawa Island, one can find whatever they would need to suit an adventurous and holiday lifestyle.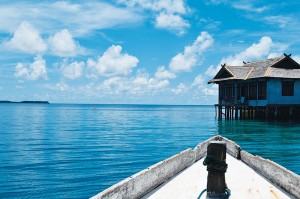 Karimunjawa is the destination to few travelers, both foreign and Indonesian, as even many of the Java Island locals either have never visited this place or never even heard of it; Karimunjawa is almost one of those secret, paradise getaways where one can go and truly escape the notion of civilized life. On the other hand, the island has quite a lot of experience as a visit destination, as the moment you walk off of the ferry from Semerang you are greeted with customer service employees who will guarantee that you are aware of where to go and what to do. The main island of Karimunjawa Island is also home to some nice and cheap hotels, including those famed floating hotels where you must take a small dingy to reach it (and the boat drivers are more than willing to pick up groceries and beer for you if your chair looking out at the ocean is just too perfect). If you fancy swimming with black tip reef sharks and a frightening large stingray, then the Wisma Apung floating hotel is just for you. However, if a luxurious stay among the luxurious surroundings sounds right up your alley, then the Kura-Kura resort is more than perfect. Additionally, one can even rent a villa on a private island for a reasonably affordable price.
In terms of what to do (besides reflecting on your life while staring out at the endless ocean and grabbing your hubby when the sun explodes in bursts of vibrant reds and oranges as it dips below the horizon) Karimunjawa has set the standards for snorkeling trips. All day snorkeling tours are common, and if you take your seasickness pill beforehand and load up with enough sunscreen the trip will be an experience that certainly cannot be topped. For fairly cheap, a boat with a driver and experienced snorkeling crew will cart you and your friends around to several premier snorkeling spots, where the coral reefs are loaded with enough marine wildlife to ensure endless entertainment and wonder. The waters are cool below the surface and relaxingly warm on top, and the types of coral have yet to be touched by the terror of pollution, so the color is quite beautiful and the life is full of energy. About halfway through the snorkeling day, the boats always stop at one of the smaller islands in order to cook up some fish for lunch. While the snorkelers bask in the sun or sleep under the coconut trees, some of the locals and snorkeling employees cook fresh fish atop a small fire, marinating the fish with a country smoked taste. After lunch with fish, rice, sambal, and watermelon, the snorkelers are ushered back into the ocean for an afternoon of more sun-filled snorkeling, only coming home for a perfect view of the sunset.
Karimunjawa is truly an exotic getaway for those who wish to experience the flavor of the ocean and island life, and with just a three hour ferry from the Tanjung Emas port and Japara in Semerang, its quite easy (and affordable) to reach. The ferry travels between the Tanjung Emas and Japara port and Karimunjawa Island daily, and the booking offices are open after 2pm. If you are traveling individually (meaning not with a tour), either a train or bus to Semerang is the easy part, but booking a ferry from the Semerang harbor to Karimunjawa can be quick tricky, as the booking agencies in Semerang work with the major hotels; so if their partner hotel is full, they may claim that the ferry is full. Karimunjawa-ticketing.co.id is a great website to start your once-in-a-lifetime adventure.
Beautiful beaches, lush jungles, and indescribable island scenery, Karimunjawa is still one of the most incredible, and affordable, places to visit in Indonesia; and although Karimunjawa is still a secret, even among Indonesians, it's certainly one of the most unforgettable moments someone can have while traveling the Java Island. So all that you would have to do to reach this island paradise is pronounce the name correctly: Karimunjawa.