The fertile Sembalun highlands at the foot of Mount Rinjani produce some of Indonesia's finest Arabica, but until recently it's also been one of Lombok's best kept secrets. Rapidly developing with tourism and agribusiness, Sembalun's local Sasak community grows aware of the urgency for quality education to secure their children's future. In response, local Sembalun farmers and Indonesian young urban professionals unite in a coffee-for-education social enterprise called Baraka Nusantara – "blessings (from/for) the Indonesian archipelago".
It was a Saturday night, and I had just come two hours on the back of Baraka co-founder Wathan Athan's motorbike from Bayan (North Lombok) to Sembalun (East Lombok). There were dozens of bright coloured tents lit by flashlights in the yard of Rumah Belajar Sankabira, which tutor Ipan Sembara would later work into a flower garden. "Assalammualaikum," Wathan's five-year-old son Rifqa came forward to kiss my hand, followed by other children. They were camping to attend the monthly movie night, watching children's films and documentaries made by Indonesian indie filmmakers.
Having learned about the Baraka founders' dream to build it since 2013, setting foot in Sankabira for the first time was an incredible feeling. Modelled after the Pitu Bale traditional houses of nearby Kampung Belek and designed by Melbourne-based architect Putri Yulandari, Rumah Belajar Sankabira is a library and playhouse that opened in June 2016 and runs a Sasak culture-based afterschool programme. It is situated at the foot of Bukit Pergasingan, and outlooks Mount Rinjani over green landscapes on a clear day. Sankabira in Sasak culture is a concept of communal mutual support and helping each other.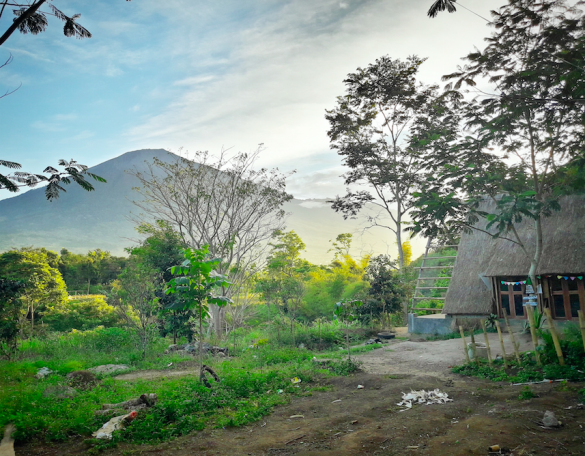 Head educator Diah Handriani leads a team of dedicated tutors who run homework help sessions, games, storytelling shows, film screenings, field trips, volunteer guest classes and Sasak culture art projects at Sankabira. In September, I visited during the Storytelling Month programme, which introduced participating children to traditional Sasak folklore, other Indonesian folk stories and international fairy tales. Sankabira also recently hosted an evening theatrical production featuring local children and tutors.
"In an era when young people become easily addicted to television and electronic gadgets, disconnected from the stories and relational spaces where our Sasak culture used to be perpetuated, and experience the absence of parents who migrate to Malaysia or the Middle East for work, it becomes crucial to have a positive, inclusive, informal educational space like Rumah Belajar Sankabira," said Diah as she shares stories of her day job as a local schoolteacher, mentoring teenagers at work and raising toddlers at home. "Young people here get into trouble too. But at the end of the day, they make it through thanks to our cultural values: honesty, hard work, and looking out for one another."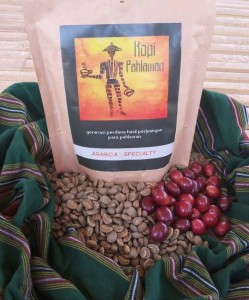 Sankabira's sole donor is Kopi Pahlawan, the Sembalun organic premium Arabica coffee brand marketed by Baraka Nusantara. About 80 percent of the funds to build the Rumah Belajar came from the profits of Kopi Pahlawan, and the remaining 20 percent was raised through social media crowdfunding in 2015. Using Facebook and Instagram as its main marketing platform, Kopi Pahlawan markets directly to customers on-demand, collaborates with coffee shops in Jakarta and has brewed at coffee tasting events in Indonesia, Australia, Scotland and Germany.
Through the brand Kopi Pahlawan – literally meaning "heroes' coffee" – Baraka tells the story of Sembalun coffee farmers as heroes that fight to secure their children's future through education. As an espresso brew, Kopi Pahlawan has been described by barista Bina Yunanto of Smoking Barrels as "balanced, of mellow acidity, comparable to Latin American coffee but with a sweet, Indonesian palm sugar-like aftertaste", and roaster Joni Lima of Kopi Guerrilla as having notes of "herbs and spices, lemon acidity, caramel sweetness and dark chocolate bitterness."
"Sembalun farmers used to keep coffee cherries in the attic for years at a time. We did not bring the coffee out unless there's a special event such as a khitanan (Islamic circumcision for boys) or a wedding," said Wathan as he poured me a cup of his self-roasted special blend. I requested a weak brew, keeping my caffeine intolerance in mind. The air instantly filled with the irresistible fragrance of warm, fresh coffee. I have heard coffee snobs say that the ultimate test of a coffee's quality is when a caffeine intolerant person does not develop a headache or heartburn after drinking it. Kopi Pahlawan passed the test for me.
The partnership with Baraka Nusantara since May of 2013 became necessary to facilitate Kopi Pahlawan's access to a reliable and sustainable market. "Nobody bought our coffee. We used to trade coffee for anchovies," Wathan described what it was like to sell Sembalun coffee before Baraka. In early 2013, Jakarta-based legal researcher Maryam Rodja found Wathan's Sembalun coffee posts on Facebook. She subsequently scheduled visits to Sembalun, learned of local farmers' concerns about their livelihoods and children's futures, and assembled an eclectic support team of Indonesian young professionals based in Jakarta and Australia. Though no-one in the Baraka team claims to be the leader, Maryam plays a major role in igniting the organization's vision.
Coffee was introduced to Sembalun in 1942 by the Chinese. It used to be Sembalun's most prized commodity until Suharto's Revolusi Hijau in the mid-1980s replaced coffee with vegetable farming, promoting garlic as the primary crop.
Sixty-year-old farmer Husmini spent much of his productive life as a vegetable farmer, raising crops that were addicted to chemical fertilizers and pesticides, paying labourers to care intensively for his crops and earning next to nothing. "The production of garlic costs more than it sells for on the market," said Husmini. "When we overproduce vegetables, sometimes we have no choice but to release it very cheap to middlemen. We have no bargaining power."
The vegetable era was marked by rampant exploitation of farmers by middlemen who monopolized the crop market at prohibitively cheap prices, only paying farmers months after the sale, and often not paying at all when the middlemen failed to make a profit. This made farmers vulnerable to additional exploitation by moneylenders and cycles of debt.
"Our religion teaches, 'Pay your workers before their sweat dries," Wathan quotes an Islamic hadith.
"Coffee is a solution for farmers to escape cycles of debt involving middlemen and moneylenders. We believe that when we make others' livelihoods easier by refraining from collecting interest, God will also bless us with a successful business."
The coffee tree is known to retain water in cool weather and release water in warm weather, which keeps a balanced hydrology. It grows best in the diverse company of other crops and taller trees, which helps restore the soil's nutrients. Additionally, coffee is relatively low maintenance, which allows farmers to diversify their produce and eliminate the need for fertilizers, pesticides and additional labour. Coffee is also a long-life plant, which can mean a morsel of financial security for farmers looking to retire at an old age.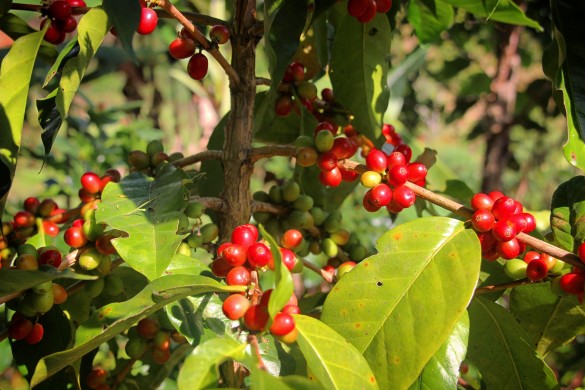 "I wish I had started earlier when I was younger and healthier," said Husmini, who only began planting coffee since 2011.
Baraka Nusantara recently started selling open trip packages for tourists and volunteers who are interested in meeting the coffee heroes of Kopi Pahlawan and the future heroes they're raising at Rumah Belajar Sankabira. Trips may include camping at the Sankabira garden, coffee tasting, visits to the coffee plantation and roasting facilities, a visit to the Pitu Bale traditional houses, and volunteering at Rumah Belajar Sankabira. Wathan speaks basic English, and the education team at Sankabira would appreciate guest volunteer classes in English and other fields of skills and knowledge.
Fast Facts
Country:                      Indonesia
Province:                    Nusa Tenggara Barat (NTB)
Land area:                 41,330 hectares (Taman Nasional Gunung Rinjani)
Largest city:               Mataram
Population:               19,051 (2012 estimate of Sembalun district)
How to get there:     Flights into international airport at Mataram, and car rental to Sembalun
What to bring:          Hat, sunscreen, insect repellent
Cash for transactions – draw cash in Mataram, no ATMs in Sembalun.