Every loved-up couple has their own idea of what a dream wedding looks like. Dynamic and luxurious venues and arrangements while surrounded by family and friends having fun tops the list for many couples. But, finding the perfect venue to suit one's criteria is no easy task.
Luckily, you live in the world's largest archipelago boasting picturesque mountains, beautiful beaches and exquisite green sceneries. Here are six of the country's most romantic wedding venues, perfect for creating a lifetime of memories.
1. Infinity Chapel, Bali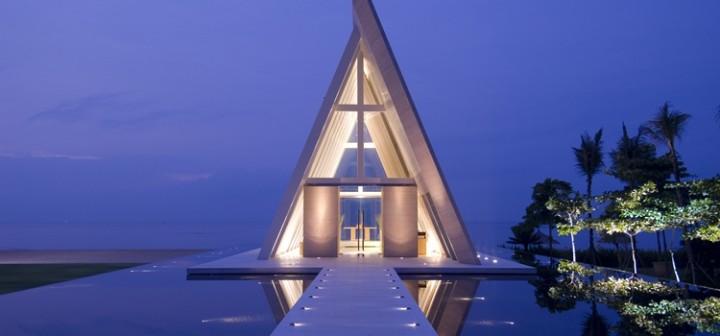 When hunting for romantic venues, one cannot overlook Bali, which is now world famous as one of the most romantic holiday destinations.
Bali has many chapels specially designed for weddings. Infinity Chapel is among the most popular, providing the greatest and most romantic view of the Indian Ocean.
Located at the Conrad Hotel, Tanjung Benoa, the Infinity Chapel has an iconic triangular, glassy design floating at the top of an infinity pool. An award-winning catering team draws many blissful couples.
The Infinity Chapel is for those looking for a private ceremony and can serve a maximum 60 guests. Prices range from Rp.51,000,000 (US$3,800) to Rp.73,000,000 (US$5,400).
2. Pan Pacific Nirwana, Bali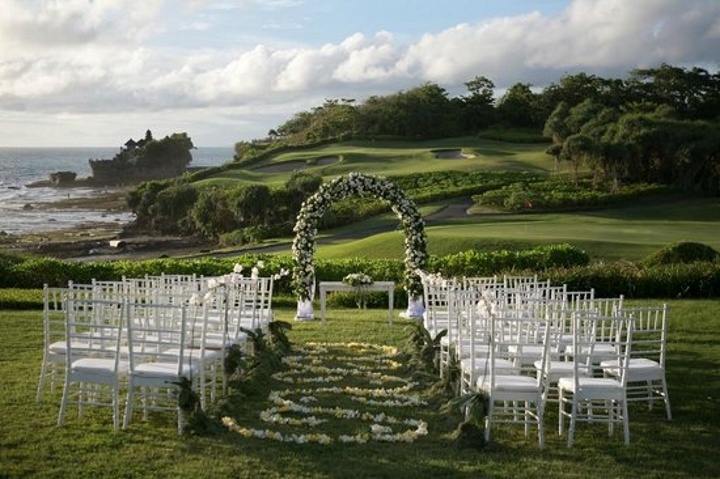 A wedding with a great sea view is one thing, but an outdoor wedding among lush greenery and Bali's famous sea views is another thing entirely.
Accompanied by a beautiful sunset among Balinese temples, Pan Pacific Nirwana offers three venue options to suit even the pickiest of brides.
The elegant and modern Grand Ballroom, the stunning Poolside Lagoon or the gorgeous Cliff Lawn, couples will find their dreams come true.
The Grand Ballroom can accommodate up to 600 guests and is available from Rp.150,000,000 (US$11,000) to Rp.225,000,000 (US$16,800). The Cliff Lawn package starts at Rp.48,000,000 (US$3,600).
3. Jeeva Klui, Lombok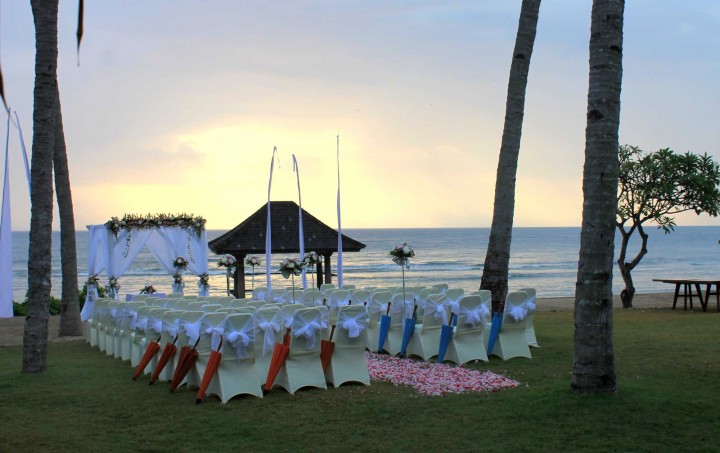 A tropical wedding featuring swaying coconut trees and the iconic Bali mountain backdrop might just be the most perfect scene. Luckily, Jeeva Klui offers a magnificent wedding venue in Jalan Raya Klui Beach.
The venue has picked up many awards from Trip Advisor, including the 2012 to 2015 Traveler's Choice Awards, Certificates of Excellence from 2011 to 2015 and the 2014 Romance Traveler's Choice.
In addition to great natural views, Jeeva Klui offers traditional elements for ceremonies, from stunning frangipani arrangements to warm tropical flowers perfume. Prices range from Rp.100,000,000 (US$7,500).
4. Four Seasons Hotel, Jakarta
Jakarta is known for its luxurious and modern experiences. For those seeking a modern ceremony in a semi-outdoor venue, Four Seasons Hotel offers a unique experience.
From indoor presidential suites, pool side, or among garden terraces, couples can find the perfect venue for their wedding.
The most popular venue at the Four Seasons Hotel Jakarta is the stunning garden terrace with a beautifully decorated wooden floor, abundant natural light and a water fountain.
Many couples may be keen to enjoy the luxurious honeymoon suites reserved for their special occasion. Located in Central Jakarta with maximum capacity of 750 guests, the hotel's packages are priced between Rp.728,000,000 (US$54,000) to Rp.928,000,000 (US$69,000).
5. Rumah Sarwono, Jakarta

Those seeking a traditional wedding venue can't go past Rumah Sarwono in Pasar Minggu, South Jakarta.
Rumah Sarwono was built in 2008 exclusively as a wedding venue. The concept has adopted traditional Javanese design in a variety of rooms, including the Joglo House, the traditional hall and amongst the gardens.
The 442 square metre building can host up to 200 guests and is a bargain for couples hoping to save. Rumah Sarwono is priced at Rp.25,000,000 (US$1,800) for a seven-hour booking.
6. Amanjiwo, Magelang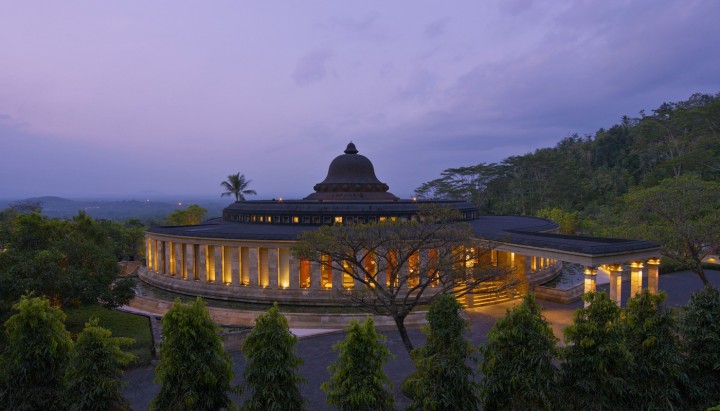 Amanjiwo, the world's largest and most beautiful Buddhist sanctuary, often tops the list of stunning venues.
Couples and guests can enjoy the view of Borobudur temple from Amanjiwo resort. Additionally, it is also available to both private and larger wedding ceremonies and parties.
Image credits: The Knot, Conrad Hotels and Resorts, TripAdvisor, Your Wedding Photo Blog, Rumah Sarwono, Aman