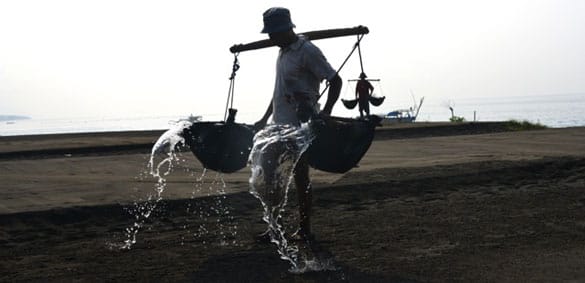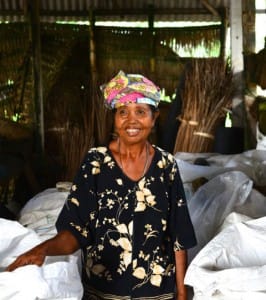 I met Wayan for the fourth time in front of her simple dwelling just metres from the pounding surf in Kusumba, about 30 minutes drive from Sanur.
Wayan and her husband, Ketut Rauh, are a husband and wife team who spend their days collecting and processing salt, which they gather directly from the Lembongan Straits.
This is real back breaking work for Ketut, as he wanders down to the sea to fill his buckets with salt water, struggling back across the sand with close to 100 kilos resting on his tired shoulders, in very hot conditions.
Rain is a curse for the salt farmers of Kusumba as it washes away the salt, so they work desperately hard during the dry season to produce enough bags of salt to make ends meet.
As Wayan does not have a license and no way to produce the money required to purchase one, she is restricted to selling her produce at the local market. A reasonable size bag fetches $1, plus she has to pay a small fee to the owner of the market stall, leaving very little profit at the end of a hard day's work.
However, despite these hardships, Wayan impressed me deeply with her positive outlook on life, lovely warm smile and pride in her work.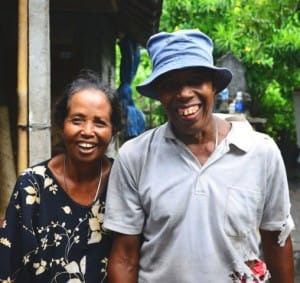 Wayan and Ketut were very keen to tell me of their latest family news. Wayan beamed with pride, as she told me her son had just secured a job in Denpasar. She went on to tell me how they saw this as a great opportunity for him to create a life away from the beaches of Kusumba and hopefully enable him to provide an education for his children.
So, if you are anywhere near Kusumba, drop in and visit Wayan. You will be welcomed with a friendly smile and a short tour of her and Ketut's salt production. Oh, and don't forget to buy a few bags of salt, it's straight from the source and as fresh as you'll ever get.
If you want to help Wayan and her fellow salt farmers please get in touch with the writer at [email protected]