Two of the many environmentally concerned groups on the island of Bali have come up with some great plans to make this Earth Day one to remember. Earth Day on April 22nd is dedicated to environmental awareness and is celebrated in over 192 countries including Indonesia. Bali also observes Earth Day and it really makes sense seeing that there are definitely environmental issues to be addressed here on one of the most famous islands in the world. As of early April, there were only a couple set events planned for Bali's Earth Day but there will no doubt be more as the date gets closer.
Interestingly enough, the over four million people living on Bali already participated in by far the biggest known Earth Day-style celebration in March during Nyepi by default without even knowing it. With Nyepi's 24 hour rule of no lights, no activity and no going outdoors, Bali's typically jam-packed main roads were totally empty, all construction came to a halt and even the airport and harbours are closed for the day. This day of silence is also a day of cleansing for the island of Bali where a whole day's worth of pollution was subtracted from the year including carbon monoxide from transportation, burning at the dumps, and industrial work for a few examples.
On Nyepi's day of silence nature comes back to the island. Instead of traffic, construction and other human-made noises, the sounds of nature – chirping birds or rustling tree leaves – take audio precedence. At night with hardly any lights on in Bali, the stars become vividly clear and beautiful if it's not cloudy. Of course everyone has their limits of what activity they will do and not do on Nyepi, and hotels are allowed to run quietly, but the golden rule is that nobody is allowed outside or to make any noise. With all of Bali taking part in Nyepi, it is a bigger environmental contribution and statement to the world than any other Earth Day or Earth Hour put on anywhere else. Nyepi's day of silence is also a very fitting way to transition into the Balinese New Year, compared with western celebrations.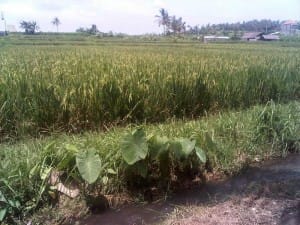 Bringing it back to speed, now in April we have the worldwide-celebrated Earth Day coming up. Starting on April 17th is a four-day barefoot walk around South Bali led by Bali's ROLE Foundation and the Bali SoleMen barefoot awareness-raising team to approach local hotels, hospitals, businesses and people to sign an environmental Pledge to Mother Earth Letter (private individual promises) to Mother Nature. The Pledge states what people will do from now on to help Bali's environment and is individually signed by those making the pledge. Over four days, the barefoot team wearing no shoes will go from Jimbaran to Uluwatu, Uluwatu to Nusa Dua, and around Tanjung Benoa in South Bali to bring this Pledge Letter everywhere to be signed.
In a closing ceremony on April 20th at the ROLE Foundation Eco Park in Sawangan, Nusa Dua, Balinese Priest Mangku Made Ariawan will collect all the pledges and burn them as an offering to the Gods of Bali. The closing ceremony will also be an Eco Park Family Open Day with workshops, local artists, live entertainment, kids' activities, food, drinks and festivities. Orphanages have been invited, as well as local families and children, but again this Earth Day celebration and pledge signing is a free and open invite to everyone.
Speaking on the event, ROLE Foundation's Mike O'Leary noted, "Last year the SoleMen's Earth Day Bukit Walk raised a great deal of positive awareness about environmental issues in Bali. This year we want to keep up the momentum by promoting a healthy environment for all living things. That's why Earth Day at the ROLE Foundation Eco Park will be a free event, open to all."
On April 21st there will be another Earth Day event at Jiwa Damai, a permaculture and retreat centre in Banjar Bindu, Mambal, near Ubud with a focus on addressing and creating a solution to Bali's environmental issues. In attendance will be environmental foundations, NGOs, experts and entrepreneurs in various divisions of the environmental sector in Bali discussing topics such as water harvesting, waste collection, sustainable agriculture and more.
There will be over 40 booths dedicated to the event including all sorts of food, environmentally friendly products, live music, workshops and activities for children. Most of all, this Earth Day event is pushing to be Plastic Free.
Jiwa Damai Earth Day Organizer, Darsih Jutawan, General Manager of Indonesia Organic had this to say about the event, "We want those attending to become more aware about environmental issues, learn more about solutions available in Bali and then leave the event enthusiastically committed to engage and take their own positive actions."
If even one out of ten of the four million people on Bali can take something home from Earth Day and put it to positive use for the environment, that will be a huge battle won. If as many people can get involved in keeping Bali clean and green as on Nyepi, then the efforts will be a total success. Together we can make a real difference for the future of Bali's environmental health, and after all she has given us, we all ought to pitch in. One doesn't need to go far to realize that days such as Earth Day are very much needed and important for Bali, and in the bigger picture, the world as a whole.
For info about ROLE Foundation's Earth Day 2013 event contact:
Liza Dawn
HP#081936164636
[email protected]
For info about Jiwa Bumi's Earth Day 2013 event contact:
Darsih Jutawan
0361-978822
[email protected]