The perennial black dollar scam is back in the news. This time, the apparent victim is a Navy officer who was busted for drugs. It's bad enough that a member of the military could fall for such a well-known scam. What's far worse is that some police and media outlets seem to think the money in question might be real.
The black dollar swindle preys on greed and stupidity. A scammer carries a case full of utterly worthless black pieces of paper, cut to the size of American one-hundred dollar notes. Some are double-sided photocopies of American dollars on grey construction paper or blackened paper.
The scammer will claim this is "money that was dyed black to avoid detection by customs at airports".
Upon finding someone sufficiently gullible to believe this nonsense, the scammer will display one or two genuine $100 notes that were earlier coated in iodine tincture and glue to make them black. He will explain that the "dollars" can be washed clean with an extremely expensive chemical, usually called SSD Solution. A demonstration is performed – dipping the genuine banknote into a solution of water and vitamin C, which washes off the iodine.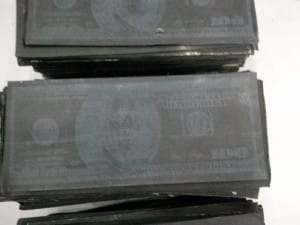 Targets will be told that about Rp.600 million is required to buy enough SSD Solution to wash a case of black dollars amounting $1 million. The scammer promises to split the "dollars" evenly if the victim will provide funds for the purchase of the chemical. If Rp.600 million is too much, that's no problem; the scammer will accept Rp.10 million. Often, the victim will be left with a bag or box of black paper as a "guarantee", while the scammer disappears with their money.
If victims put aside their greed for a moment and thought carefully about the transaction, they would realize it makes no sense. If the "dollars" were genuine, the scammer could just use his existing supply of SSD Solution to wash enough to buy more of the chemical – rather than split half of the money with a complete stranger.
Scammers try to give credence to this con by placing ads for SDD Solution in the press and online. A Google search for the words "black money Jakarta" brings up two sponsored ads for sites purporting to sell SSD Solution and other nonsense such as "activation powder" and "separation fluid". The sites – ssdsolution.milton-laboratories.com and rueworldwidelaboratory.com – are laughably amateur. The latter illegally uses the logos of companies such as ConocoPhillips, DuPont and Honeywell.
Google's advertising system, AdWords, allows advertisers to bid for certain keywords to have clickable ads appear in search results. AdWords policies prohibit content including "products or services that enable dishonest behaviour" and "promotions that represent … your products or your services in a way that is not accurate, realistic and truthful." Yet Google still allows black dollar cleaning scammers to advertise.
The black dollar scam has been around in Indonesia for over a decade. The perpetrators are usually Africans. Given the scam's long history, surely the Indonesian media and police should be aware that black dollars are fake? Sadly, the answer is no.
The latest case, announced by the police and the military on March 13, stemmed from a drug bust. The Navy's Western Fleet Intelligence Detachment had in February received information about drug abuse involving a naval officer, Major Zaid Joko Utomo, who serves on amphibious ships. A team of investigators on March 3 followed Zaid from a disco to his home in the Navy housing complex in Sunter, North Jakarta.
Dance music was heard coming from the house, which the Navy Military Police raided at 2.30am on March 4. Zaid was in a bedroom on the second floor and refused to unlock his door until 7.30am. Officers seized syringes and pipes used for the consumption of crystal methamphetamine, as well as an undisclosed amount of meth. They also found three large boxes containing 69,000 pieces of black paper stacked in bundles. Some of the paper vaguely resembled US$100 notes.
Zaid was arrested and later tested positive for methamphetamine. He said the black dollars had come from a Balinese man, I Made Gede, who delivered them for a woman named Ketut Srianing. Police arrested Made on March 6 in Jakarta, and Srianing in the Bali capital of Denpasar on March 11. Srianing reportedly confessed to being the owner of the black dollars.
Nine days after the raid, the military presented the bundles of black paper to the police for investigation. The handover was attended by no less than Military Commander General Moeldoko and Acting National Police Chief Badrodin Haiti. That's when media reports revealed a staggering failure to understand the scam.
The Jakarta Post daily's headline mentioning "black dollars worth $69,000" (whereas 69,000 one-hundred dollar notes would be worth $6.9 million) was the least of its errors. The Post reported: "A careful inspection is necessary to find out if the banknote [sic] are original or counterfeit." Not true. No careful inspection is required because the black rectangles of paper are not banknotes. They are not even passable counterfeit.
Here's what the country's leading online news portal, detikcom, had to say about the worthless bundles of paper: "The police alone cannot say whether these black dollars are genuine or counterfeit. Because actually black dollars are just a tool of criminal scammers. However, the police still have not received information about how the perpetrators did the printing, so there is a slight chance the black dollars are real money."
The nation's top policeman, Badrodin Haiti, said forensic tests would be conducted to check the authenticity of the "money" – even though serial numbers indicated it is bogus. "From the serial numbers that are present, we suspect it is fake. But we must check with the forensics lab," he was quoted as saying by the Kompas daily. He said chemicals were needed to clean black dye off the "money" and that counterfeit investigators from Bank Indonesia would be consulted.
The dumbest reporting came from BeritaSatu TV, which ran a news item—now on Youtube —asserting that black dollars are "different from counterfeit money" because "they have serial numbers like those issued by a central bank" and "can also be traded legally and generally". The report went on to claim that black dollars are usually used for drug transactions, while "white dollars" are used to fund acts of war and terrorism. Absolute garbage. State news agency Antara reported that black money is commonly used for money laundering.
Other reports confidently declared that black dollars are counterfeit currency, smuggled in through airports, and will return to their original colour upon washing. The Pikiran Rakyat daily claimed that black dollars are still in the production stage. BeritaSatu.com also reported that black dollars are "dollars that are not yet finished and still black. Once immersed in water, the black will disappear and the money will seem like a real dollar bill."
Someone in authority needs to educate the media to educate the public about scams. Moeldoko claims the military will not tolerate drug use by its members. Zero tolerance for misinformation on scams would also be helpful.