Selling useless trinkets under the pretence they contain magical powers remains brisk business in Indonesia. More daring scammers perform simple conjuring tricks to con the unwary out of their money and valuables.
If you've ever visited Jakarta's historic district of Kota Tua, you've likely passed the vendors selling polished stones and supposedly antique daggers. Some merchants insist these trinkets can provide the owner with success in business and relationships, and even invulnerability to disease and weapons.
All claims of magical talismans are, of course, preposterous primitive garbage, but there are plenty of people who subscribe to superstition rather than science.
A group of six crooks based near Kota Tua exploited the public's fondness for talismans. Operating from Jalan Jembatan Batu – the street that leads to the Mangga Dua electronics shopping centre – they targeted motorists or any pedestrians carrying valuable goods.
Victims were shown "magic" agate stones and nails, and were then encouraged to test an item's powers by holding it and walking a few hundred metres down the street. They were told not to turn around "or the magic would not work". Once a victim was far enough away, the gang would swiftly steal their car or motorbike, or whatever valuables they had left on the sidewalk.
Police arrested the six gang members on the night of April 25 when they were stealing a Toyota Avanza.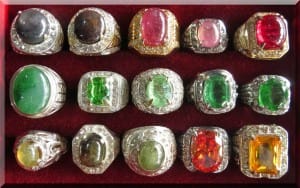 A similar scam took place in Jakarta last year during the city's craze for men's batu akik (agate) rings. Two scammers would stop motorcyclists on the pretext of asking for directions. They would then give the motorcyclist an agate ring in appreciation, but said its magical powers would only work if the wearer first walked for 200 steps without turning around – enabling them to steal the unattended motorbike.
Water Marks
Nonsense magical powers can come in any form, even water. On April 18, police in South Kalimantan arrested two crooks, who had pretended they could use magic water to multiply money. Victims were asked to pay extortionate amounts for "rare" water that could be sprinkled on money to make it grow.
Abdul (41) and Rusli (55) netted an estimated Rp.1 billion from the scam since 2014. Their most recent victim was David (37), a resident of Banjarbaru city, south of Banjarmasin. On April 12, he gave them Rp.70 million after they promised the magic water could transform the cash into Rp.3 billion.
Under police interrogation, the duo said they had operated in 14 locations in South Kalimantan and East Java over the last two years, swindling amounts ranging from Rp.8 million to Rp.200 million.
Needle Work
A group of fledgling conmen in the Central Java city of Magelang on February 28 used some persuasive patter and a simple sleight of hand trick to defraud two teenage girls out of their jewellery and valuables worth Rp.22.19 million.
The leader of the gang was Rehan Jayanto (27) from Tangerang in Banten province. His opening prop for the con was a trinket inscribed with calligraphic Arabic text. He pretended it was a precious family heirloom with magical powers, whereas it had cost him only Rp.2,000 at a Tangerang market.
High school students Miyati (17) and Sastia Damara (17) were browsing through clothes in a Matahari department store when Rehan approached and asked for directions to the local Culture Department. He explained that he wanted some experts to examine his heirloom talisman. The girls said they did not know the address. At this point, Rehan's accomplice Yones Putra (32), posing as a helpful local, came along and said he could take them to the Culture Department. Rehan invited the girls to accompany him, but suggested they should first have a meal together at a nearby Popeye Chicken Express restaurant.
At the restaurant, Rehan acted the part of a shaman. He held the girls' hands and said he could see needles stuck inside their bodies.
He said he could only remove the needles if the girls first collected their valuables from their homes. The teens complied and then met back with the crooks, this time at a restaurant called Desa Cantika. Rehan instructed the girls to place their possessions on the table. He then pretended to remove a needle from one of the girls. He said an orange would enable him to remove the remaining needles, so the victims got up and went to a fruit shop. When they returned, the two men had disappeared with their valuables. Another three accomplices, who had been acting as lookouts, had also absconded.
The gang scored five rings, three bracelets, a Samsung Galaxy phone, a Toshiba laptop, a watch and purses. Police arrested the crooks a week later at a hotel in Jogjakarta.
Rehan said it was his first crime, which he committed because he was unemployed and had bank debts of Rp.20 million, and because his family had often been victims of fraud.
Powerful Prayer
Iswan Gunawan (52), a fabric vendor originally from Banyumanik in Central Java, moved to the South Kalimantan capital of Banjarmasin in late 2015 to try his luck in business. He soon turned to scamming. In January he met with a man named Anang Suriansyah (65) and promised to use a magical prayer to double his money.
Inside Anang's house, Iswan sat cross-legged on the floor and was given Rp.1.57 million, which he wrapped inside an Islamic shroud. Iswan then turned his back to the victim – on the pretext of reciting some Islamic verses – while secretly switching the shroud with another one from his bag. He then instructed Anang to wait for three days and the cash would be doubled. Next, he told Anang to go to the market with him to buy seven types of flowers and some coffee to strengthen the magic.
Anang's wife was suspicious and opened the shroud. Inside, she discovered a small pile of Rp.2,000 notes. When her husband and Iswan returned from the market, she confronted them about the fraud. Iswan scarpered to his motorbike. Anang shouted for help from local residents, who managed to catch the scammer and assaulted him before handing him over to police.
Iswan insisted he had only performed the scam once before, 10 years ago in the Central Kalimantan timber port town of Sampit, and had only resumed the crime because he could not make enough money by selling fabric.
Pickings will remain ripe for charlatans as long as people believe in magic, but the risk of being beaten by an angry mob or overzealous police should make scammers think twice before performing their tricks.