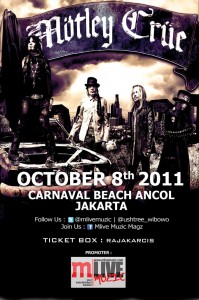 Jakarta is becoming an increasingly popular destination for international music acts. And for every big concert, scammers are ready to swindle money from unwary fans, usually by selling tickets that are either fake or non-existent.
An estimated 70% of the tickets offered by scalpers directly outside venues are counterfeit. The failure of police and concert organizers to have the sellers evicted or arrested has prompted allegations of collusion.
It's not only international acts that attract swindlers. When Ahmad Dhani reformed his band Dewa for a single show at Senayan, tickets went on sale for Rp.500,000 and quickly sold out. Outside the stadium, bogus tickets were being sold openly for Rp.850,000. To discourage counterfeiters, some official vendors now provide vouchers that can later be redeemed for tickets.
The main tools for scamming would-be concertgoers are Facebook, Twitter, online forums such as Kaskus, mobile phone text messages and fraudulent websites. Cyber scamming is cheaper than printing counterfeit tickets, which can require special paper, inks, watermarks and holograms.
In the weeks before Justin Bieber performed at Sentul International Convention Centre in April 2011, two websites – one slightly authentic, the other laughable – were set up to sell fake tickets. A Twitter account and Facebook pages, mimicking those of the official promoter, were also registered to direct fans to the phony sites.
When poncy English songster Morrissey staged a sell-out show in Jakarta last year, fans flew in from across Indonesia. One fan, Andre from North Sumatra, had purchased two tickets, via an online forum for Rp.800,000 each, only to be informed at the venue they were worthless.
The more popular the artist, the higher the cost of a fake ticket. University student Farah Farizky saw 13 tickets for Jennifer Lopez's Jakarta concert advertised in a thread on Kaskus. She paid Rp.29.9 million ($3,000) for them and received nothing.
Sometimes, not even the concerts being advertised are real. In September 2011, The Jakarta Globe ran an article headlined 'Metal Heads Rejoice: Motley Crue Headed for Jakarta'. The report included contact details for the vendor of the tickets, which were priced cheaply at Rp.350,000. Within a day, the American band responded that it had "no scheduled concerts anywhere in Indonesia… Any concert rumors are false … and be wary of any vendors advertising ticket sales."
Despite that statement, tickets remained on sale. Rollingstone.com reported that fans were bilked out of about $60,000 "for a non-existent gig publicized by a fake concert promoter". The promoter was the music division of PT Multi Live Mandiri, which claimed it did not have money to provide immediate refunds. It also claimed that provocative Tweets from Indonesia had scuppered the concert. Mötley Crüe's members disagreed. "No, it's because the promoter is a scumbag," said bassist Nikki Sixx. Drummer Tommy Lee was equally blunt: "NOPE!! Shady promoter f—ed that one up."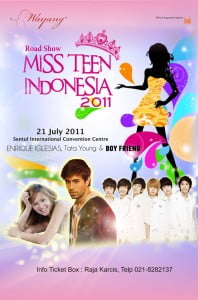 Another debacle was the Miss Teen Indonesia 2011 concert, which promoter Wayang Sinema claimed would be held at Senayan with performances by Latin heartthrob Enrique Iglesias, Thai singer Tata Young and South Korean group Boyfriend. Tickets went on sale priced from Rp.750,000 to Rp.1.75 million. Iglesias's website then posted a statement warning that he was not involved in the show. Boyfriend's management declared: "We are very shocked and sorry to inform you that Miss Teen Indonesia 2011 in Jakarta turns out to be a big fraud."
A few weeks ago, online media reported that American singer Bruno Mars was scheduled to perform at Sentul. His management agency warned the advertised concert was a hoax and urged fans not to buy tickets being sold online.
South Korean boyband Super Junior's most recent series of Jakarta concerts sold out within a few hours. Fans who missed out were furious with the promoter for allowing people to buy up to four tickets at a time, as scalpers were immediately offering tickets at double price. Dozens of fans from East Java took a chance on scalped tickets offered online, only to later discover they had bought fakes.
Victims are often reluctant to report scammers to police, fearing they will have to pay even more money to recoup their losses. Lady Gaga's 2012 Jakarta show – cancelled after threats of violence by the Islamic Defenders Front – has resulted in a lawsuit, but not in Indonesia. Her management is now suing insurers Lloyd's of London for failing to honour "terrorism policies" that would have covered cancellation fees.