Singapore National Academy is running a fundraising program for the victims of Lombok's devastating earthquakes. Our Media Club has conducted interviews with Lombok earthquake victims and heads of organisations offering assistance, such as World Vision Indonesia (Wahana Visi Indonesia) and Gema Inti.
Massive earthquakes have been striking Lombok, specifically the northern part of the island, for nearly two months. The first earthquake happened on July 29, with a strength of 6.4 on the Richter scale. The earthquake was so strong that tremors were felt on the island of Bali. On August 5 the second earthquake with magnitude 6.9 on the Richter scale hits the same area. Lombok suffered damage amounting to more than Rp5 trillion rupiah (US$469 million). The current death toll is at more than 556. More than 417,529 people fled their homes or were evacuated after the earthquake to seek shelter in government-provided tents or makeshift structures in open fields. Approximately 71,937 homes were damaged. Authorities said that aid was slow in getting to some of the hardest-hit areas as they are remote.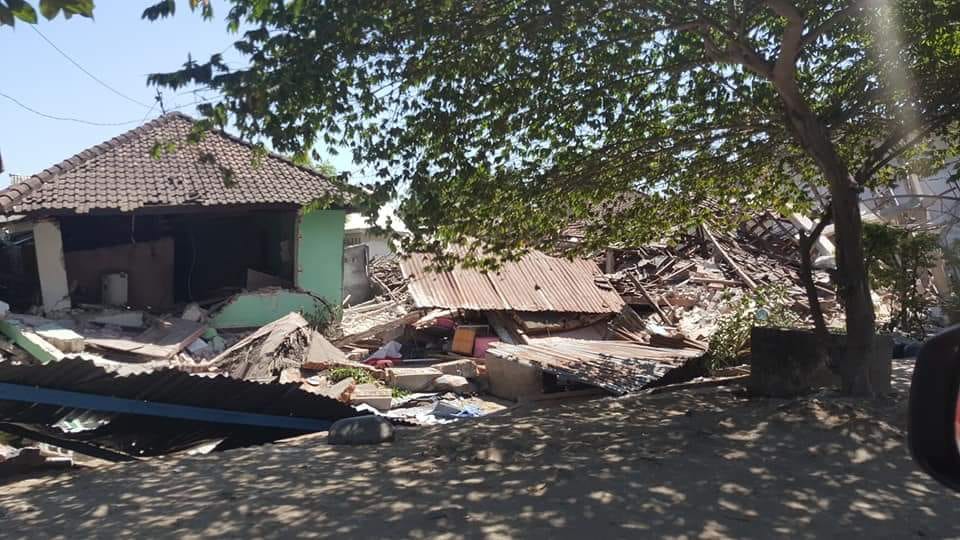 Mr Saiful Hanan, a Lombok local who is a victim-turned-volunteer, shared with us "Everyone was running to the mountains for safety, all telephone lines, water and electricity were cut off, it was hard to contact my family members. Lombok now shakes all the time. We slept in tents for almost three weeks. We are afraid to go back home because all the walls are cracked." Fortunately for Mr Saiful, his village suffered less damage than neighbouring villages in North Lombok.
Lombok is currently in a state of distress, and despite the generous help from various volunteer groups and the Indonesian government, locals are still living in fear. They worry for their family members and for their own safety. In fact, many locals are still living in tents, still fearful of the next strike. On August 30 at 7am another earthquake struck Lombok. Although it was of a smaller magnitude than previous earthquakes, it was enough to shake the villagers who were previously moving back into their homes.
"I work in the tour and travel industry and we have had no business ever since. On August 29 I was in a car with a client and a driver, it was very tense" said Mr Saiful. He and his colleagues decided to create a team of volunteers and went to all areas of Lombok aiding others and taking note of what each of them needed, and then returned to give them the required help. He informed us that many of the children were traumatised by the disaster and his team offered healing therapies, such as storytelling and educational games.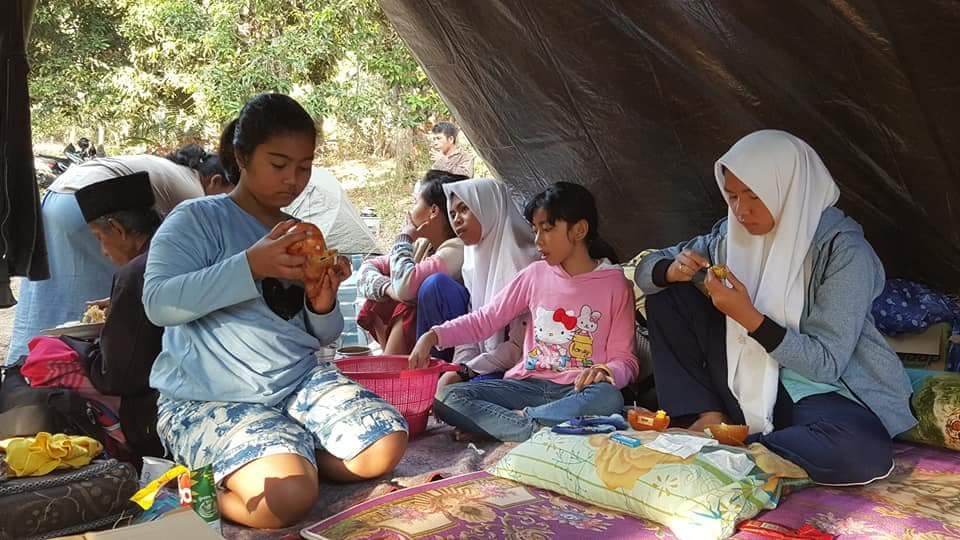 Mr Ronny Ichwan, Head of World Vision Indonesia (Wahana Visi Indonesia), Disaster Management Specialist, shared that he has 12 volunteers in Lombok to give psychological aid through a program called Child Friendly Space. These services are offered to victims of the earthquake, especially children. The program includes counselling, storytelling, car library and donations of books, stationery and toys. In addition, they also built a water reservoir and rebuilt damaged water pipes to channel the water to areas in need. Public toilets were also built to ensure proper sanitation. Families were given tarpaulins, and basic daily necessities such as rice, cooking oil and sugar.
Mr Krista Wijaya, National Head of Gema Inti, shared that his organisation had collaborated with Mama Chew Restaurant, Pelangi Restaurant, Rotary Disaster Relief Indonesia and ten international chefs, to cook one ton of rice for the victims of the earthquake. Mr Bernard Chew and his wife, Mrs Figie Subrata of Mama Chew restaurant, gathered the chefs to cook for this altruistic event. The chefs paid for their own flights to be a part of this program which was called the "48 Hour Cooking Marathon for Lombok". They cooked for 48 hours, sleeping in tents between shifts. The food was distributed to Islamic boarding schools (pesantren) with the assistance of the Indonesian army. Mr Wijaya also calls for any individuals or companies who are interested to collaborate with them to provide help to the Lombok victims.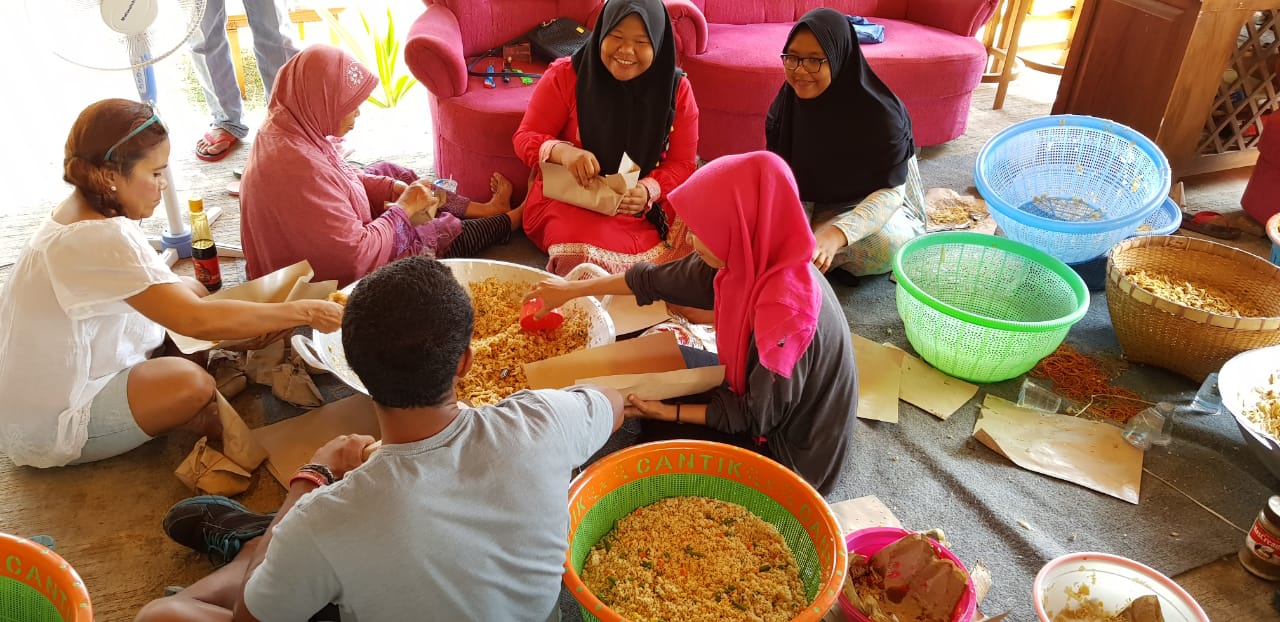 All the help given by these organisations and volunteers was made possible through the generous funding from members of our community and expats in Indonesia. This time, we are specifically seeking donations to fund the building of houses for the victims and to purchase staple foods such as rice. There is also a huge need for tarpaulins to use as tents for temporary housing and schools and thick blankets to shelter from the harsh weather. The people in Lombok are unable to work yet due to the condition of the island and sadly the economy is at a standstill as most of the locals survive on tourism.
We hope that you will join us in helping the victims of the Lombok earthquakes. If you have any queries, please feel free to contact us at Singapore National Academy on 031 853 1920. Donation of goods can be delivered to Singapore National Academy, Raya Pepelegi Pondok Maspion IV Blok GH no. 1-6, Waru 61256 Sidoarjo, Indonesia. Monetary donations can be transferred directly to Singapore Piaget Academy, Maspion bank account number 106.2.00388.6.
Any support will be highly appreciated by us and the Lombok earthquake victims.
We will be writing a part two of this "Help Lombok" article to share with you how we used your donations.