From climbing to the top of Mount Rinjani in Lombok, trekking in one of the world's top 10 toughest treks in Papua New Guinea, to gearing up for the coming charity walk in Lombok – Australian expat Fiona Forrest shares creative ways for campaigners to collect money that defy traditional fundraising.
"Hunger, sickness, loneliness and despair. Life without help, life without hope!" These are the words of fundraiser Fiona Forrest when describing the devastating reality of finding many children in Indonesia being neglected, left with little or no opportunities to overcome unpleasant conditions; something that she is determined to change.
Originating from Adelaide, South Australia, Fiona Forrest along with her husband and two children arrived in Jakarta 11 years ago after completing their residence in Tanzania, Africa. Ever since calling Indonesia her home, Forrest has been involved in multiple fundraising activities as a way to help tackle social issues she was concerned about.
But fundraising to Forrest is anything but ordinary. While others may rely on traditional fundraising efforts such as direct requests for donations, or using social media platforms, Forrest prefers to get involved in activities that maintain interest for both herself and potential sponsors.
"My first Challenge was in 2012, Mount Rinjani Charity Climb. This was for the two Elisama Orphanages on Bali. This climb paid for a 265-metre security fence around the perimeter, and for drilling a water bore including pumps, etc. to supply fresh water to Elisama Singaraja; it also paid for the education of 96 children from both orphanages."
Hoping to recreate the success of her first challenge, she participated in more the following years. In 2013, Forrest set forth to Papua New Guinea for a 12-day jungle trek, which is considered among the hardest trails in the world. For this challenge, she gathered a substantial amount of money to fund a recreational area in a Bali orphanage, complete with trees, seats and playground.
And later in 2014, she walked 450km for 15 days without a support vehicle around Bali. On this first solo challenge, Forrest supported an orphanage to set up a five-year education plan.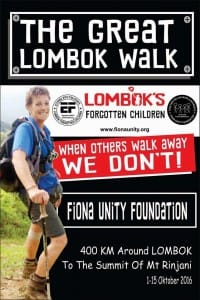 Forrest is back on duty this year to take down Lombok in a 400km charity walk where she will be traversing the island, starting from Lokok Aur, Karang Bajo Bayan Village, North Lombok, to the east and off to Senaru where she will be joined by a group of trekkers to start the second part of this fundraising, a 3,726-metre climb of Mount Rinjani. Forrest admits that this Great Lombok Walk, which will be held in October, will be challenging because Lombok's coast is largely comprised of hills. But regardless, she has made this charity walk a priority this year.
Apart from these adventurous journeys, Forrest reveals that she also does hold easy and relaxed fundraising that requires less energy and preparation, such as baking Australian meat pies and hosting Australia Day parties with auctions and raffles. When asked about the specialty of her campaigns, Forrest remains humble yet convinced that she does her best to make them fruitful:
"I try to make them as exciting as I can. All of my fundraisers are the result of hard, dedicated work. Hopefully people see the reality as it is and then see it backed up in the results of our hard slog." 
To further achieve her objectives, Forrest established her own NGO, the Fiona Unity Foundation. Her dedication to start the NGO was inspired by two orphanages she visited one day in Bali, where a group of volunteers provided a place for unfortunate children to live in a healthy and safe environment. Moved by what she discovered in Elisama Orphanage, Forrest felt the responsibility to do something and decided to run her own NGO to support more foundations:
"There are so many abandoned, orphaned, sick and disabled children in Indonesia that have little or no opportunities, their fate already decided for them for whatever reasons and through no fault of their own," Forrest laments.
Today, Fiona Unity Foundation has collaborated with numerous institutions, and with the help of fundraisers the NGO is seeing more and more positive results. Aside from contributing to children's education, the orphanages and institutions Fiona Unity works with are now supported with equipment and facilities, like the project in Tanjung, northern Lombok, where they are provided with land to be developed into an office; a space for storing wheelchairs which have also been donated all the way from Australia; as well as accommodation for families when visiting or leaving hospital.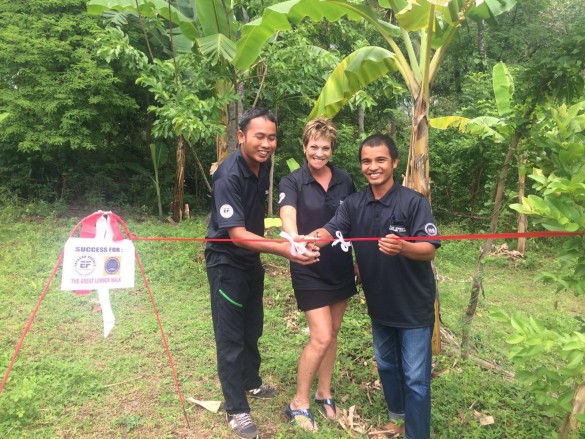 Forrest emphasizes that NGOs should also hold on to both "honesty and transparency" as the keys to running a successful campaign because sadly, there have been many corrupt and dishonest organizations here in Indonesia which might hinder fundraisers and campaigners alike from gaining the people's trust. For that reason, she asks organizers to always be open to both the public and sponsors:
"Show them how we are making a difference together. I also try to encourage people to visit the institutions I support. That way they can see 100 percent where their donation is going and what a difference they are making."
Asked what advice she can give for solo fundraisers, she mentioned one word which people today might lack: focus.
"Once you have your focus, don't let go! Sometimes I have come up against a roadblock and it would have been easy to give up. Staying focused and sticking to your plan. And patience, which you need plenty of, especially here in Indonesia. If you believe in something hard enough it will happen," Forrest closes.
For more information please visit http://fionaunity.org