In a rare murder-suicide case that has shaken the South Sumatra capital, 45-year-old businessman Fransiskus Xaverius Ong, known by his colleagues as a "family man", is strongly believed to have killed his 43-year-old wife, Margereth Yentin Liana, his 18-year-old son, Rafael Fransiskus, and 11-year-old daughter, Kathlyn Fransiskus.
The murder took place at the family's residence in Kalidoni district, Palembang, South Sumatra in the wee hours of Wednesday morning.
Witnesses said Ong had given clues on what he was planning to do the night before he killed his family and pet dogs, Choky and Snowy.
Ong, according to one of the housemaids, was drinking coffee while playing the piano at around 8 p.m. on Tuesday. The housemaid, identified only as Dewi, told the police that Ong only played the piano when he "was having a problem."
Later that night, she said, he did something unusual: calling on every employee working for his company as well as the housemaids to gather for a meeting at his residence, where he reportedly gave his employees some money.
The next morning, the maids were shocked to find the two children dead in their bedrooms, and when they tried to tell the parents what had happened, they saw that the door was locked and their calls were met with silence.
They then decided to call for help from the neighbours and the police, only to find out that all the family members had been shot to death.
South Sumatra Police chief Insp. Gen. Zulkarnain Adinegara said that, according to autopsy results and scientific investigation, Ong had carefully planned the murders.
"Based on [the findings] of gunshot residue analysis, it was revealed that Fransiskus was the one who pulled the trigger," he said on Friday.
According to the police investigation, Fransiskus first shot his wife in their bedroom. He then paused for a while, sat outside the room and lit a cigarette.
"We found cigarette butts partly covered in blood, as well as coffee stains outside the bedroom. We assume he smoked a cigarette and thought about his actions before proceeding to murder his children," Zulkarnain said.
He then allegedly went to his son's bedroom on the second floor and shot him in the head while he was asleep. The last victim was his daughter, who, like her brother, was allegedly shot from close range, according to the police.
None of the maids claimed to have heard gunshots.
Police believe that after killing his wife and children, Ong killed the family dogs by drowning them in the bathtub, after which he returned to his bedroom, locked the door and shot himself.
The police have yet to find a clear motive behind the murder-suicide, but they suspect that it was triggered by a fight between Ong and his wife, who demanded a divorce over allegations that her husband was having an affair.
The only other clue they have about a possible motive is in the suicide notes left by Ong.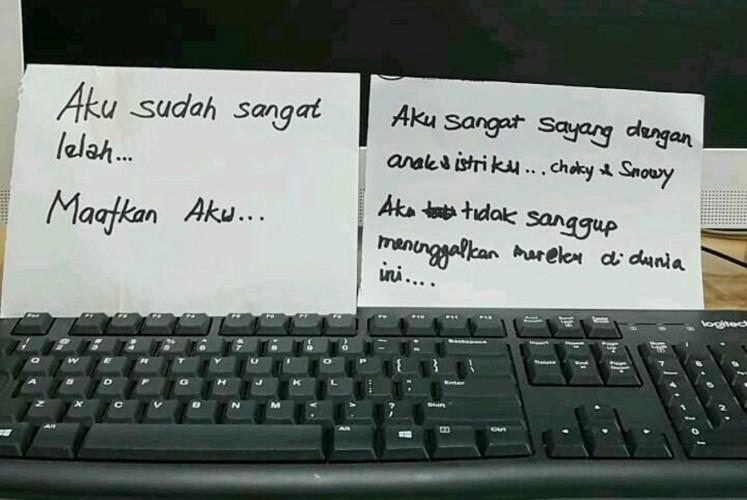 The notes read, "I'm so tired, I'm sorry […]" and "I love my wife and children very much [as well as family dogs] Choky and Snowy. I can't afford to leave them alone in this world."
"He didn't want to die alone. That's why he also murdered his entire family," Zulkarnain said.
Source: Jakarta Post
Photo: Instagram @y_maretha