A husband has turned to the internet for advice after he caught his wife of 10 years cheating during a trip to Bali to celebrate their tenth wedding anniversary.
The unnamed man, 34, revealed on Reddit that he'd left his 32-year-old wife in Bali after uncovering her affair during the romantic getaway.
He added: "To make matters worse I am finding out this man she is with may be a criminal of some sort. The locals do not like him and explained to me he may have stolen a lot of money and is hiding on the island."
The husband revealed his wife was texting once or twice a day to say she was having a good time, and had admitted to him she doesn't know what she wants.
Revealing that he's not ruled out taking her back, he begged users to "help him see sense", and was quickly inundated with angry replies, racking up 1,400 likes and over 600 comments, most of them urging him to find a lawyer and proceed with a divorce.
Kicking off the discussion, he admitted his world had been "completely shattered".
"I can't even begin to understand the thought process she's going through," he said. "It feels like being stabbed so hard in the heart. It also sounds like he's only telling her the things she wants to hear and she believes it all.
I don't think I can stay with her after this when I get those texts but part of me keeps remembering the good times and omits the bad. Please help me because I can't see clearly right now," he concluded.
Reddit users were outraged and flooded his post with comments: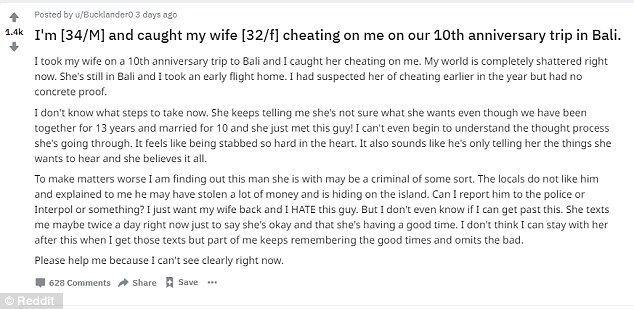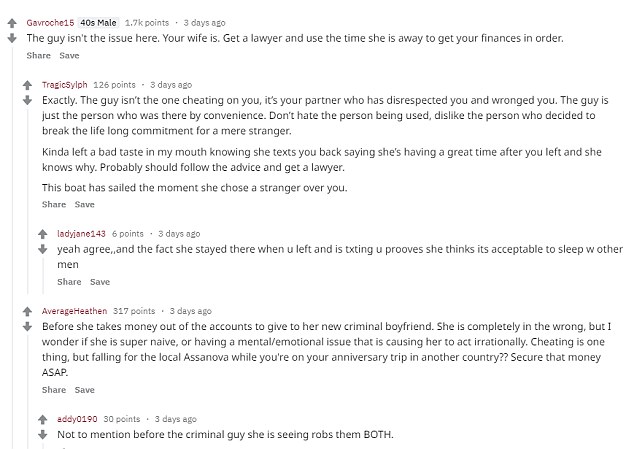 Source: Daily Mail
Photo courtesy of shutterstock/sattahipbeach