For a tropical country like Indonesia, a hailstorm is a rare phenomenon. Such an occurrence is not only unusual, but can also pose a danger to residents who are not used to coping with such weather. This was recently the case for Bandung.
The city of Bandung was hit by an unusual mix of hail and thunder on Wednesday afternoon, April 19, 2017, causing multiple trees and a sign to collapse around town. Environmentalists in the region will speculate that the storm was the result of global climate change.
As a result, a number of four-wheeled vehicles were damaged including one police car that was parked. "Bandung Police Patrol Car Wetan was hit by falling trees. There are no casualties," said Bandung Police Commissioner Hendro Pandowo via a text message to Detik yesterday.
Another car was damaged by a billboard that landed on it when it collapsed. On Jalan Gatot Subroto, the 4×8-metre billboard fell down and struck a black Altis Corolla that was passing by. Fortunately, there was also no report of any casualties.
Data collected by the Bandung Police Precinct yesterday recorded a total of eight cars that were damaged. Reny Marthaliana, Head of Public Relations for Bandung's Police Commissioner, confirmed that trees collapsed and affected vehicles nearby. Based on information released by Marthaliana, the damaged cars included multiple Hondas and Toyotas, a Daihatsu and a Gallan. The damage included body damage, multiple dents, broken windshields and more.
Bandung was also recently hit by hailstorm last month. Trees fell, but did not cause any damage. However, these recent happenings are not the only times that hailstorms have visited the archipelago.
In March 2017, thunder and hail hit parts of Surabaya and its suburb city Sidoarjo. It claimed the life of Nur Sri Ayu, a 20-year-old woman, who sought shelter during the storm with her friend on Jalan Tehnik Hidro. To avoid a collapsing tree, both women plunged into a sewage canal, resulting in Ayu's death and leaving her friend severely injured.
During the same month, a wall in Surabaya's Gayungan district collapsed during the storm and landed on a white car parked on the roadside near a food vendor. It crushed the vehicle and injured three passengers who were waiting inside. The merchant and two people who took shelter were also injured. All of the victims were taken to Bhayangkara Hospital.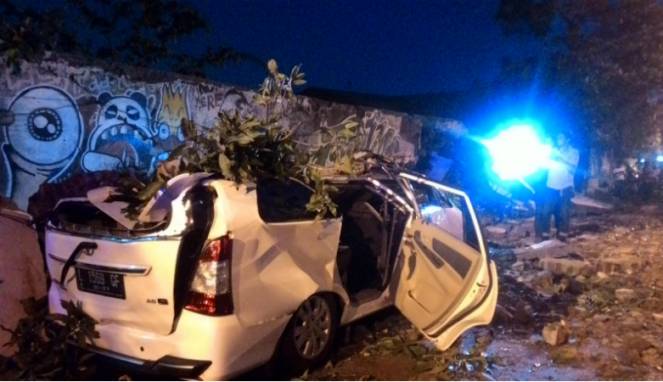 These situations have become a concern as climate change can influence the frequency and intensity of hail events in otherwise hot climates like Indonesia's. Mother nature's wrath can be unpredictable, but these bizarre weather events may be the Earth's way of telling citizens and corporations to start taking climate change seriously.
Expats who live in the area can do their part with simple things such as reducing car pollution, reducing energy use and recycling. But on a grander scale, activism and political pressure will surely be needed in Southeast Asia. Government action will also be required. Indonesia recently made bold claims about changing over the nation's public transportation vehicles from being powered on gasoline to running on natural gas, a more eco-friendly form of fuel.
It also pays to equip yourself with knowledge on preparing your home for a hailstorm and also how to stay safe.
Image credits: Istimewa via Detik, Viva