Meet Tania Lonker. A down-to-earth leader in the natural building and sustainable living movement of Bali.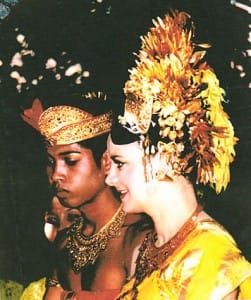 How did Lumbung Damuh, your natural homestay, come into being?
I returned to Indonesia in 1998 and worked for a big company in Kuta. I speak six languages so I was brought up to their resort here to communicate with international visitors. I found myself in a small village and it didn't take long for love and life to unfold. I met Lempot and we hung out on his family land on the beach. We started a group to clean up the natural beauty ravaged by humans for gain. Some of the land was the communal dump! Lempot's brother suggested we do something to preserve the beauty we were restoring and we came up with the concept of natural simple luxury huts. We cleaned up a dumpsite and put up paradise! We have all seen the demise of natural beauty all over the world; it's time to resurrect what has been destroyed and I wanted to show it can be done. We built two small lumbungs in 1999 and had our first official guests in 2000. A year later we built our present home, an oversized lumbung, and over five more years, bungalows, all in the old style.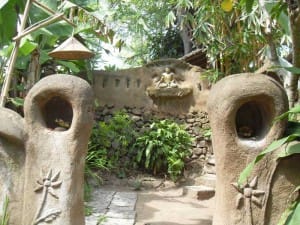 You have managed to create a timeless world at Lumbung Damuh. I lose track of time and stress which is probably why I usually stay longer than planned. How do your guests find it?
It is a home to so many people from all over the world. Our guests usually return because they become part of a community. We have music at night and guests become part of it, singing and playing instruments. Children and adults are very creative here and share their talents. We have big family meals with the guests and make pizza in our cob oven. All our bread is made here. Our focus is to think globally but support locally, so what we don't grow we buy locally in season.
Tell me about your marriage and family.
Well, in life some things just happen…You  know, that magical, mystical feeling life has when you are in the flow and being spontaneous. Lempot and I spent every moment together. We got married in his parents' compound and now we have three beautiful children and a large extended family as my family is here in Indonesia also.
So you are third generation Expat?
Yes, my grandfather was born in Padang. My father was born in Java. I was born in Hong Kong but we moved to Jakarta when I was six months old. I went to Jakarta International School and at ten we moved to Singapore where I went to Tanglin Prep and United World College. For summers we would fly to Europe and travel – those were great times. We camped in the Swiss mountains and played in the fields. In Indonesia we spent weekends in Puncak playing in clean flowing rivers and riding horseback. Thanks to all those childhood experiences I came to love nature and down to earth things.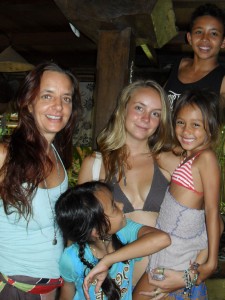 We just visited the bird sanctuary here in Candidasa. It's amazing; the massive walls done to simulate nature. How did that come about?
My partner Tasha Zahara and I heard that a man in Candidasa had a dream of making an aviary and wanted to build natural. So TnT Earthbuilders as usual, ready for action were ready to help fulfill his dream. The simple wall became a long story and many walls. All the kids in the village helped collect glass bottles and we incorporated them in the wall. We had so much fun dancing in the mud with the Balinese women and children, teaching an age old technique. With the help of Elizabeth we decorated the walls with forests, ricefields, animals and flowers. There are places for the birds to nest; little bird houses. We then devised a way to create a covering with fish nets so the birds may fly high and free. It was a challenge since the dimensions are so sporadic. We used a lot of mathematics and hand sewing. The net covering is a perfect demonstration of where there's a will there's a way. After a year the vegetation had grown and the birds are safe in their home. This small sanctuary is worth visiting and needs the public's support.
How did you come to do the oven for Ibu Robin of Bumi Sehat?
Oh Robin! You know when you meet an angel… After having my son with a local "midwife" I knew there had to be a gentler, sweeter experience to birthing my second child, Lily. Through friends I heard of Robin. The day I rocked up in Robin's kitchen I was heavily pregnant. Her husband had just said it would be great to know someone with accommodations on the beach that needed a midwife so they could have a small holiday. She helped homebirth our two daughters, Lily and Kaya. We have been family ever since. Now, years later I have become an earthen builder and this is the Earth Mama oven that stands for all the strength and fire and warmth of all mothers.
What got you inspired to be an earthen builder?
I had always wanted to build an earth oven and it took many years of longing and learning all aspects of earth building, homesteading and other alternative, eco-friendly ways of living until I met my great friend, Tasha. She came to stay at Lumbung Damuh with her daughter, Zahara. When I shared my ideas and knowledge with her she said, "Let's do it!" Our crazy energy started TnT Earthbuilders and we haven't stopped since. We have made eight ovens together and more on our own in faraway places all over the world. This is just the beginning of the earth mud mama's adventures!