Meet Stephane Poggi, the French Interior Designer with a passion for discovery and design.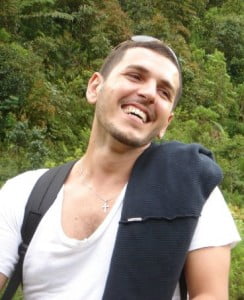 Stephane, could you share a few things about yourself with us?
I am French, 34 years old. I graduated from a French school and I am an interior designer with the habit to like to change my environment and discover new things and new people.
How long have you been living in Indonesia, and what brought you here?
I landed in Indonesia in 2001. A friend of mine needed help to handle her furniture factory which was oriented in French style design. After seven years of management, I decided to focus on my main activity and created "Stephanoccelli Interior Design".
 Do you know of any hidden shops or areas in Jakarta for finding a great deal on furniture or home accessories?
Kemang is the place to hunt for any kind of stuff. But there are always new places to discover, depending on the project and concepts we are working on. We have to keep aware and to find new things all the time. Kemang is a great area because there is a lot of variety.
What is your signature decorating style, and how would you describe it?
Personally I don't focus on one style, but I try to avoid to going towards "American heavy style". For the rest I am open, because I have to absorb the needs of my clients to create personalized concepts. The relationship and the time spent with clients helps me to build something unique in symbiosis with the soul of the client.
What part of your work do you love most, and why?
I would say creation and client relationships because both of them are related for me. When I meet new people, discover a new personality, and new manners it opens my eyes to a new vision.
How long does it typically take to finish a project?
Wow, very good question…always longer than expected! But it takes time to create and coordinate everything to get the best result. I will say it usually takes from three months to one year.
What type of architecture are you personally drawn to?
My focus is more on interior design, than architecture but personally I like clean and functional buildings with a touch of futurism. You could say that the "French Art Deco" period fits quite well with me!
Are there any particularly impressive buildings or spaces that you've come across here in Indonesia that suit your aesthetic?
Maybe Monas…just joking! I would say colonial houses or old authentic Chinese temples. To see and understand the way people lived before us is important. I think that culturally, it is important to understand the past to be able to handle the future.
What is your most cherished possession?
My colourful baccarat glass collection, or an old wine opener from my grand father that he used to bring when he went hunting for mushrooms.
Best piece of decorating advice for anyone thinking of redecorating their home?
Carpets, lamps, paintings and photos can easily help to create a new atmosphere in any home!
To get in touch with Stephane, email him at [email protected]