Meet Tricia Davis, General Manager of Bali Equestrian Centre, the island's only equestrian facility with a five-star international rating.
BEC includes the Aravina Restaurant and Cellar Door, a pool club and playground, an equestrian gallery and extensive facilities for the entire family to enjoy.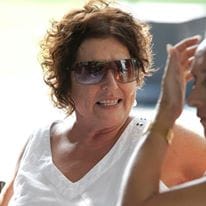 Tricia, where are you from?
Perth W.A and have resided in Bali for six years.
How did you become a part of BEC?
I was previously employed at Canggu Club where I met Melissa Lynton-Lobato, the owner of BEC, a long time resident of Bali and also from W.A. She had been planning BEC for many years and was able to secure this property, two hundred acres in the middle of the then rural Canggu, and it all started happening. It has been extremely rewarding and satisfying watching it evolve and to see the end results.
What went up first?
The stables have been operating for two years. Aravina Restaurant & Cellar Door, The Gallery, Pool Club and Playground followed one year later.
How do you maintain the facilities for horses at such a high standard?
We have such a great team here. Most of the grooms have been with us since the beginning and have close ties with the horses. Each groom is assigned to take care of three horses. The stables are equipped with overhead fans, fluorescent insect zappers, as well as wash bays for horses and ponies. Facilities include a 20m by 20m covered rubber-surfaced children's arena, a 25m by 65m covered sand arena with dressage mirrors, floodlights and spectator seating, a 30m by 70m floodlit outdoor arena and forty two luxury stables, surrounded by eight lush grass paddocks.
We get inquiries daily from people wanting to ageist their horses at BEC, but at this stage we just don't have the room. Several clients lease our horses so those horses get that extra personal relationship. Everything is focused on the health and well being of the horses. We have a Yayasan with Made Restiati, the renowned veterinarian. She takes care of all of our horses, checking them regularly.
Tell me about the lessons and instructors at BEC.
Our instructors are all internationally accredited. They will assess your riding level and create classes to achieve the goals you want to set. The whole family can come enjoy the pool and playground while a family member has a riding lesson.
We have a wonderful Sunday brunch with recreational facilities to please everyone. We also offer a selection of guided tours through the rice paddies and fishing villages to Berawa Beach or Echo Beach. Private and group lessons for children and adults are designed to further your understanding and passion for horsemanship and riding. There is a variety of riding possibilities for children starting at three years of age, including pony rides, Pony Club, camps, lessons and equestrian themed birthday parties are proving very popular.  It's exciting for the kids whilst parents can relax, wine and dine in a tranquil setting.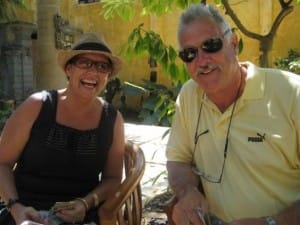 You recently held The Melbourne Cup here. How was that?
It was an excellent event and next year will be even grander!  BEC is such a great place to hold events and we look forward to hosting more in 2014. Our Aravina Restaurant and Cellar Door sit at the heart of the riding centre and is a beautiful venue that overlooks the main riding arena and Pool Club and Playground. All the proceeds from the Melbourne Cup went to support our chosen foundation, Safe Childhood Foundation, which is such an amazing program.
What are the future plans for BEC?
We have many plans for the coming year. Soon we will commence vaulting lessons, which is gymnastics on horses. We plan to hold a gymkhana in December, which will showcase our Team Riders' skills. We are planning to incorporate a special needs program for children as horses teach us to focus, feel and respond. We will employ a qualified instructor for these classes. We are also looking at purchasing a Spanish dancing horse, which will be wonderful to sit here in the restaurant and watch! We definitely have a huge 2014 coming up!