Meet Paul van der Aa, the easy-going Dutchman who owns a beautiful police Harley-Davidson motorbike. He rides with the Silverhawk Motorcycle Club to travel around Java and Bali.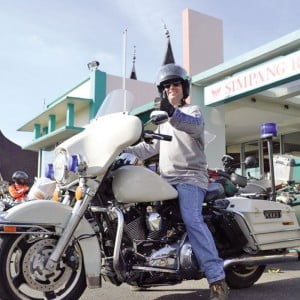 When did you move to Indonesia, Paul?
Ten years ago, when I was working in Melbourne, I had to do a special project here in Indonesia. Then I went back to Holland for only six months; I didn't like it so much anymore, the atmosphere was way too relaxed, so I officially moved to Jakarta in July 2006.
Why Indonesia?
Well, the project I had to do involved the conversion of different accounting standards. So, I was here to study that. It's not that interesting, but it got me here!
What do you do in Jakarta?
I'm an auditor, I'm in accounting. I work at PricewaterhouseCoopers since my days in Holland, then in Australia, then here. So it's actually still my first job. It's now been 14 years. I'm now in forensic auditing; I deal with fraud, corruption and bribery. It's a growing department, considering all the corruption stories in the newspaper and the fact that we're in Indonesia.
Is this what you're passionate about?
Well, it's an interesting relationship between Economics and Law – I don't like the Law part, to be honest – but the business side of it is quite interesting. I'm not so keen on the technical bit, but the creative side of interactive discussion on fraudulent issues in forensic auditing is interesting. I like doing  what I do. But a lot of my free time is used for my favourite hobby, biking.
Tell the story about the police Harley-Davidson motorbike that you own! Do you travel with the motorbike often?
I got the motorbike a few years back and now I ride it almost everywhere I go. I also belong to a motorbike club called Silverhawk. One of my good friends rode a Harley, then I bought one and he invited me to join the Silverhawk Motorcycle Club. There are 200 members of the club, they all come from different areas of Indonesia and abroad; some from Java, others from Sulawesi, even expats from Singapore, the USA and more. Predominantly Indonesians, a few expats. We ride all over East Java, Central Java, Sumatra and Sulawesi. The funny thing is, when I lived in Holland, there were quite a few people who had Harleys, although they were weird, strange outlaw kinds of people. But here in Indonesia it's a bit different, people are behaving here.
How do you plan on celebrating the holiday season? Any plans?
Next Friday I'll be going back to Holland with my girlfriend, we'll celebrate Christmas there. We plan on going to Paris too, in the Champagne region. I think we'll just rent a car and drive around; it's too cold now for a bike ride around Holland, which is what I usually do when the weather is nice there. We'll visit some friends to catch up – it's been two years since I've last been back there – and just have a good time.
What's your fondest, most memorable holiday trip?
That would be two years ago; I went by myself to the USA for a friend's wedding. I ended up riding a Harley from Los Angeles to Las Vegas for the bachelor party, then through the beautiful Pacific Coast Highway back to Los Angeles. That was a five-day trip – we got up early in the morning and rode, had Mexican lunch, stopped for a few beers along the way, went to sleep and the next day we did it all over again. Riding like that frees your mind from troubles. It was absolutely magnificent.
Do you travel often?
Quite often; I make trips to Pelabuhan Ratu a lot with my bike, to Central Java, East Java, to Anyer, Bali, etc. I would like to travel more, though. I don't travel that often for work. I also make it a habit of getting out of Jakarta, maybe to Singapore or to Kuala Lumpur, once every three months, just to get out.
What's your latest conquest in riding the motorbike?
I, together with the Silverhawk MC, rode from Solo to Bali two weeks ago. It's our annual trip; every year we ride from Jogjakarta or Semarang to Bali. This year we went from Solo, up through Malang, Sitobundo, Banyuwangi, Lovina, then down to Kuta. Oh, it's a beautiful ride, especially up to Malang; the roads are beautiful, the weather was nice, and the backdrop of the mountains was breathtaking. This year we had a record-breaking 55 biker participants from the Silverhawk MC to do this annual ride.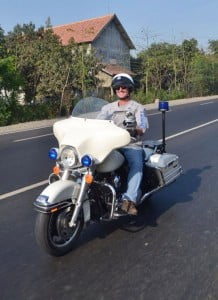 What's your favourite Indonesian food?
That's a tough one. Can I have several favourites? I like rendang, dendeng, sayur asem, perkedel jagung, perkedel kentang. I love them all, but dendeng and rendang are probably my two favourites. I love Padang food.
What will you miss from Jakarta when you'll be in Holland this Christmas?
Indonesian food in Holland is bland and not as flavourful, that's what I worry about in going to Holland; my girlfriend might not like the food there.
What will you not miss from Jakarta during your holiday trip? Anything that runs your patience dry in Jakarta?
Besides traffic? I will not miss the traffic condition in Jakarta. And one of my pet peeves is people being late for appointments.
Do you have some holiday tips for our readers?
Go see more of Indonesia outside of the ordinary trips to Bali and Lombok. There's much more to see. Indonesians don't do that enough. Get out of the mainstream spots and explore the beauty of Indonesia for your holiday travelling.