SCOLIOSIS: When most patients are referred to us or they drop in to see us, they are usually informed that they either have scoliosis, or they are suspected of having one. For most people, this sounds like a dreadful deformity that may inevitably require surgery. With advances in medical sciences, there are now many other options available in managing scoliosis.
Scoliosis is a deformity and abnormality of our spine. When viewed from behind, our spine should be straight. From the side view, our spine has a natural "S" curve. In cases of scoliosis, patients may have a "C" curve (either in the upper or lower body or a "C" curve that extends from the upper to the lower body), "S" curve and/or even hunching ("Hyperkyphosis").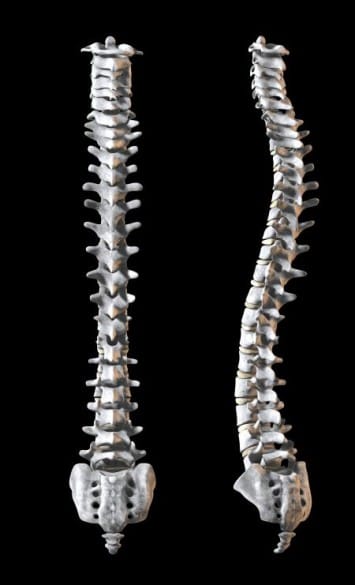 There are many different types of scoliosis and surprisingly, most patients that present or referred to our centre are completely oblivious to their condition and in most cases, asymptomatic. For those who experience discomfort, symptoms may range from breathing difficulties, cardiac and digestive issues, mechanical neck and back pain, and self-consciousness of their appearance.
Over 80-85% of scoliosis is classified as idiopathic scoliosis. This means the aetiology or the origin of this condition is unknown. In 1992, orthopaedic surgeons in Canada conducted research and studies indicated that amongst other factors, genetic faults may play a part in the formation of scoliosis.
Depending on the magnitude or the rate of deterioration of scoliosis, surgery may be indicated. On the other hand, if the scoliosis curvature is within a certain range, there are various options available such as rehabilitation, physiotherapy, chiropractic and spinal bracing.
The treatment objectives of scoliosis management are different in both paediatrics and adults. Puberty induces rapid growth and possibilities of increased deterioration of scoliosis in a growing child. In the case of adults, pain management and structural stability of the spine is the main concern.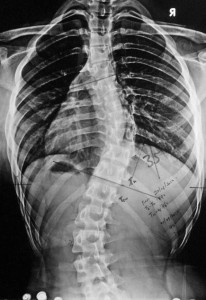 In children, the main objective of scoliosis treatment is to correct and stabilise scoliosis. For adults, pain management, prevention of progression and improvement of postural integrity is targeted. As with all cases and conditions that we manage, the first aim is to try and slow progression and/or deterioration of the spine. The next step is to stabilise and hopefully prevent scoliosis from further changes.
When examining radiographs of patients, Cobb's angles are measurement to determine the magnitude of scoliosis. If the spinal curve is below 10° it is concerned normal. Anything above 10° is classified as scoliosis. If the Cobb's angle is between 0°-30°, it is manageable with chiropractic, physiotherapy and rehabilitation. Please take note that chiropractic, physiotherapy and rehabilitation will not and cannot reverse scoliosis although that being said, improvements are observed in clinical practice.
If the spinal curve is between 30° to 40° or the curve is above 15° and the patient is experiencing pain, discomfort, paraesthesia or other spine related disorders, spinal bracing is recommended. Above 40°, spinal surgery many be indicated.
The size of the curve, the age of the patient, the rate of spinal growth and stage of skeletal maturity plays an important factor in determining the most appropriate option for scoliosis treatment and management.
If urgent or essential surgery is not indicated in patients, bracing may be the most viable option available. There are essentially two types of braces. Hard or soft. There are various types of hard, soft and even hybrids of both hard and soft braces. Some examples range from Boston brace, Milwaukee brace, Tynor Ash brace, Providence brace, Tria-C brace and many more.
Based on recent studies in the Journal of Paediatric Orthopaedics (2007), several braces were examined and SpineCor® was shown to be more effective in stabilising and correcting scoliosis compared to other current non-surgical procedures such as Boston brace, TLSO (a type of hard brace) and providence braces.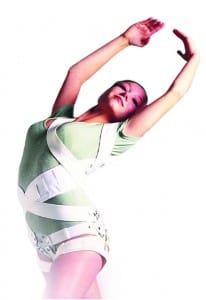 In the TLSO/Boston brace group, correction or stabilisation was only achieved in 15% of patients. 79% of patients went on to have surgery. TLSO brace was only effective in stopping 21% of scoliosis patients from having surgery. In the SpineCor® brace group, correction or stabilisation was achieved 59% of patients and of those that did progress only 23% went on to have surgery. It was thus concluded that SpineCor® bracing was effective in avoiding surgery 77% of cases.
As both studies were conducted using the SRS (Scoliosis Research Society) criteria it is possible to compare the results. SpineCor® was found to be 3.9 times more effective in achieving correction or stabilisation (59% vs 15%). It was also shown to be 3.7 times more effective in stopping scoliosis progression to surgery than the TLSO/Boston brace (77% vs 21%).
Scoliosis correction achieved by SpineCor® treatment has been shown to be at least stable in 95.7% of cases 2 years post treatment1. 27% of patients actually continued to reduce their Cobb angles post treatment. Largely Cobb angles achieved in brace with SpineCor® during treatment are sustained post treatment. Less than 5% of patients have demonstrated progression post treatment following the SpineCor® treatment protocol.
SpineCor® is now used in 17 countries and over 100 treatment centers around the world. Data collected from 52 of these treatment centers show therapeutic success in over 89% of Idiopathic Scoliosis patients.
Do you have scoliosis? Do you know someone that may be suffering from scoliosis? If you have any further enquiries, please do not hesitate to contact us on +6221 292 00 218.

www.BackUpSpine.com
Dr. Anthony Fong
B.Med.Sc. (Uni.Syd.), M.Chiro. (Macq.)
Accredited SpineCor® Scoliosis (Paediatric, Adult, Physiotherapy) Consultant