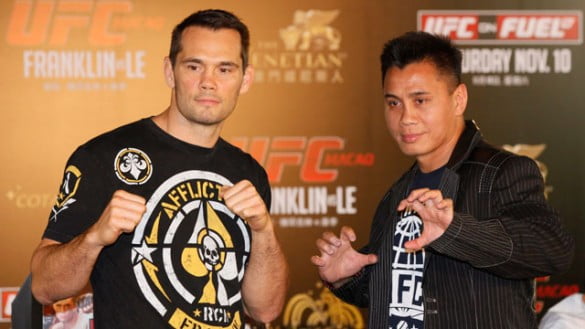 It's quite surprising how many people don't know what the Ultimate Fighting Championship (UFC) is considering it is the world's fastest growing sport. A lot of people I've spoken to have asked if it's similar to WWF – "Is it pre-planned and acted out?" The answer to that question is most definitely, "No."
The UFC is the largest mixed martial arts (MMA) promotions company in the world, hosting most of the world's top fighters. MMA is a mix of muay thai (kickboxing originating from Thailand), Brazilian jiu jitsu, karate, Judo, boxing and other martial arts and allows striking and grappling techniques, both standing and on the ground. Fighters from across the globe compete to earn the honour of fighting in the Octagon of this Championship, televised live on Fox Premium Movies universally. Celebrities like Charlize Theron are often in the audience and in UFC Asia's debut in Macau, we were graced with the presence of Andy Lau, Hong Kong's acclaimed director, actor, producer and avid UFC supporter.
Held at the Venetian Macau Resort Hotel – a hotel, a casino and a city in its own right – the indoor stadium was packed with 8,500 spectators, each ecstatic to be able to watch some of the world's best ultimate fighters in Asia. To say that the atmosphere was electric would be an understatement – it was on fire and hurling massive flame balls in the air. Seated only a few rows from the Octagon we could see, and most importantly hear, every punch, kick and fall, and we almost smelt the blood. Out of a total of 10 fights, one was cancelled (Hyun Gyu Lim vs. David Mitchell) as Lim did not make the weigh-in (not acceptable in my opinion).
The night started with the Flyweight division: John Lineker (Brazil) defeated Yasuhiro Urishitani (Japan) via unanimous decision (29-28, 30-27, 29-28). Riki Fukuda (Japan) vs. Tom DeBlass (America) took each other on for a complete three rounds with Fukuda winning by unanimous decision (30-27, 29-28, 29-28). For Bantamweight (135lbs) Alex Caceres (America) defeated Motonobu Tezuka (Japan) via split decision. Takeya Mizugaki (Japan) took on Jeff Houghland (America) and won via unanimous decision followed by Jon Tuck of Guam (who came into the stadium to the Pulp Fiction theme song) fighting China's only mainland UFC fighter, Zhang Tiequan, Tuck winning by unanimous decision – quite a let-down to Zhang's many local supporters in the audience. Lightweight fighter, Takanori Gomi (Japan) defeated Mac Danzig (America) via split decision in the competition's sixth fight of the night.
My favourite fight was next with the Welterweight division (170lbs): Korea's Dong Hyun Kim vs. Brazil's Paulo Thiago. Kim didn't give Thiago a chance to breathe, and stalked him for the full three rounds, trapping and sitting on top of Thiago during round three and giving him some extremely powerful double-fist punches to the face. Kim deserved to take this fight without a doubt. The light heavyweight fight brought to the Octagon Brazilian Thiago Silva against Bulgarian Stanislav Nedkov, which was the penultimate fight ending in a submission of Nedkov (arm triangle), the only one of the night, at 1.45 minutes of round three.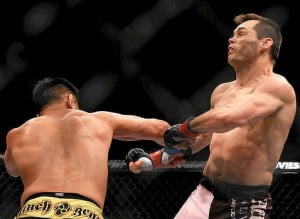 Up next was the moment I'd been waiting for: the Middleweight division fight between American former Middleweight UFC Champion, Rich Franklin and Vietnamese former Strikeforce Middleweight Champion, Cung Le. Franklin (entering to AC/DC) holds a Bachelor's degree in Mathematics and a Masters Degree in Education and is a former high school teacher who decided to pursue a career in Ultimate Fighting. Cung Le doubles up as an actor in Vietnam and is an older fighter, at 40 years of age. Following extremely strategic plans and fighting in his infamous pink shorts, I would consider Franklin one of my favourite fighters. What followed, for me, was a total anti-climax.
When the fight started, the audience went absolutely feral as the build up had been so intense. Some shouts from the audience included, "Punch him in the face!" (this particular audience member may have had one too many beers).
Both men started by playing it a bit safe. Franklin had the speed advantage early on which was not a good sign for Le. Franklin kicked Le and Le tried to counter with a right hand but he came up short. Franklin then threw a leg kick which was countered by a huge right hand punch from Le which brought the fight to an abrupt end: it cracked Franklin on the face and knocked him out cold. The fight was over in two minutes and 17 seconds and was the only KO of the night. Le, overwhelmed with elation, did a double flip in the ring and hugged random officials. The audience was stunned.
Many had not expected Franklin to lose and this fight was absolute proof that in UFC, anything can happen. While many people believe Ultimate Fighting is for brutes, I would say to the contrary. There is so much respect in this sport, from fighter to fighter and to the audience, which stems from respect taught when practicing martial arts. Most fighters will hug it out after a fight and the winner often bows down to all four corners of the room to thank the audience for their support. Le's victory speech included a humbling, "It was an honour to face Franklin and I took him down by a lucky punch."