Ask any surfer to pick one place for their dream surf trip and the answer will surely be the Mentawai Islands, off West Sumatra. For surfers the Mentawais are a deluxe Disneyland of waves. With close to 70 tropical islands spread just south of the equator, facing directly into the Indian Ocean surf swell window, no other surfing destination offers such a variety of world-class spots clustered together in one small stretch. 
Whether you are a World Tour pro, a seasoned veteran or a first-year beginner, there are Mentawai waves for all skill levels.
Even the C-grade waves are better than most waves you will find on the California coast, while the A-grade breaks are easily the most perfect surf spots in the world.
The chances are pretty high that you will find all-time surf at big name breaks such as Macaronis, Lance's Right or Telescopes, which have become household names after featuring in countless magazines and high-profile surf videos. When you actually paddle out to one of these famous Mentawai waves on any good day of swell and clean conditions, you will witness the quality that made them so legendary in the surfing world. Indeed most days of good surf here appear, to the naked eye, to have popped right out of the pages of Surfer mag.
It's hard to keep something so good a secret these days, therefore it is common to find crowds at the best breaks. Several boats with up to a dozen surfers on board can be anchored at any time at certain waves, and there are often surf camps and resorts set up at the top waves too. Some estimates are that there are well over 30 surf charter boats and almost as many camps and resorts in operation throughout the Mentawai Islands, with more coming each year.
Over the last several years the regional government has begun to capitalise on the popularity and marketability of Mentawai surfing by sponsoring several international Asian Surfing Championship (ASC) pro surfing contests together with classic surfing brand Rip Curl. Some of the recent events included several of the best single days of waves in the ASC tour's history.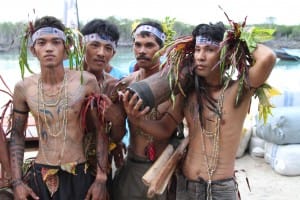 Lance's Rights and Macaronis were the two venues for the events, with surfers from Australia, Hawaii, France, Malaysia and more. Prize money and tour points were on the line. But even with international pros competing, it has always been Indonesian pro surfers who win. With surf communities developing on each populated Mentawai island, scores of locals came in boats from their home islands to compete. Many were just starting out and surfing on hand-me-down equipment, but were still able to make it through several rounds. With the high-quality surf on offer here it is only a matter of time until some big name local surf stars come out of the Mentawais.
Tailoring your trip
With seventy islands on offer, your trip can really get interesting with a knowledgeable camp guide or boat captain, and some time at your disposal. Being able to read the surf, wind and weather conditions – thus knowing where to go and when – a seasoned boat captain can take you past the fringes of what's commonly known and have you surfing off the grid in Indonesian perfection with just the crew on your boat. The same goes for land-based guides, who know the sensitive changes the wind can go through during the day and how best to maximize the day's surf on offer. It is this invaluable experience, garnered from putting in time here and paying dues, which makes a trip really come to life.
In some cases experience can also mean saving lives. This was the case when iconic Australian boat captain Tony "Doris" Eltherington rescued a South African surfer, Brett Archibald, who had fallen overboard at night in the strait between the Mentawai chain and Sumatra. Archibald spent 27 hours treading water, battling off sharks, sunburn and severe dehydration during his ordeal. He had almost given up but Doris, who knows these waters better than most, relied on his instinct and understanding of the ocean currents and their flow to find the unfortunate Archibald.
Archibald's is the only case of someone falling overboard and in general traveling through Mentawai is quite safe. Malaria protection and reef cuts are typically your main worries here – apart from breaking all your boards before the trip is done.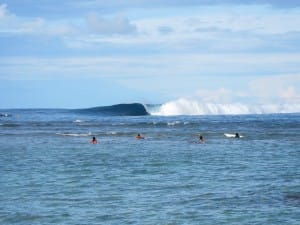 Local colour
Although these islands have only been well known in surfing for roughly 20 years, the Mentawai people have been there since at least 500 BC. Mentawaian traditions hold strong, and even with the advent of Christian missionaries spreading their religion here over the centuries, some men still wear tribal tattoos and loincloths, and traditional teeth sharpening is still common. Many go to church on Sundays now, but many also still hold true to their ancestors' animistic beliefs of the spirit world and the physical world existing together. Sikerei, or Mentawai animist shamans, are mediums between these two worlds and today they are still called upon to perform ancient rituals at important village events, or to aid the sick or deceased. They continue to be a respected part of Mentawai village life amidst the spread of technology and Christianity.
Whether you opt to stay on the four main developed islands (Sipura, North Pagai, South Pagai and capital Siberut) or island-hop out further past tiny uninhabited islets surrounded by deep blue sea water, one can only gaze; realising that there is too much to see for one visit.
It's safe to say that for variety and bang-for-buck (or barrel for buck in this case), there is no surf spot more eager to please than the Mentawais. Even if you came here on every holiday you had, you'd never get bored. And that's why so many surfers do come back, year after year.
—
Surf Charter Boats:
www.tonyeltheringtonsurfcharters.com
Surf Camps/Resorts:
www.mentawaisurfingretreat.com