The Black Pearls overcome long flights and tiring transit times to become the best football club in the land.
For cash-starved Indonesian football clubs, the Mandala Stadium in Jayapura isn't the easiest place to get to. Not all clubs can afford the luxury of direct flights; for many it involves at least one change, maybe even more, and the one-way journey can take 24 hours. A long journey for anyone, let alone professional footballers with muscles that need frequent stretching and exercising. And all that way just to lose!
The 30,000 capacity Mandala Stadium is home to Indonesia's most successful club, Persipura Jayapura. Since the Indonesia Super League started in 2008/2009 they have been crowned champions three times and finished runners-up three times. In that time, they have never finished lower than second, a remarkable achievement no matter what the league. And of course, all the more remarkable considering every away game they play includes serious travelling across time zones and islands.
Papuan to the core, Persipura bring a stability that is all too rare in Indonesian football. The last seven years have seen just two coaches take control of the team; Brazilians Jacksen F. Tiago and more recently Osvaldo Lessa, who has been with the club in varying capacities since 2009.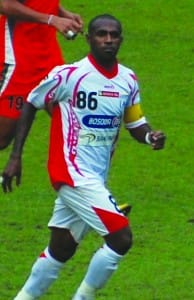 The Papuan core is evident when the team takes to the field in their distinctive red and black striped shirts. Their teamsheet features names such as Boas Solossa, Immanuel Wannggai, Ruben Sanadi, Yohanes Pahabol, Ian Lousi Kabes and Dominggus Fakdawer while Eduard Ivakdalam is looked upon as a Papuan Steven Gerrard; a long-serving one-club-man where he spent 16 years. Australian midfielder Robbie Gaspar, who spent several years playing in Indonesia, certainly rated the ever calm Ivakdalam. "He was great technically, had a great left foot and knew how to dictate the tempo of the game," recalled the former Sabah player. "I know all the players looked up to him for advice."
Even the foreign players that arrive tend to stick around for a while; Cameroonian Bio Paulin once played for RC Lens in France but ended up in Jayapura back in 2007 and has been there ever since. He has now become an Indonesian citizen and made his debut for the national side earlier in the year.
Without a doubt, the best-known player is Boas Solossa. Only Ivakdalam has played more games for the Black Pearls but no one has scored more goals. Boas, whose uncle was a one-time governor of the province of Papua, made his debut when he was 18 and has been a first choice for club and country ever since, subject to the odd injury.
Known for his blistering pace and eye for goal, Boas soon attracted the attention of foreign clubs but has stayed loyal to his roots until now. Injuries have perhaps knocked half a yard off his speed, but he still has enough in the locker to beat most defenders – the last two seasons have seen him score 41 goals in 62 games, a more than healthy return by any standard.
While Persipura have remained masters of all they survey in the Indonesian football scene, their fortunes in Asian club football have been less spectacular.
Their first foray into the continent's premier club competition, the AFC Champions League, was nothing short of a humiliation, losing five of their six games and conceding 29 goals along the way to finishing joint bottom of the four-team group.
Forced to play their home games in distant Jakarta, things started badly when they were comfortably defeated 4-1 by South Korean side Jeonbuk Hyundai Motors. Things got much worse in their second game when they were roundly thrashed 9-0 by Chinese side Changchun Yatai in China. That result was to be Changchun's only win in the tournament and they were to only score one more goal in their remaining four games.
For Persipura there was nowhere to hide. Up next was a trip to Japan and another heavy defeat, going down 5-0 to Kashima Antlers. Halfway through the group stage and the Black Pearls were disappearing under an avalanche of goals from Northeast Asian sides.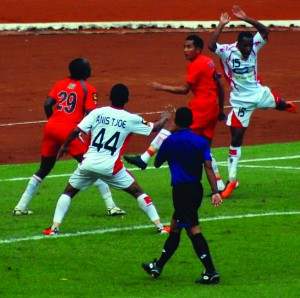 Hosting the Japanese side in Jakarta a week later, at least Persipura got on the score sheet, however Yustinus Pae's effort was little consolation in a 3-1 reverse. Their second game took them to South Korea and another mauling, this time 8-0 against Jeonbuk Hyundai Motors with ex-Middlesbrough and Werder Bremen striker Lee Dong Gook among the scorers.
Victory over Changchun Yatai in their final game by 2-0 was not even a relief. Persipura had been tested at the highest levels and found severely wanting.
They were back in the competition in 2012 but this time they never got out of the qualifying round, going down 3-0 in a playoff against Adelaide United.
They have found better luck in the AFC Cup, reaching the semi-finals in 2014. We will never know how far they could have got a year later. Drawn against Malaysian side Pahang, the visitors got as far as Jakarta before returning home after finding a number of their foreign players were refused admittance to Indonesia because they didn't have the correct visa.
The AFC responded by awarding the tie 3-0 to Pahang, effectively ending Persipura's involvement, and soon after, FIFA suspended Indonesia from any of its authorised competitions, including the AFC Cup, over alleged government interference in the sport.
FIFA's suspension ended the 2015 Indonesia Super League with Persipura in second place after two games played. For now the future remains uncertain, not just for Indonesian football but also the country's most successful club. It is hard not to feel some sympathy for the players and the supporters of this club, deprived as they have been not by the efforts on the pitch, but by the failings-over off of it. A promising season dashed.
There is talk of the Indonesian Super League resuming later in the year with October being mooted. Should that happen, and there are still a lot of bridges to be crossed and obstacles to be overcome, then Persipura will at least do their best to carry on from where they left off with a core of familiar names waiting to be unleashed.